Four small coves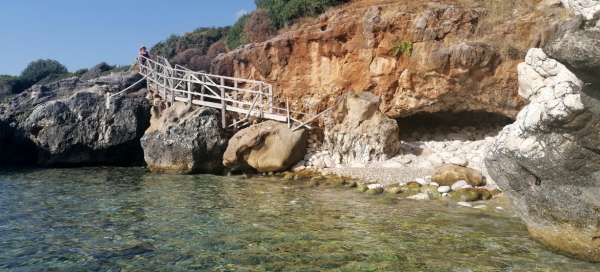 The resort of Skala is located on the very southeastern tip of Kefalonia. There is the famous Dluhatan sandy beach. But if you go a little north, you can try swimming in four small bays where instead of sand you will find pebbles
Road to beach number 1
The first two bays can be found opposite the Hotel Porto Skala. The path to beach number 1 is protected in places by a wooden railing, but it has long since passed its best.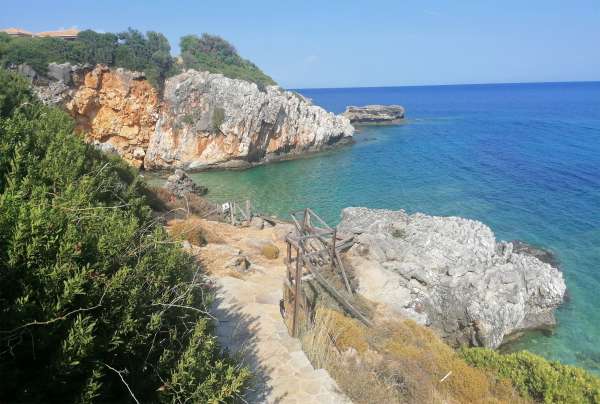 Romantic bay
The final descent to the beach is over a rather rickety wooden bridge. The part you see in the photo is not very good, there are big stones here. Go all the way behind the big rock where there is a nice entrance to the water.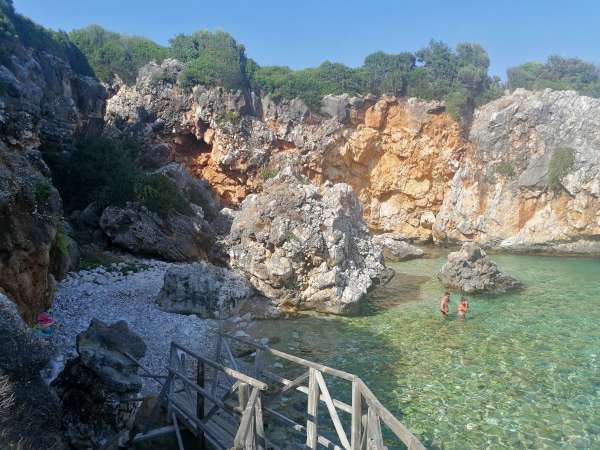 A beautiful beach
The beach is small, but there is a pleasant entrance to the water. Surrounding rocky cliffs.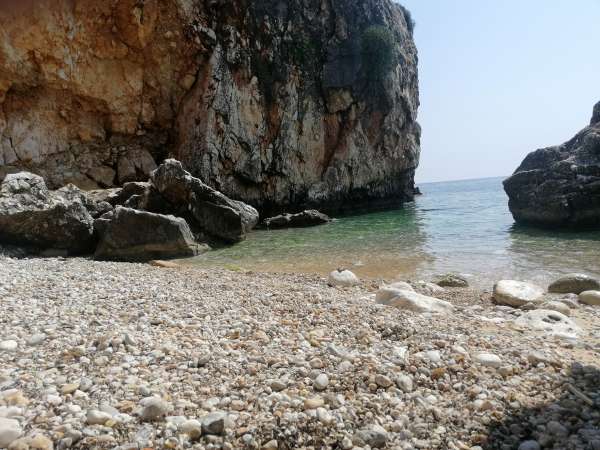 Back view of the wooden bridge
Looking back, it is easy to see that there are large stones in the water on the part of the beach right by the bridge, so it is not very comfortable here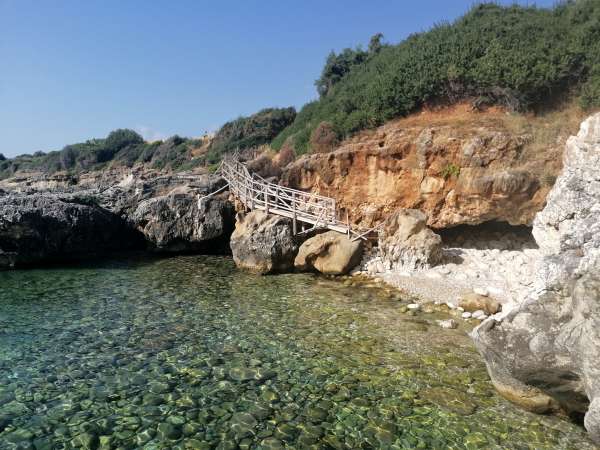 Hotel Porto Skala
Between beaches number one and two lies the hotel Porto Skala, where there is a famous kitchen and a pleasantly designed swimming pool. We can definitely recommend this hotel. In the high season, expect that it is almost always occupied, so it is better to order in advance.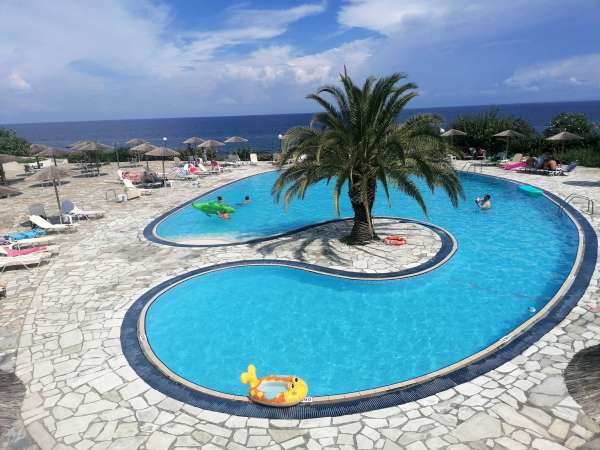 Beach number 2
A few tens of meters next door is another beach, more frequented. This is due to the fact that there is better access and there is also something bigger.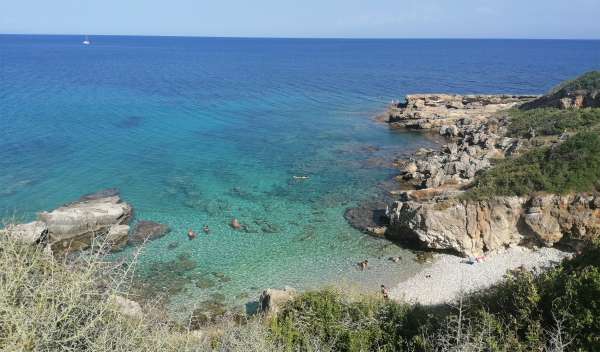 Ruins of the Roman temple of Skala
We continue towards the south and pass the ruins of a Roman temple, which is freely accessible. Actually, there isn't much left of him.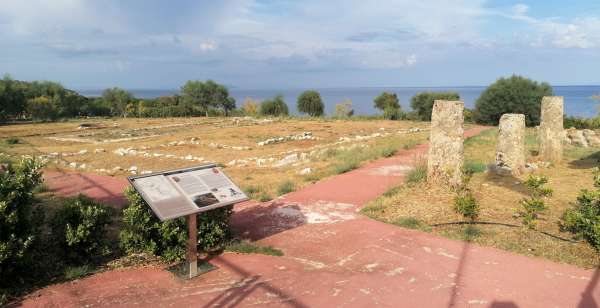 A small church next to the temple
A picturesque church stands right next to the rest of the Roman columns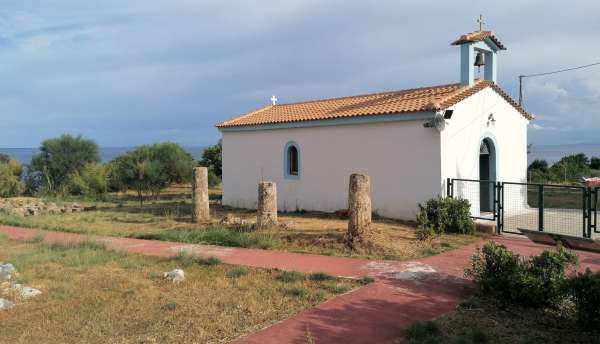 Pelagos Bay Beach
The third beach is by far the most beautiful, you can find it about 800 meters south of the Porto Skala hotel. This is how it looks straight from the road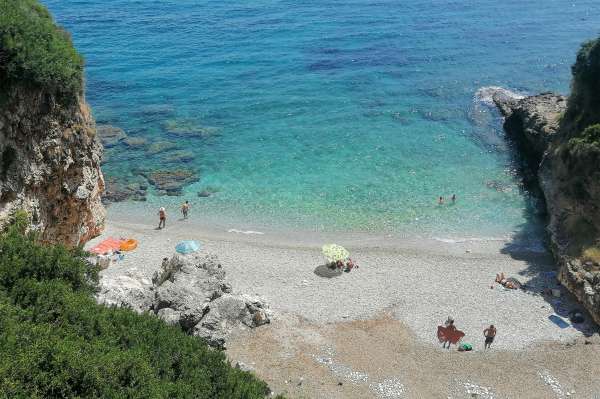 Descent to Pelagos beach
Several dozen steps lead to the beach. The effort is definitely worth it. This beach is the most beautiful far and wide.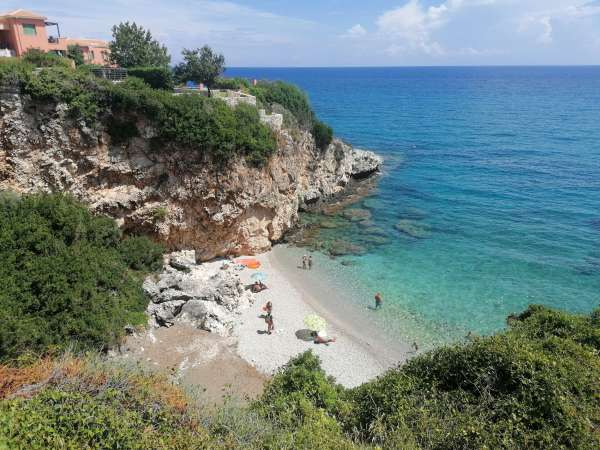 Pelagos beach from below
There are fine pebbles on the beach, so it is very pleasant to lie here. There is also shade under the rock if you don't want to sunbathe.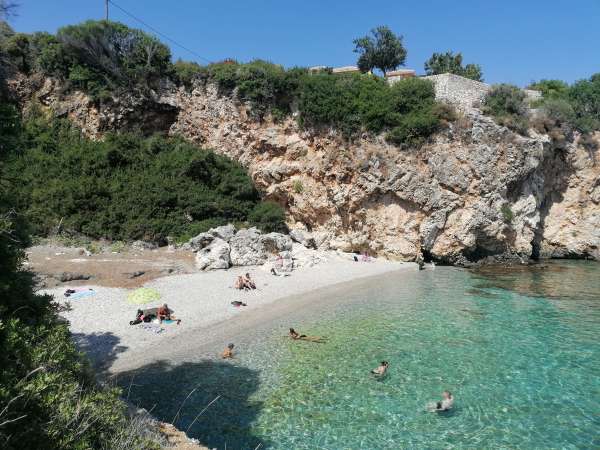 Pelagos Bay Hotel
Directly above the bay is the pleasant Pelagos Bay hotel, where you can have a good lunch. The pool is freely available for restaurant guests
Secret beach number 4
A little secret tip is beach number four, located a few tens of meters south of the Pelagos Bay hotel. You won't find people here because part of the descent path has fallen. Even so, it is relatively easy to climb down or swim across from the adjacent beach. In addition to deserted beaches, you will also find a large semi-cave here!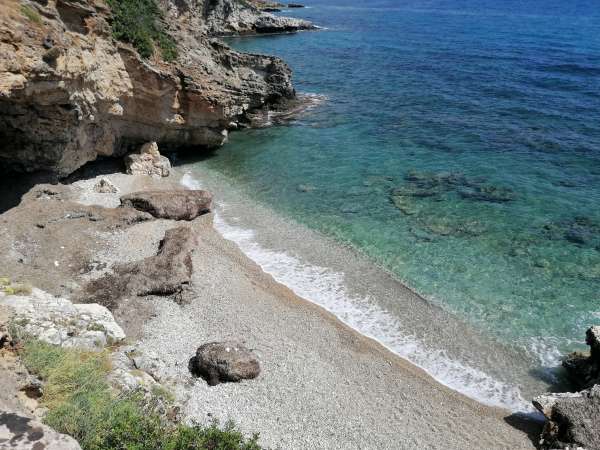 Applaud the author of the article!
Thanks!
Have you been there? Write a review of this place
Already rated by 0 travelers