What about traveler's diarrhea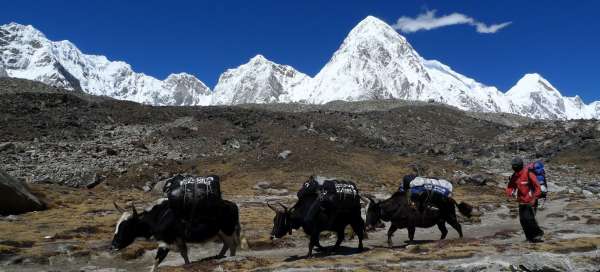 Most people have the idea that in Nepal there are only climbing ascents to 8,000 or demanding treks with the need for extreme and very expensive equipment. However, treks on loggias (mountain hotels) are a Nepalese classic, so you don't have to carry tens of kilograms on your back, but you can only have a relatively light backpack on your back. You will experience this type of trek on the most famous routes – to Everest, Annapurna or Manaslu. Let's see what to pack for such a trek with equipment to weigh as little as possible
The best backpack for a trek on Nepalese loggias
The basis of everything is an excellent backpack, which will fit all the equipment for the trek. For most "hard" treks, a huge 70–90 liter backpack that generally fits "everything" is generally preferred. For a trek around Annapurna or below Everest, however, a much smaller backpack, ideally 50 + 10 liters, is enough, which is then better suited for other events, long-term travel, etc. than a large backpack. Just a universal backpack. The basis is to try it out in the store and adjust all the straps and belts. A poorly chosen backpack that will not sit on your back and push you everywhere will ruin your trek. It is good to choose a backpack with an integrated raincoat, which is suitable both for discomfort and, for example, when transporting on the roof of an off-road vehicle or bus. Other things that may come in handy is the possibility of using a drinking bag or loops for trekking poles on the backpack. There are a lot of different pockets of course. Count on the weight of the 2kg backpack alone
Accommodation and sleeping on a trek around Nepal
In this category, you will save quite a few kilograms, compared to a classic trek, thanks to the fact that you will spend the night in a loggia every day. You don't have to carry a tent, about 2.5 kg (or half if you went in two and each took a part) and a mat or self-inflating mat weighing another 1 kg. However, it is usually cold in loggias located in higher positions, so it is definitely good to have your own sleeping bag, ideally light feather with comfort around zero (extreme approx. –20) with a weight of approx. 1.5 kg. "TIP for an ideal sleeping bag": https: //www.snowleo­pard.cz/cs/spa­ci-pytel-himalculi-9000/. If you are not cold-tempered or you expect to throw a blanket over yourself in the loggia, you can also choose between small kilo sleeping bags designed primarily for cyclists. The quality of accommodation itself varies a lot from luxury loggias for travelers to very poor accommodation. There are plenty of options on the main routes, so it depends on whether you want to save or be nice. We always tried to choose smaller accommodation to support a specific family and not be besieged by a crowd of tourists.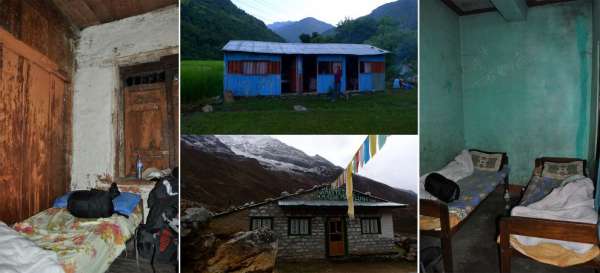 "No" Cooking on a trek in Nepal
For those who goosebumps at the thought that after a demanding day-long hike they still have to cook dinner, as on a classic trek in the wilderness, a trek on loggias in Nepal is an absolute ideal. You will find yourself here as in a restaurant for extra exorbitant prices. Count on the fact that the menu is practically the same everywhere only the price increases with the altitude and difficulty of transporting ingredients (noodles, potatoes, pizza, momo dumplings, eggs and oatmeal are classics that you get everywhere). This will also save you enough weight on your back so that you don't have to pull a stove, a bomb, an ashtray, cutlery and other necessary small items weighing over a kilo. On the trek, you can easily indulge in three hot meals a day – what a difference compared to poor meals on remote frictions.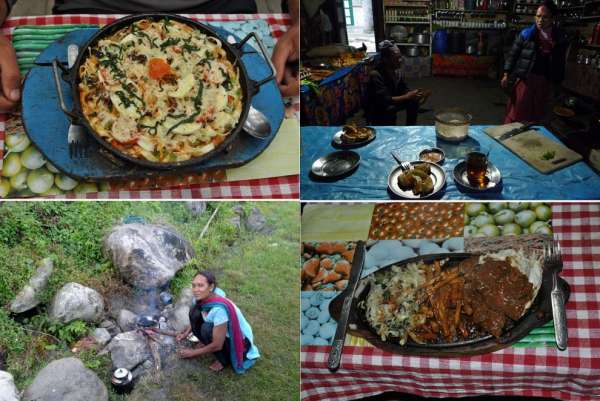 Food and drink on a trek
Thanks to the fact that the lodge trek does not have to be cooked from its own resources, we do not have to bring the classic equipment of food for cooking (various instant and dehydrated dishes). But what about snacks and drinks? Here, too, it is not worth pulling piles of muesli bars, etc. In each village along the route of the trek you will find small shops selling fruit, water, coca cola, snikersky. So bring only small supplies for a few emergency snacks, because you can buy everything on the spot. Along the way you will meet a lot of different springs, where you can refill the water, but to be sure, take some disinfection of such water with you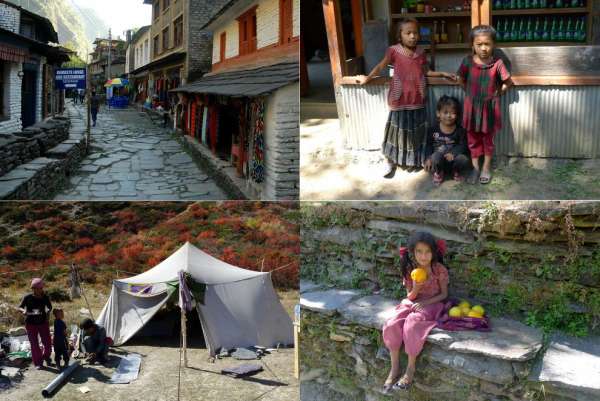 Trekking shoes to Nepal
The shoes are the alpha and omega of each hike. If you have blisters after the first day, you may not even miss the trek or with great difficulty without enjoying it properly. So it's definitely not ideal to go to the other side of the world with new really untested shoes. A common mistake is to take unnecessarily heavy and sturdy shoes on a classic lodge trek to Nepal. Expect that you will usually go on good and relatively wide routes, on which you will avoid yaks, mules and sherpas dressed in flip-flops. In addition, if you want to go around the whole of Annapurna (do not shorten the road) and as a bonus side trips you go a lot of kilometers, then a low but goretex boot is suitable (the windward side of the mountains is wet and it rains here even in season). In the shops, such shoes are included in the category "B" (For Annapurna, "A / B" is enough) and you will see how he will enjoy it compared to people stomping tens of kilometers in difficult mountains.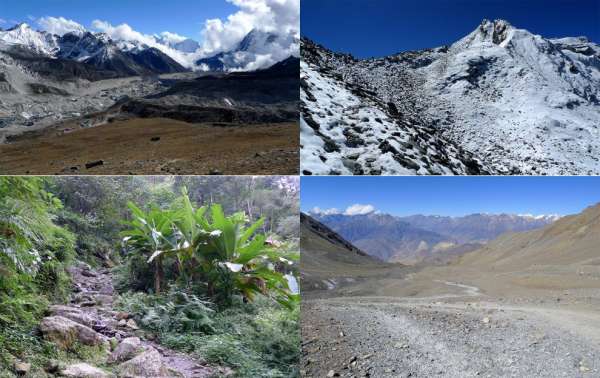 Waterproof jacket and pants
The basis of equipment for any trek or hike in the mountains is a quality upper (third) layer of "hardshell". Even in the high season, it can happen that the weather will spoil and instead of the sun you will be wet with real downpours, piles of snow will fall on you, or windstorms will break up with you, see. for example, the deadly blizzard in Thorung la in 2014 (ie in the peak season). One of the main measures of quality upper equipment is the used membrane and water column, which can withstand leakage and at the same time how well it is breathable in the opposite direction. The best jackets or trousers have a water column of 25,000 and a breathability of 30,000. Good types are, for example, the "Namche II Extreme" jacket: https: //www.snowleo­pard.cz/cs/bun­da-namche-ii-extreme/ or "Nilgri trousers" 2 ": https: //www.snowleo­pard.cz/en/ne­promokave-kalhoty-nilgiri-ii-sede/
Fleece or light feather
Tanzania's smallest national park
The second layer is the so-called thermal insulation. Insulates body heat so that it does not run away. "Flíska": https: //www.snowleo­pard.cz/cs/mi­kina-dhunche-cerna/ under the jacket it is the biggest classic. It's great to have a thin "down jacket" with you: https: //www.snowleo­pard.cz/cs/bun­da-gokyo-ii-cerna-1/, which doesn't burden you too much and is absolutely ideal after the tour – just so you sit it and enjoy the last rays of the sun over the Himalayas.
Thermal underwear
The first layer, thermal underwear, has the main function of wicking sweat away from the body and thus keeping it in a comfortable dry place. Also ideal is "non-smelly" material that will last a few days of walking without people turning to you. Today, two main materials are used, either of synthetic "polyester": https: //www.snowleo­pard.cz/cs/tri­ko-ghandruk-cerne/ or natural Merino wool.
Other things to take on a trek to Nepal
Tanzania's smallest national park
It's not worth mentioning the complete list, but this is a good thing not to forget to take with you: – ** Trekking poles **: ideal especially on the windward side of the mountains with endless often wet "stairs". – ** Sun protection **: headgear, sunglasses, sunscreen – ** First aid kit **: classic medicines, but also deer tallow for those who have problems with dry air, which is in the passages "behind the mountains" – ** Earplugs **: for those who have worse sleep. Everything can be heard through the "paper" walls of the loggias – ** Headlamp **
Where to buy trekking or hiking equipment? In Snow Leopard!
You can buy equipment for hikes of various qualities and prices in any sport, a network of trekking shops or even in a supermarket. We were looking for the best quality ratio vs. prices and we found it at the new Czech brand Snow Leopard. They sew by hand in Nepal from high quality materials (Breathable softshell, 100% waterproof hardshell, quality New Zealand sheep wool and natural feathers). They are not just traders, they produce all the products themselves, so they offer the best prices on the market. In addition, they value their customer. If you miss something in their e-shop, such as a specific color or size of clothes, they will do their best to fulfill your wishes. In addition, they are committed to saving one of the symbols of the Himalayas – the snow leopard. Try "Snow Leopard": https: //www.snowleo­pard.cz/cs/ and you will not regret it.

Where else similar equipment
Do we have the acquired equipment for a lodge trek in Nepal, where a similar set can also be used? – ** Hikes in the Alps **: Even in the Alps are popular hut 2 hut marches, or star trips from one hut. But it pays to have a bit harder shoes here, because you will definitely have more tops planned here and it will be more often in rocky or rubble terrain.
Applaud the author of the article!