A beautiful hike through the Krkonoše meadows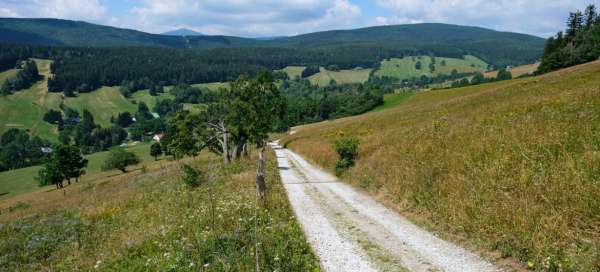 The hike from Rýhor through Horní Albeřice to Lysečin leads through a picturesque landscape full of meadows with lots of views. You will go in the easternmost part of the Giant Mountains on the border with Poland. Compared to other parts of the mountain range, there are significantly fewer visitors here, which is nice. The described section is approximately 7 kilometers long with an ascent and descent of approximately 200 meters
View of Rýhorská bouda
From the intersection Kutná – Rychory we descend to another intersection of tourist routes – Rychory Cross. Looking back, we see Rýhorská bouda on the top of the ridge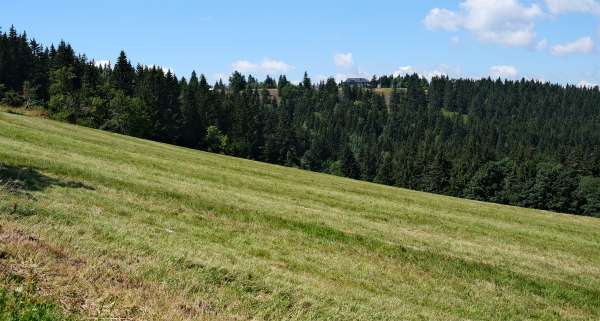 Ryhorský cross
Rýhorský kříž is an important intersection of both pedestrian and bicycle routes. We will continue along the red path along the slope of Mravenečník hill (1,005m) /overgrown mountain without a view/.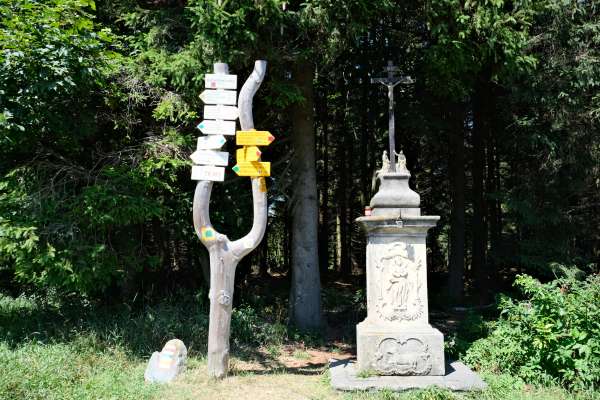 The picturesque surroundings of the Rýhorský kříž
The surroundings of Rýhorský kříce are very picturesque – meadows with cottages and a view of Královécký Špičák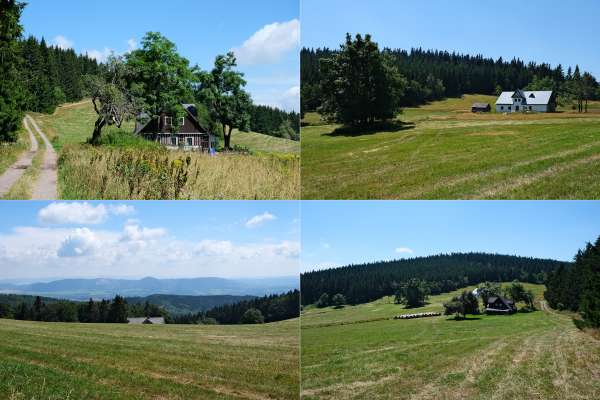 View of Sněžka
This is followed by a section of about two kilometers, mostly through forest, without any interesting views. We also go through the "Border Corner", where we reach the border with Poland. We finally reach the meadows with a beautiful view of Sněžka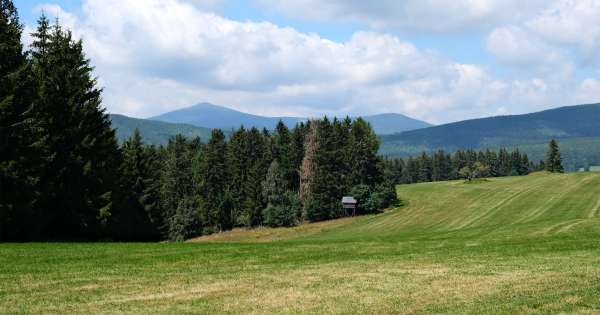 Above Alberice
We are slowly approaching the next crossroads for a beautiful scenic drive. From there it is possible to go down to Poland, or to continue along the green route along the border (leading through the forest). We will go down the red road to Albeřice to enjoy more views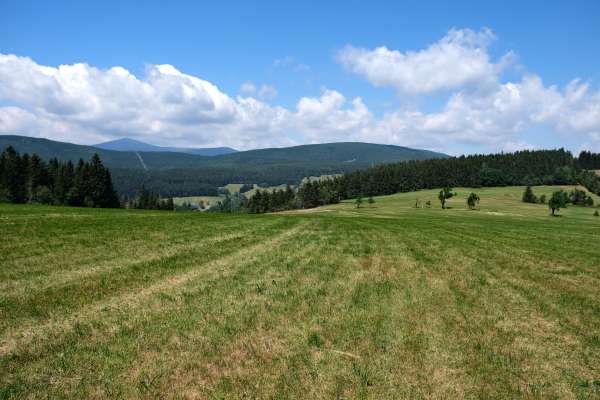 Blooming summer meadows in the Giant Mountains
This hike is not only interesting because of the views, but also because of the beautiful blossoming Krkonoše meadows with lots of butterflies.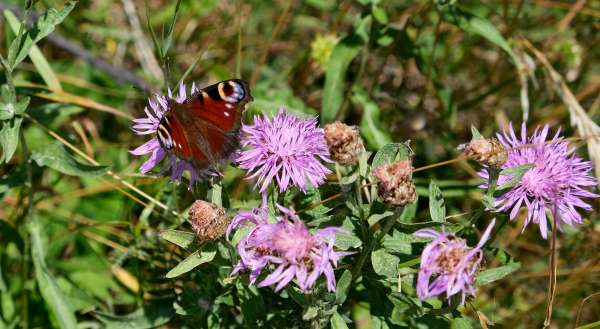 Descent to Horní Albeřice
Now we are waiting for the descent to Horní Albeřice (it is about 120 meters in height). We have a beautiful mountain panorama in front of us
Quarries and caves near Albeřice
An interesting feature of Albeřice is the Customs mine in which caves were discovered – Krakonošova jeskyně and Customs cave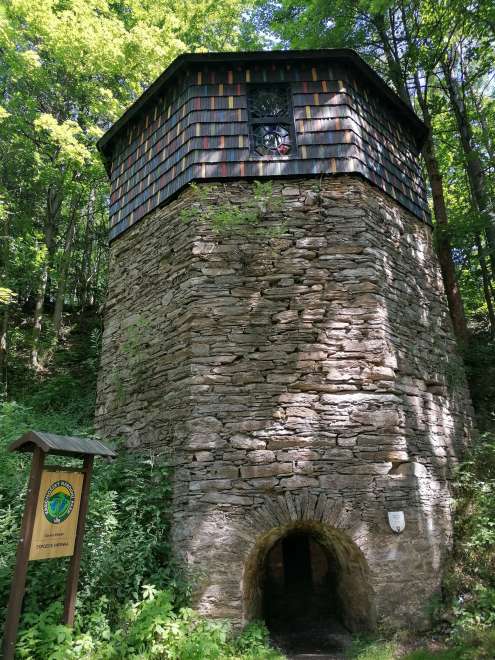 Vápenka Museum in Horní Albeřice
In Horní Albeřice we can have refreshments before continuing towards Lysečiny. One of Albeřice's at­tractions is the Limestone Museum – a reminder of limestone mining in the vicinity of Albeřice
Above Alberice
The path rises slowly. Mountain cottages are picturesquely scattered around the region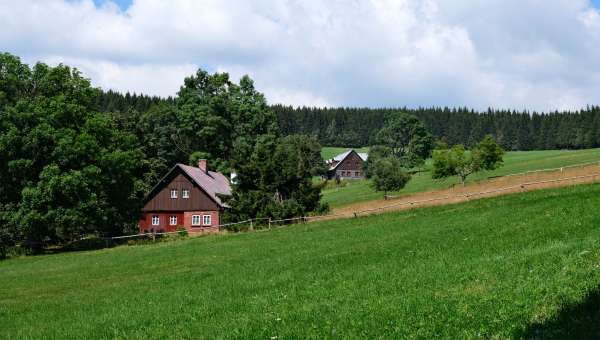 View of the Albeřický stream valley
Even before the path disappears into the forest, we can enjoy a beautiful view of the valley of the Albeřický stream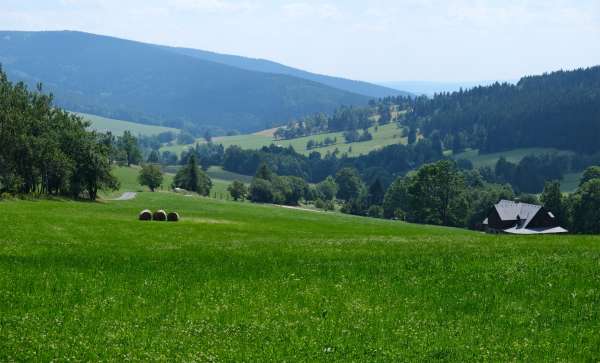 Lysečín shed
It is only about a kilometer through the forest until you reach the Lysečinská bouda. From there you can continue along the red road towards Malá Úpa or go down the blue road to Dolní Maršov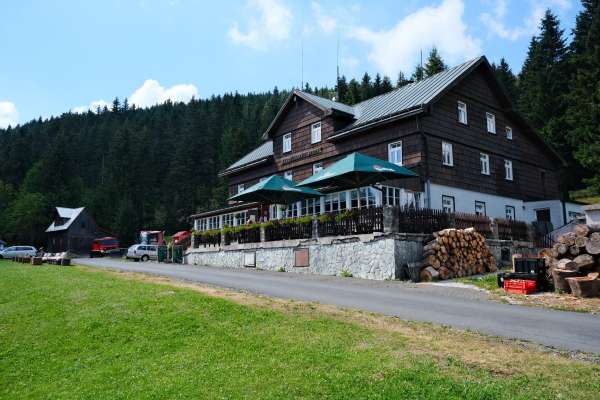 Applaud the author of the article!
Articles nearby
Part of itienary
Article:
Trip to Rychory
Rýchory is the easternmost part of the Giant Mountains. They are also the lowest and probably the least visited part of the… continue reading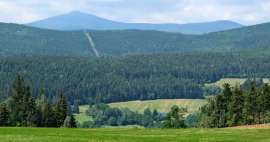 Thanks!
Have you been there? Write a review of this place
Already rated by 0 travelers