Over the highest place Rychor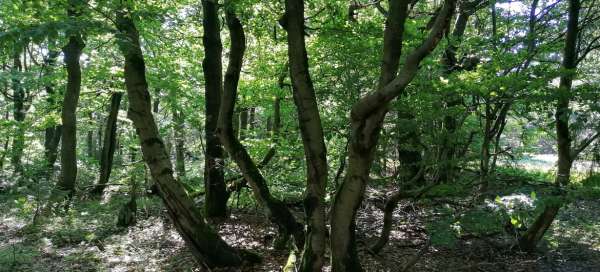 The highest peak of Rýhor (the easternmost part of the Giant Mountains) is the flat peak of Dvorský les (1,036m). The peak itself has no view, but it attracts photographers because of the unique beech forest with variously twisted trees. If you're here in the fog, you'll feel like you're in a fairytale landscape. In addition, you will also find here a part of the military fortifications built before the Second World War. To the east of the summit you will find a beautiful meadow with views – Sněžné domky
Rýchory
The main red hiking trail connecting Trutnov with Pomezní bouda leads through Dvorský les. In addition, there are a number of other hiking trails in the vicinity that mostly lead through the Kutná – Rýchory intersection, so from there we will describe our small circuit through Dvorský les. There are picturesque meadows in the vicinity of Rýhorská bouda, but then we only have to go through the forest before we get to the Snow Houses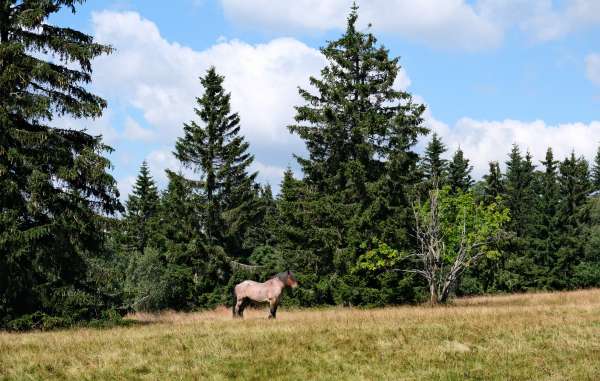 Light fortification pattern 37
Just a few meters from the tourist path to Dvorský les, you will find several small forts, several thousand of which have survived to this day in the Czech Republic.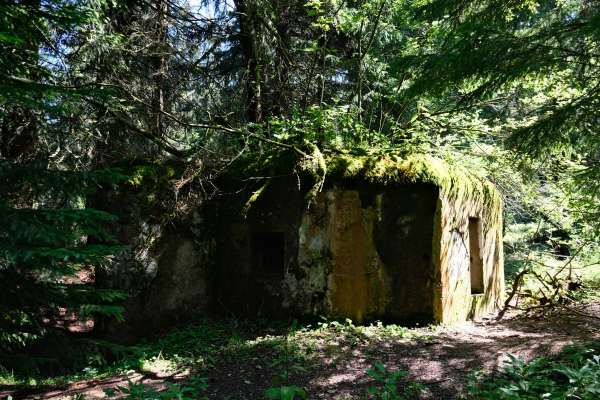 Crooked beeches in Dvorský les
When you look around the road, you will definitely notice many twisted trees – they are beech trees growing at the highest altitude in the Czech Republic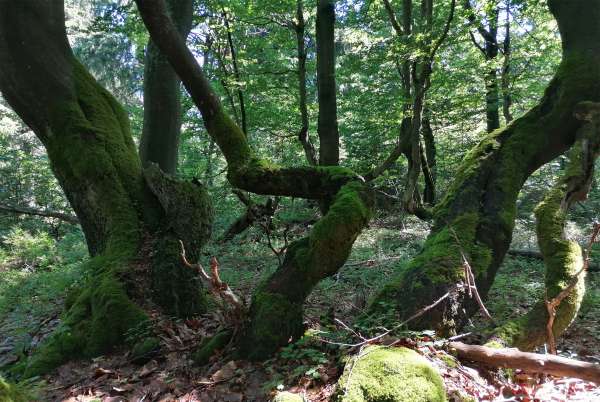 The summit plateau of Dvorské les
Although the slopes of Dvorské les fall sharply to the east and west, several hundred meters down, the summit plateau itself is practically flat, covered not only with trees, but also with lush blueberries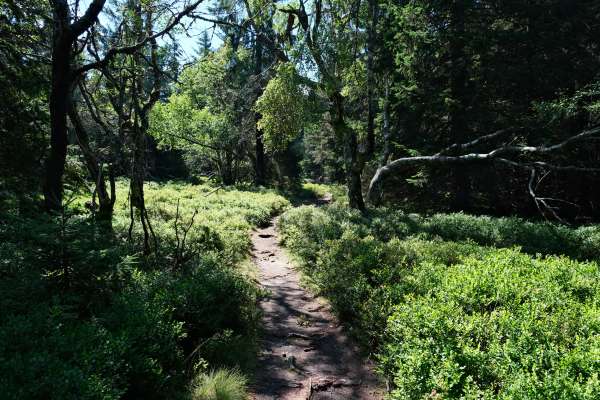 A unique beech forest
The local beech forest is actually a small remnant of the original beech forest that covered a large part of the Giant Mountains.
Almost a century old bunkers
The bunkers from the border fortifications of the Czech Republic are almost a hundred years old and are still very well preserved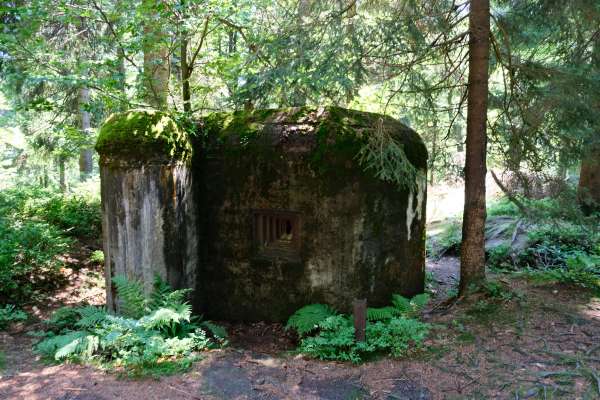 Snow houses
We come to the crossroads under Dvorský les. Here we leave the red tourist route and continue along the yellow one. After a while we reach a huge meadow with several cottages and an amazing view to the east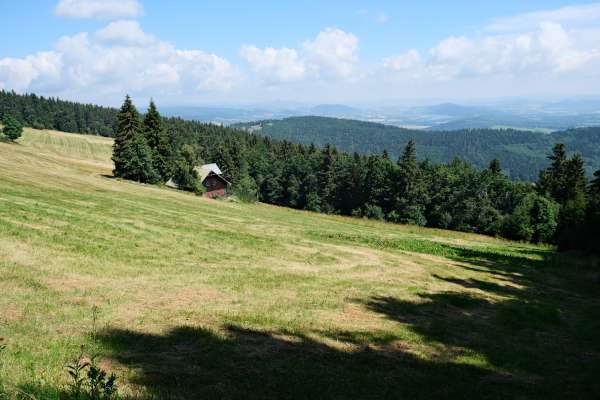 View of the Crow Mountains
In the eastern direction, there is a really wonderful view of the Královéck Pass and the Vraní hory further to the east. The dominant peak is Královecký Špičák (881 m)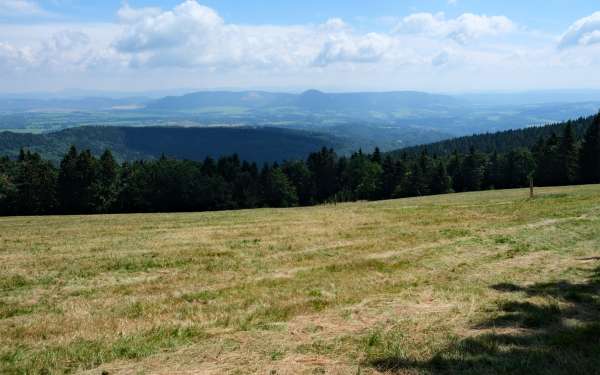 A look back at the Snow Houses
This viewing "balcony" is almost half a kilometer long and is definitely the highlight of this short hike.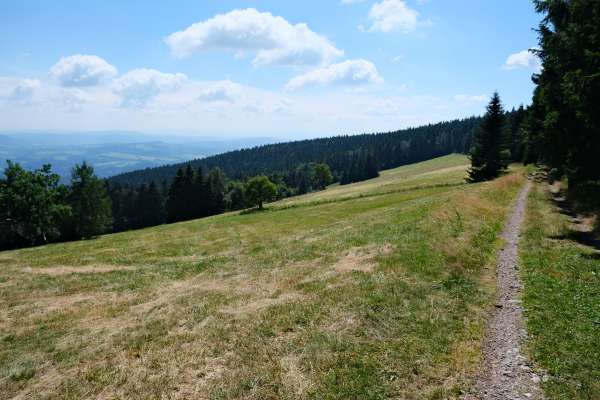 View of Sněžka
The path again disappears in the forest, and after less than a kilometer, it ascends to another meadow with a beautiful view of Sněžka, the highest peak of the Krkonoše Mountains. We are a short distance from the Rýhorský kříž crossroads, about 500 meters from where we started.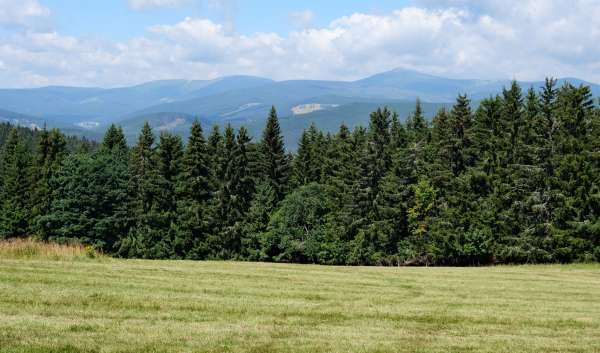 Applaud the author of the article!
Articles nearby
Part of itienary
Article:
Trip to Rychory
Rýchory is the easternmost part of the Giant Mountains. They are also the lowest and probably the least visited part of the… continue reading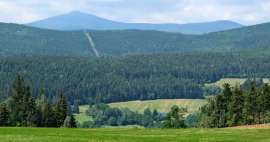 Thanks!
Have you been there? Write a review of this place
Already rated by 0 travelers