Ascent to the dominant of the southern Giant Mountains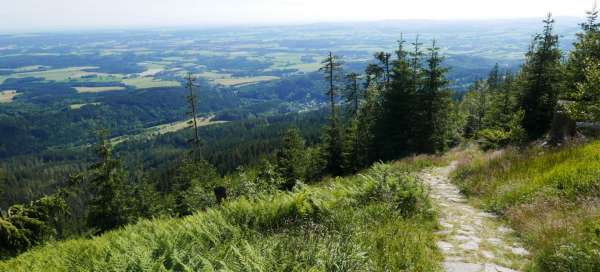 Montenegro (1,299 m above sea level) is the most important mountain in the southeastern Giant Mountains. Thanks to the transmitter at its peak, it is easily identifiable from all sides, even for less knowledgeable tourists. Thanks to the cable car from Jánské Lázně, it is also a relatively busy place. However, if you want to go to the top "honestly", it will definitely take quite a while if it will be from the south, for example, from the Black Mine. It then awaits you with a 5km ascent and 720 meters of elevation gain with beautiful views of the Giant Mountains
Black Mine Square
The ideal starting position for hikes from Černý Důl is a square, where you can refresh and park, surprisingly for free. The square is dominated by Hotel Post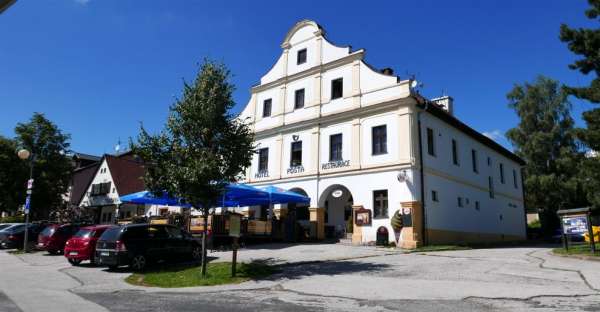 View of the Black Mine
From the center of the town we set off on a yellow hiking trail. After about half a kilometer, our trail turns sharply to the right and we finally climb out of civilization. Before we disappear into the forest, from the edge of the meadow, there is a nice view of the whole Černý Důl and the quarry in the background.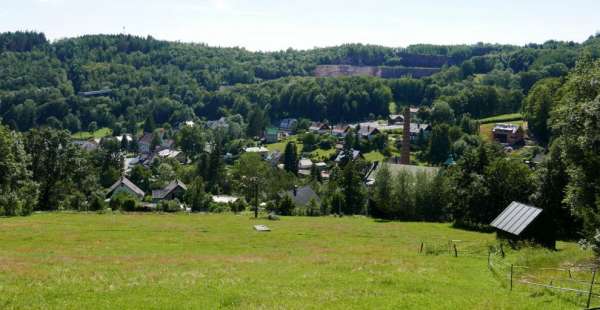 Ascent through clearings
According to the map, the ascent path should lead through the forest, which does not promise many views, but currently it is different. You walk through the forest, a beautiful beech forest, only from the beginning for a while, then there are extensive clearings. Fortunately, they at least beautify the huge flowers of Foxglove.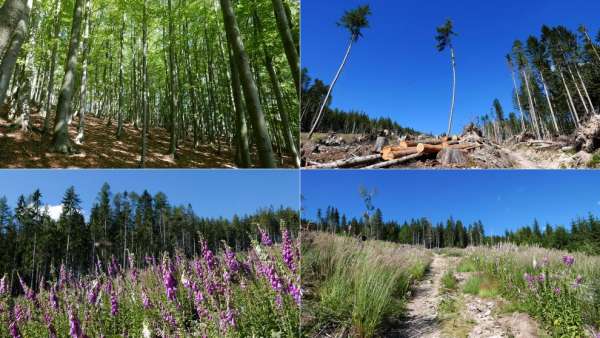 View across the clearing to the Giant Mountains
With increasing meters, the views of the Krkonoše foothills open up nicely. Zvičina is directly opposite you. Experts will also recognize Kumburk, Stráž or Tábor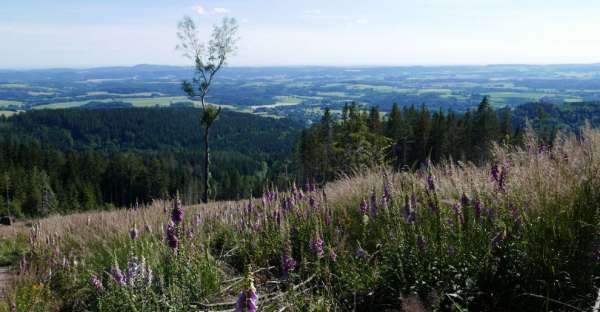 By the forest road
You will climb out of the clearing at the crossroads with the forest road. Here you have more than 1/3 of the ascent to Montenegro behind you. If you climb on a hot day, now you can breathe, finally begins the forest and a little shade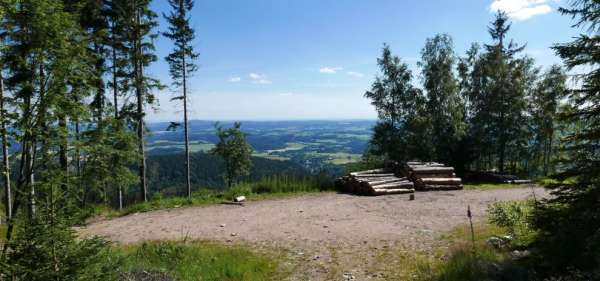 Cottage Vendlovka
You ascend through the forest to the Vendlovka cottage. Here you cross 1,000 meters above sea level. Here you can also come across cyclists, because this is where the route connecting Pec pod Sněžkou with Jánské Lázně leads here. Now we have the last part of the ascent to Montenegro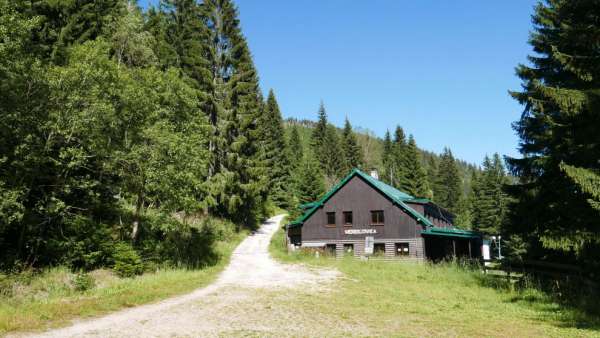 Ascent along the Nepalese sidewalk
After a few tens of meters you will leave the bike path and start climbing the endless stone steps (not unlike those in Nepal) straight up. In some places, there are really wide views of the Krkonoše Mountains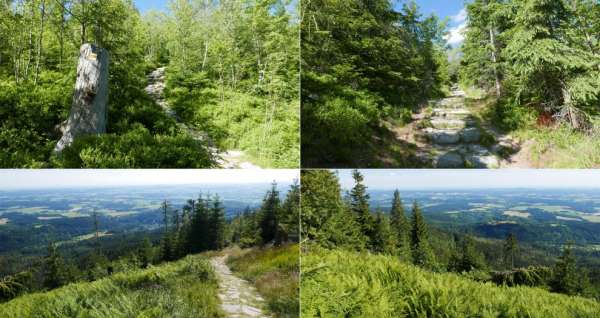 Ox meadow
Finally, the ascent slows as we reach the vast flat peak of Montenegro. We come to a nice Volská meadow. Here we can slowly come across people who came here by cable car and wander around it.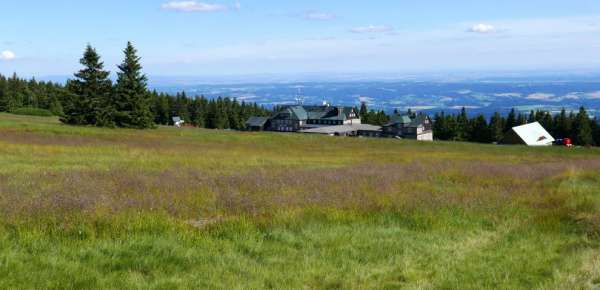 Montenegro lookout tower
From Volská louka you can continue straight to the top of Černá hora, or take a walk about 500 meters and take it around the cable car station and lookout tower.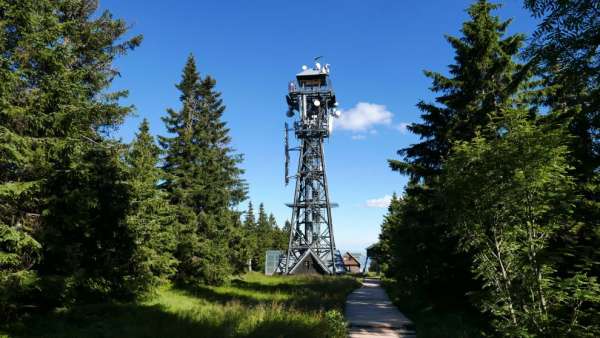 Old cable car
Whether you go straight or take a detour around the lookout tower, you will still reach the interesting building of the old cable car. Next to it is a kiosk by the old cable car.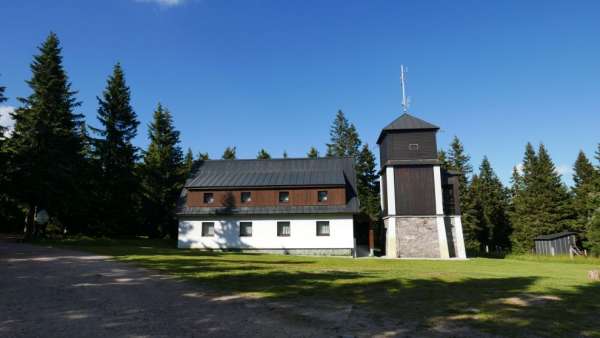 Transmitter on top of Montenegro
The very top of the kilometer-long road in the forest with no views leads to the very top of Montenegro. Unfortunately, it is forbidden to enter the transmitter itself. How to return to Černý Důl? There are more options, but be sure to check out the Montenegrin peat bog beforehand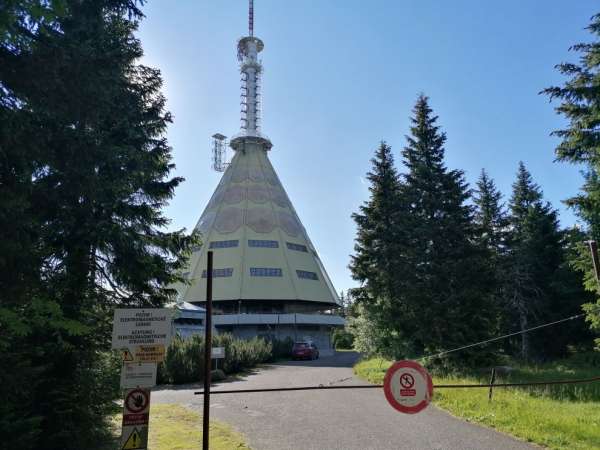 Applaud the author of the article!
Thanks!
Have you been there? Write a review of this place
Already rated by 1 traveler