Or do you like eggs?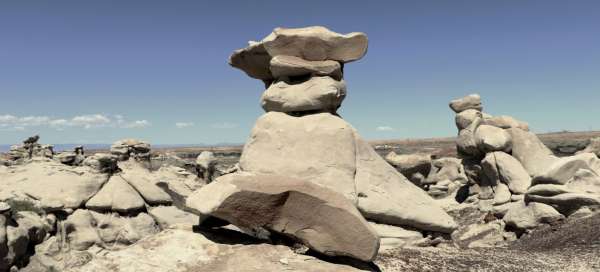 A lesser-known natural gem is hidden in the northwest corner of New Mexico. You will not find it in the guides, you will not meet crowds of tourists, there are no toilets or visitors center. It is difficult to buy a magnet there and you will not even find tourist marked paths there. Nevertheless, you will take home the picture of a strange landscape, full of erosion-shaped stone formations, twisted canyons and sediment-covered hills.
Don't forget to bring your GPS!
Bisti Badlands is part of the vast desert landscape of the De-Na-Zin Wilderness Area, which covers 60 square miles in southwestern New Mexico. As the name suggests, it is an arid and unfriendly wilderness. The best way to get there is on Route 371 south of Farmington, where after about 36 miles you turn left onto the local road 7297. After two miles, turn left again at the T-junction and you will arrive at the car park. You'll feel a bit like the astronauts who have just landed on Mars. You will soon understand that there is no time or place for girls. All you have to do is walk away and lose sight of the parked cars. Don't rely on GPS on your mobile – it doesn't work. I recommend the classic tourist GPS. Take plenty of water with you and prepare for the fact that it is very difficult to find a shady place here. The surface is very crumbling, you need to have quality shoes and be careful, some stone formations are very unstable.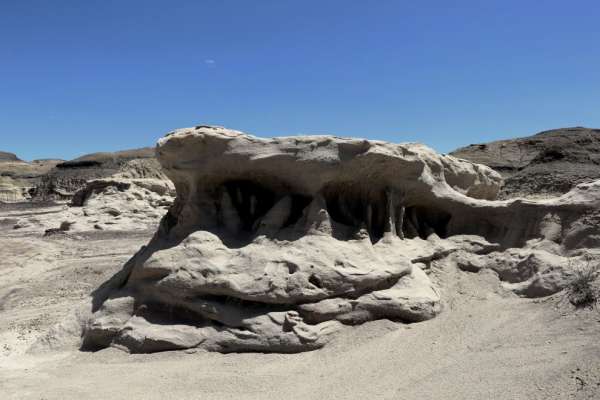 How we didn't find the damn eggs
The main attraction is the special round stone formations, which resemble cracked eggs. They are also called Alien Eggs and the area in which the Alien Egg Nursery is located. According to information on the Internet, the journey to them from the car park takes about 45 minutes. It is necessary to cross the plain up to two conspicuous cones on the other side and then bypass them from the left. Me – we didn't find them. One more reason to come back here. Photo provided by friend Alex.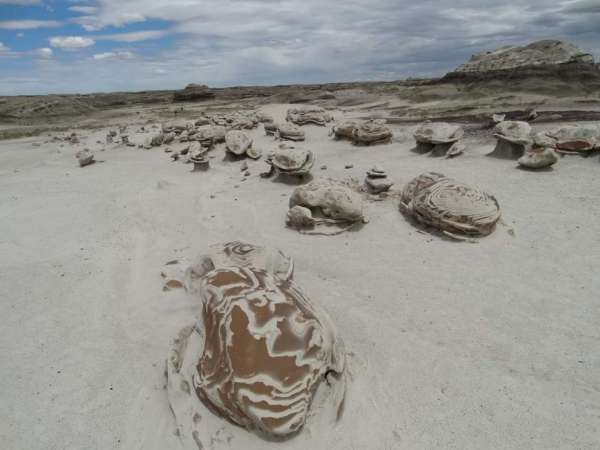 The Bisti Beast
The Bisti Badlands is a paradise for archaeologists, amateurs and professionals alike. The proof is the finding from 1997, when the skeletal remains of an "animal" of the relative Tyranosaur rex were discovered. You can see them at the Albuquerque Museum of Natural History.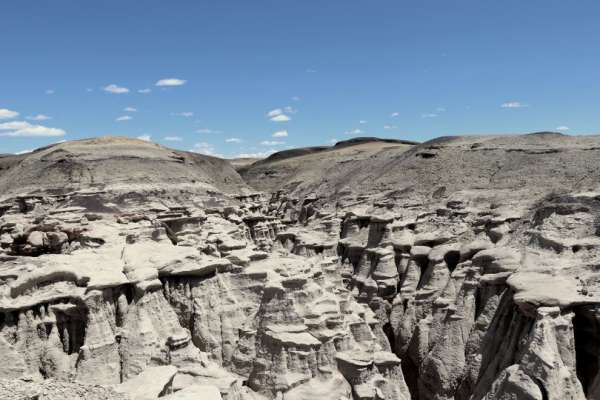 Applaud the author of the article!
Thanks!
Have you been there? Write a review of this place
Already rated by 1 traveler