Beautiful view over Passo del Madriccio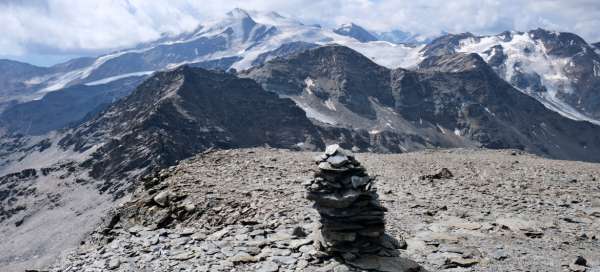 If you are already going on a hike to the high pass of Passo del Madriccio (3,123 m), then definitely extend this trip by climbing the technically simple yet relatively high Hintere Schöntaufspitze (3,325 m). There is only 200 meters of altitude from the pass to the top, so you will be at the top in 30–45 minutes depending on your pace
Exit route from the pass
Despite the altitude, the ascent route is simple. Sometimes you just need to hold on to a rock. The view is a bit deceiving, the peak itself is a bit further than it seems.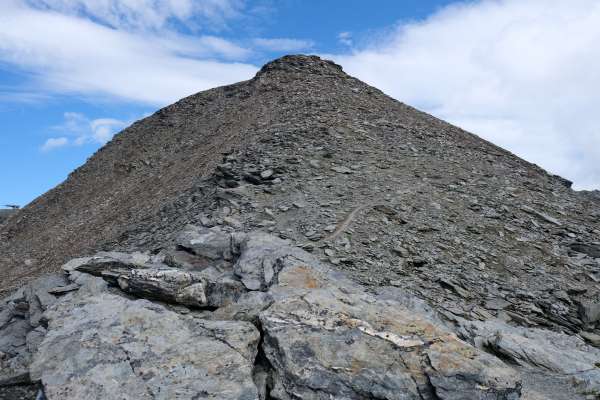 View back to the pass
After a few tens of meters of ascent, a nice view opens not only back to the pass, but also to two well-known mountains in the Ortles – Zufallspitzen (3,757m) and Monte Cevedale (3,769m).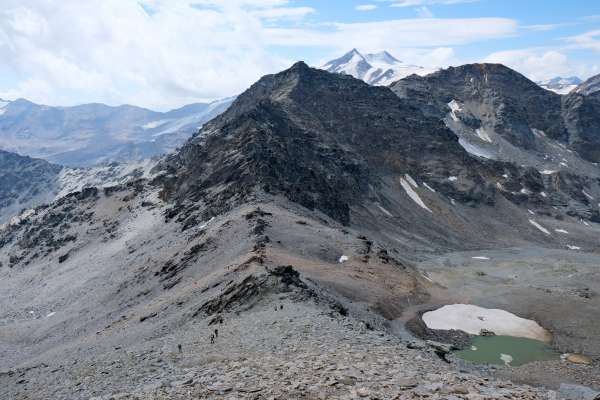 Zufallspitzen and Monte Cevedale
One of the reasons to climb the Hintere Schöntaufspitze is this view of the beautiful Cevedale massif and the Zufallferner glacier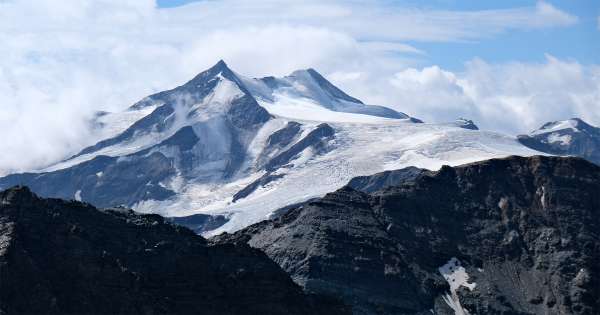 View of the main peaks of the Ortles
The main view in this area is of the giants, from left: Gran Zebrù (3,851m), Monte Zebrù (3,735m) and Ortler (3,905m). The top station of the cable car can be seen deep below.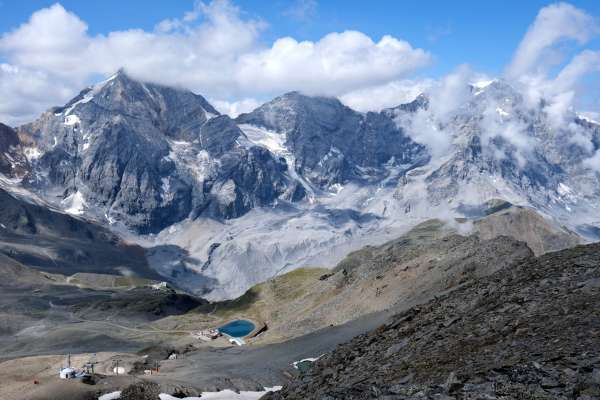 The final ascent to the Hintere Schöntaufspitze
What seemed like a peak for a long time was just the edge of the field. It is followed by such a plateau, and beyond it is the main peak, which has a rather hilly character.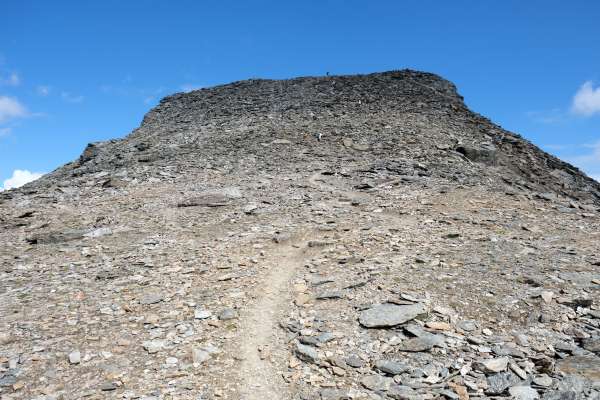 The peak of the Hintere Schöntaufspitze
Despite the fact that the Hintere Schöntaufspitze is a mountain with a height of over 3,300 meters above sea level, it is certainly no wilderness at the top. Dozens of tourists can fit here (fortunately there aren't that many here)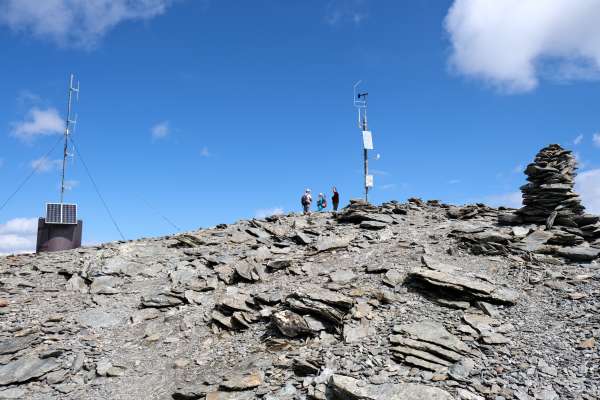 View of Sulden in the valley
The valley with the town of Sulden crouches a kilometer and a half below you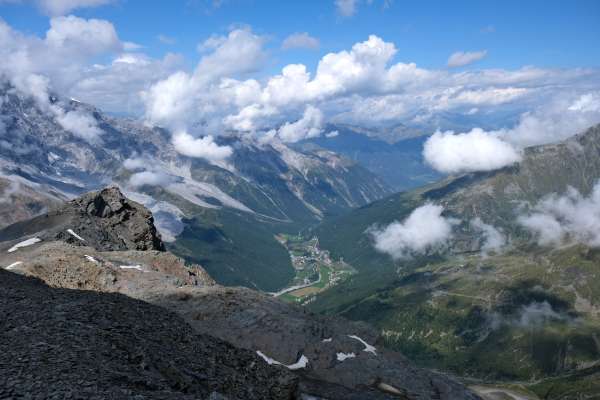 Mountains above Sulden
The peaks to the east are about half a kilometer lower than those to the west. The view is dominated by the Vertainspitze (3,545m). The second highest mountain in this part is the Hohe Angelusspitze (3,521m)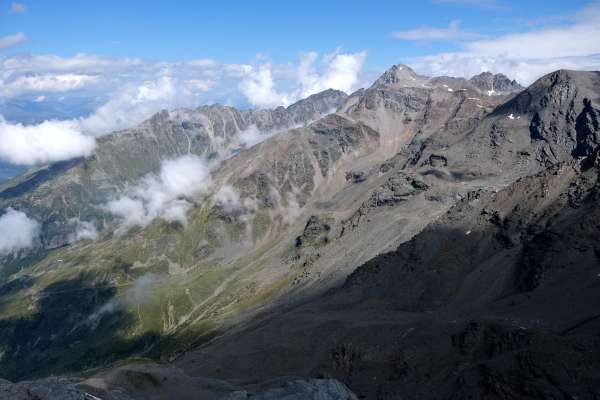 View of the Martelltal valley
The view of the Martelltal valley is only slightly better than from the Passo del Madriccio.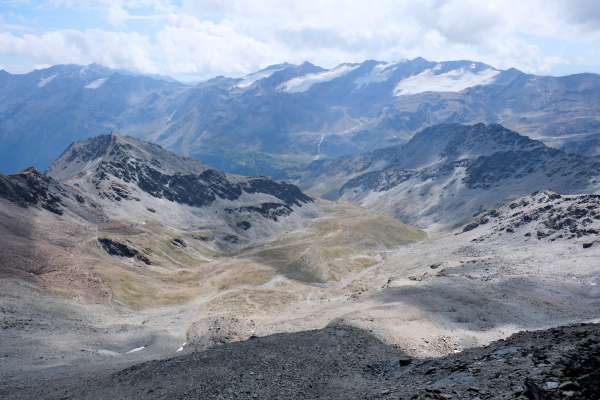 View of Cevedale
The view of Cevedale is truly mountainous.
The return is the same way back.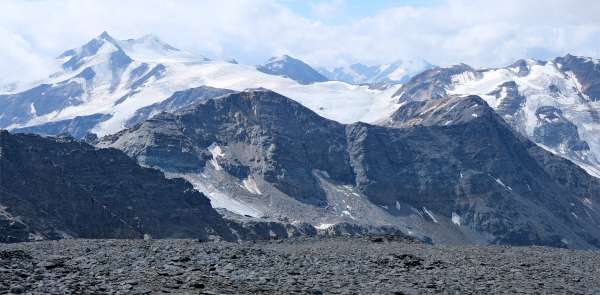 Applaud the author of the article!
Articles nearby
Part of itienary
Article:
A trip over the Sulden
If you want to take a beautiful day trip or a hike to the very heart of the Ortles Mountains. Head to the town of Sulden, located… continue reading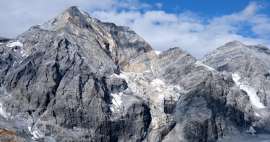 Thanks!
Have you been there? Write a review of this place
Already rated by 0 travelers