View of the gompa from the old town
Classic view from the old town steeply up to the monastery looking from the bottom as an eagle's nest. The main hiking trail to the gompa begins at the Royal Palace.
 
The ascent path
The path rises through lot of twists into a small pass between two mountains. Just in front of the top you can turn on the side path and visit first the lower hill, from which there are beautiful views of the gompa over the fluttering flags.
View of the old town
During the ascent there is nice view over the center of the old town of the Indus valley and of the ridge of Stok on the horizon.
View of the Royal Palace
Not only downtown, but also the Royal Palace is slowly disappearing in depth and you can see not frequently walked path to the small ruin over the palace – another tip on unusual views of the town.
View of the Shanti Stupa and Leh oasis
View to the west is of the greenest part of the Leh – Changspa suburbs. On the horizon there is the second most popular view of the town – Shanti stupa and nameless mountain towering above it.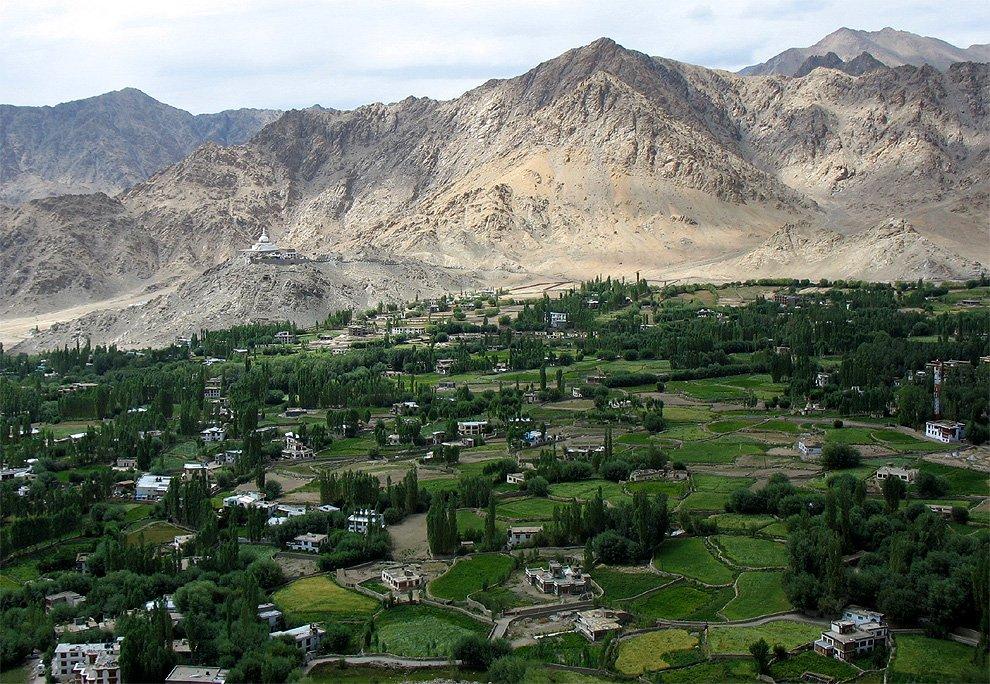 Gompa
This ancient three-story Gompa with a rich history (founded by king already in 1430) is far larger than would be expected from the first view of the old town.
Looking north to the pass of Khardung la
The view in the north direction is towards the mountains on Ladhack – there is still dusting of snow on the tops at end of June, so you can thus nicely identify the road to Khardung la pass. The pass itself is hidden behind a side ridge, so Leh is not visible from it.
Ladakh mountains and Changspa oasis
The most beautiful in Ladakh is probably the constant contrast of beautiful green oasis near the glacial rivers and the surrounding arid mountains.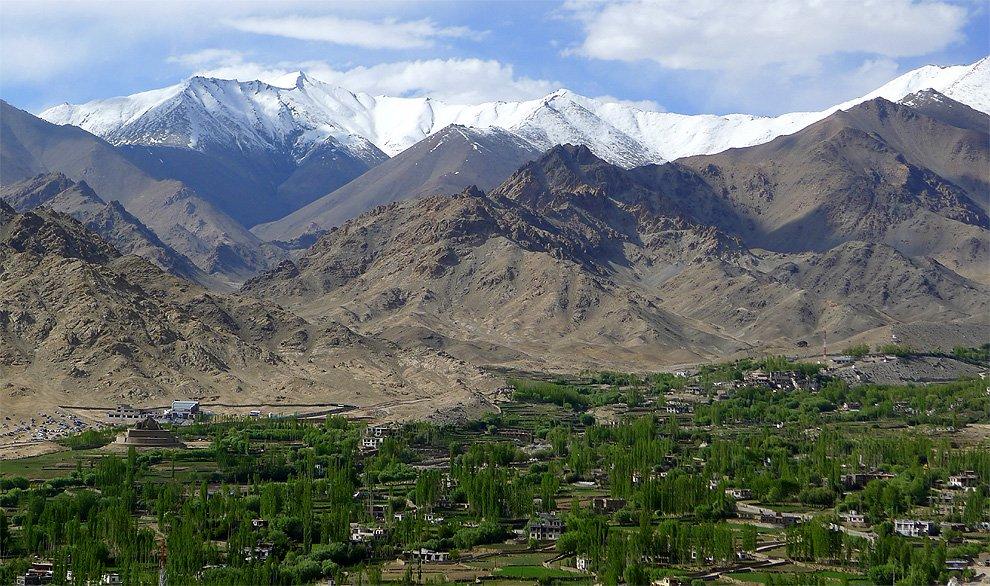 Prayer flags
Sunset at the Namgyal Tsemo gompa has the most magical atmosphere. The landscape gradually colors in shades of gold and orange and the prayer flags rustle in the constant wind.
Amazing sunset
Sunsets in Leh are truly breathtaking. In this direction you can also clearly see the path to the barren hills in the east of the town, along which the old pastoral path to the village of Sabu leads.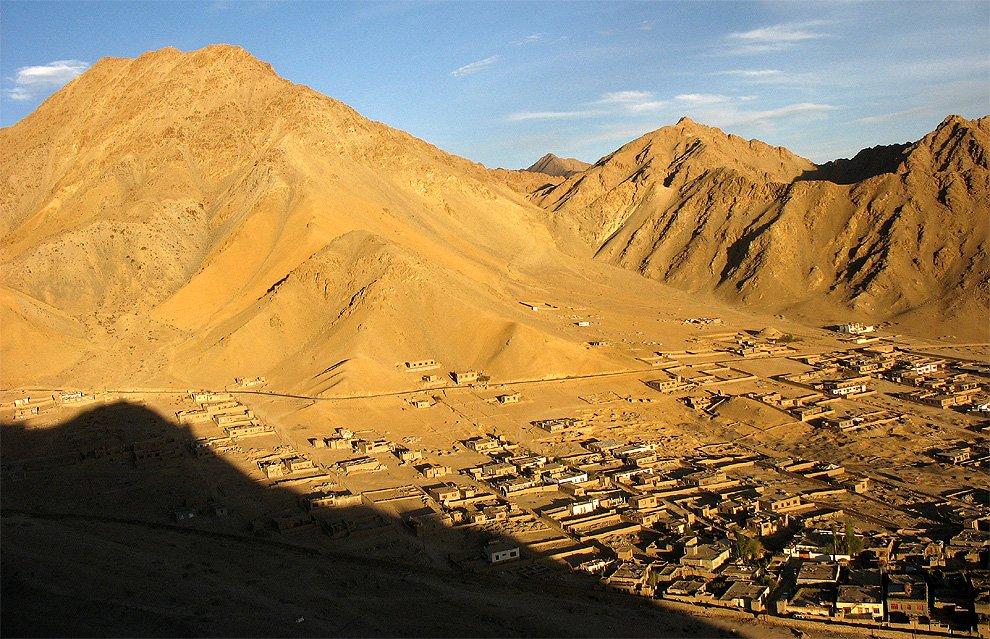 Golden hills
It is really worth waiting until the very sunset and enjoy the incredible color of the surroundings.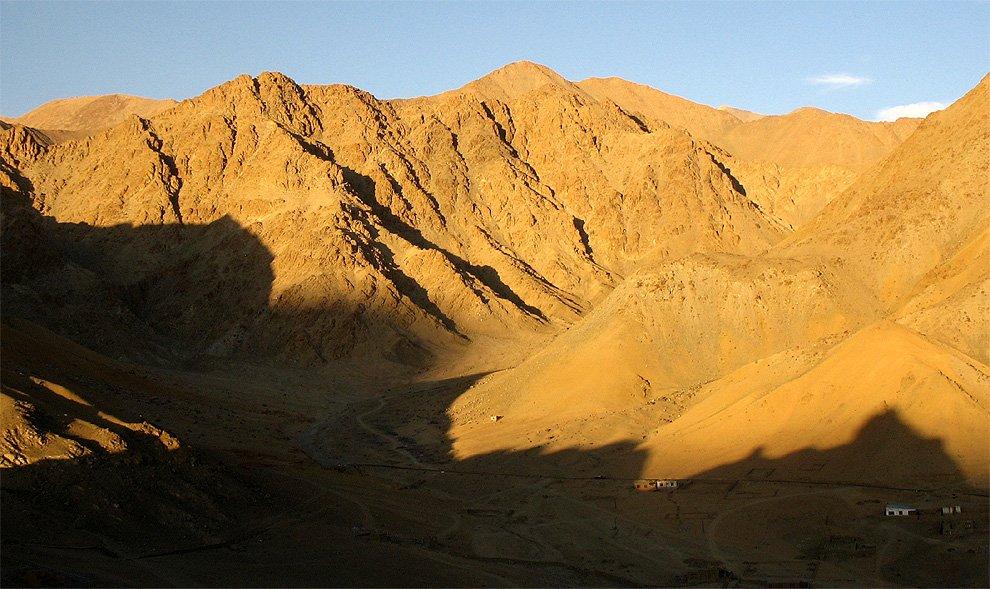 The path from the Changspa suburbs
Alternative path to the gompa is from a suburb of Changspa. It is certainly easier descent this path rather than find its starting point from Changspa.