Walk to Shanti Stupa
Beautiful view of Leh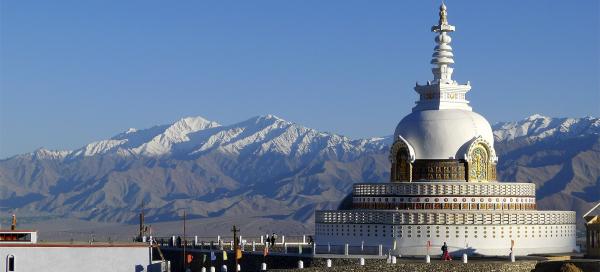 The ascent to one of the most famous landmarks of the Leh – Shanti stupa is beautiful at any time of day. But really ideal is for evening walk, because it is renowned beautiful place for watching the sunset over the crest of Stok Kangri.
View of the Namgyal Tsemo gompa
Already during the ascent along a few hundred stairs open nice views of Namgyal Tsemo gompa – one of the mandatory ascents during the visit of Leh. Farther to the east are parched desert mountains through which the old path leading to the village of Sabu, now used only by shepherds and tourists wanting to have a genuine prospect of Leh.
Gompa under stupa
Closely to the end of the "endless" stairs there is a small gompa.
Shanti Stupa
Most people visit beautiful Shanti stupa at the sunset, when the desert landscape turns into orange tones. But even in the morning, when there are minimum people, it's not bad.
Suburbs of Leh, the Indus valley and mou
Views of south in the direction to the wide Indus valley bordered by six thousand mountain of Stok are one of the nicest.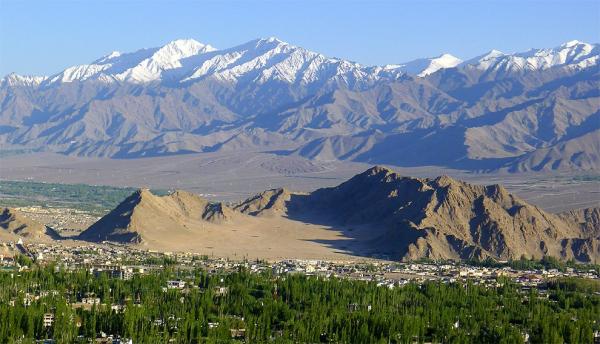 Views of the Stok
The highest mountain far and wide – Stok Kangri.
View of Nanga Sago (5776 m asl)
Nanga Sago dominates the northern horizon. Only a few people set out to conquer its top and admire the views of the Karakoram.
Shanti Stupa and Stok Range
Definitely worth is a walk few dozen meters to the nearby elevation and enjoy the view as to the Shanti Stupa and Stok the mountains on the horizon.
Sunset over Namgyal Tsemo gompa
The best of the day at Shanti stupa – sunset and coloring of the landscape by the last rays of the sun. On the picture bottom left can be seen an interesting cluster of Chorten, which also worth seeing, such as a trip to the northern oasis of Leh.
Sunset over Leh
While keeping the eyes in one place you can beautifully see how the shadow gradually moves and veil the landscape.
Have you been there? Contribute a good advice to travelers who want to go to this area or add places to your visited list.
Do you want to go there? There is nothing easier than having to deal with others and go on a trip or get tips on where you want to go.
Activities
Practical information
Part of itienary
Article:
Around Leh and surroundings
For most tourists is Leh (3 520 m asl) gateway to interesting landscape called Ladakh. In order to gain acclimatization to even… continue reading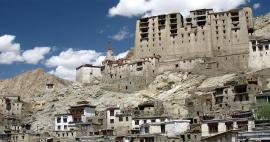 Applaud the author of the article!
Thanks!
Have you been there? Write a review of this place
Already rated by 1 traveler