TOP 10 places of northern Thailand
The best of northern Thailand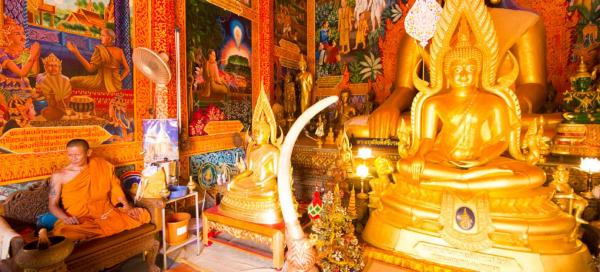 Chiang Mai and Chain Rai are very popular cities in northern Thailand. You can find out what to visit in these cities, where to go to the mountains or what the most beautiful temples are in this list.
City of digital nomads and Buddhism
|
Altitude: 314 m / 1 030 ft
Chiang Mai is the central city of northern Thailand full of Buddhism. In recent years it has been popular… continue reading
Temple over the city of Chiang Mai
|
Altitude: 1 047 m / 3 435 ft
Wat Phrathat Doi Suthep is located just above Chiang Mai on a hill near the Doi Suthep Mountain Range – Pui… continue reading
Thailand's highest mountain
|
Altitude: 2 556 m / 8 386 ft
Doi Inthanon is the highest peak of Thailand and is located in Doi Inthanon National Park. At the very top… continue reading
Tea plantations of northern Thailand
|
Altitude: 935 m / 3 068 ft
Doi Mae Salong is an area of northern Thailand near Chiang Rai, where beautiful tea plantations are located.… continue reading
Whipped cream or concrete?
|
Altitude: 409 m / 1 342 ft
Wat Rong Khun or White Temple as it is called by tourists is one of the main tourist attractions in northern… continue reading
Tooth-shaped mountain at the border with Laos
|
Altitude: 1 592 m / 5 223 ft
Peak Phu Chi fa is located in a national park on the border of Northern Thailand and Laos. The peak has an… continue reading
Opium, three states and Buddhism
|
Altitude: 372 m / 1 220 ft
Golden Triangle is located on the border of the states of Thailand, Laos and Burma and is located on the… continue reading
Mountain viewpoint with Chinese history
|
Altitude: 1 529 m / 5 016 ft
Viewpoint Doi Pja Tang is located in a picturesque mountain area on the border of Thailand and Laos. We will… continue reading
Have you been there? Contribute a good advice to travelers who want to go to this area or add places to your visited list.
Do you want to go there? There is nothing easier than having to deal with others and go on a trip or get tips on where you want to go.
Applaud the author of the article!