What to visit and see in Slavkov Forest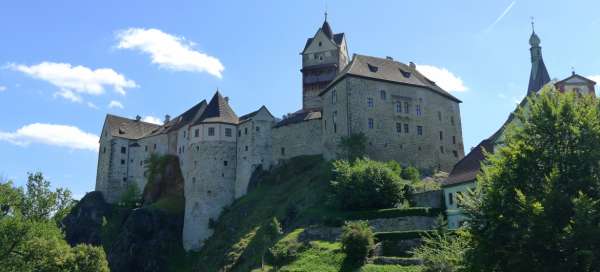 Slavkov Forest is a mountain range located in the heart of the spa area of the Czech Republic. This protected area is crossed by the river Teplá and you will also find a lot of peat bogs in the center of this small mountain range. You will find a number of famous spa towns and beautiful castles and chateaux around the region.
The most visited spa town
Altitude: 374 m / 1 227 ft
The city of Karlovy Vary is located in western Bohemia, in the Karlovy Vary region named after this city. It… continue reading
An impressive castle over the river Ohře
|
Altitude: 417 m / 1 368 ft
Loket is a Roman-Gothic castle from the first half of the 13th century. It hovers over the river Ohře in the… continue reading
The second largest spa town in Bohemia
|
Altitude: 592 m / 1 942 ft
Marianske Lazne is the second most famous spa town in the Czech Republic after Charles Spa. The most… continue reading
The castle is high on the river Teplá
Altitude: 515 m / 1 690 ft
The road climbs to the city fortifications and the views of the castle are very nice continue reading
The city above the meander of the Ohře River
|
Altitude: 415 m / 1 362 ft
Loket is a small town situated in a picturesque location above the meander of the Ohře River. Tourists often… continue reading
Headquarters of Chancellor Metternich
|
Altitude: 587 m / 1 926 ft
Kynžvart Castle is built in the picturesque landscape of the Slavkov Forest. It is surrounded by a wide park… continue reading
Czech Finland
Altitude: 808 m / 2 651 ft
Kladské peat bogs lie on a plateau (at an altitude of 800 meters above sea level) in the central part of the… continue reading
In the PLA Slavkovský les
|
Altitude: 777 m / 2 549 ft
The romantic stone lookout tower on Krásenský vrch at an altitude of 777 m above sea level offers views of… continue reading
Applaud the author of the article!
Articles nearby