The most beautiful places in the capital city of Ladakh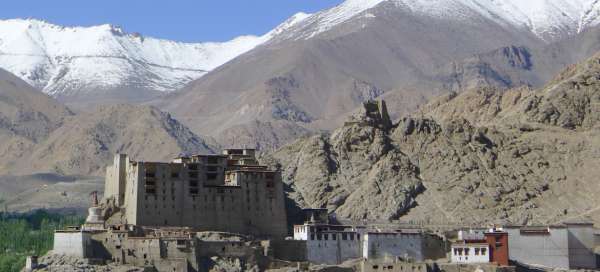 Leh is the historical center of Ladakh. Nowadays, it is the biggest gateway to this beautiful Buddhist region. In the city itself you will find several interesting and beautiful monuments. Moreover, the famous Khardung la road saddle is right next door. Let's take a look at the places that are definitely worth a visit.
Dominant of Leh
|
Altitude: 3 535 m / 11 598 ft
Probably the most typical building and the largest landmark in Léh is the historic royal palace from the 17th… continue reading
Beautiful view of Leh
|
Altitude: 3 640 m / 11 942 ft
Shanti Stupa was built in 1991, but even so it is very nice Buddhist building forming one of the main… continue reading
False highest motorized pass in the worl
|
Altitude: 5 359 m / 17 582 ft
Khardung la Pass (5 359 m asl) is probably the most famous Indian road pass, mainly due to the fact that it… continue reading
Monastery above Leh
|
Altitude: 3 700 m / 12 139 ft
One of the dominants of the capital of Ladakh – Leh is the Namgyal Tsemo Gompa monastery. In addition to own… continue reading
The largest mosque in Leh
The largest mosque in Leh is at the junction of the main bazaar and the old town. But the most important… continue reading
Little walked top
|
Altitude: 5 776 m / 18 950 ft
The highest mountain near Leh is called Nanga Sago (5,776 m above sea level). It lies north of the city in… continue reading
The secret view of Leh
|
Altitude: 4 140 m / 13 583 ft
Directly above the beautiful Shanti ascent, there is a mountain of more than four thousand, from which there… continue reading
Applaud the author of the article!