The best of Israel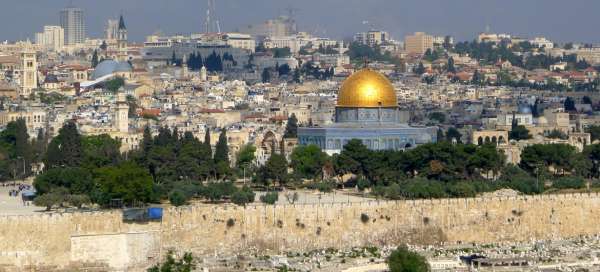 Israel is a country full of biblical monuments located in places where the trade routes between Africa and Asia crossed. Apart from the monuments, you will find the vast Negev desert, the famous Dead Sea and also a piece of the Red Sea coast. Let's take a look at the most beautiful places in Israel that are definitely worth a visit.
City at the junction of continents
|
Altitude: 761 m / 2 497 ft
Jerusalem is a city with a long and turbulent history. Nowadays, both the Jews and the Palestinians claim it… continue reading
Deepest depression of the world
|
Altitude: -415 m / -1 362 ft
The Dead Sea (- 415m) is an extremely salt lake and at the same time the deepest depression. From the Israeli… continue reading
The most remarkable monument of Jerusalem
|
Altitude: 745 m / 2 444 ft
The Dome of the Rock is a Muslim sanctuary located on the Temple Mount in Jerusalem. It is the third most… continue reading
The desert heart of Israel
Altitude: 638 m / 2 093 ft
The Negev desert occupies almost 70% of the area of Israel. It is very dry, inhospitable and mountainous. The… continue reading
Amazing view of Eilat
Altitude: 665 m / 2 182 ft
Mt. Shlomo is the highest mountain around Eilat, so it provides an amazing circular view. From the top of the… continue reading
The most famous fortress in Israel
Altitude: -244 m / -801 ft
The remains of the ruins on the table mountain – Masada fortress continue reading
Valley of the Sacred River
|
Altitude: -305 m / -1 001 ft
The Jordan River Valley forms the border between Jordan, Israel and Palestine. This sacred fertile valley is… continue reading
Israel's southernmost city
Altitude: 41 m / 135 ft
In the very south of Israel you will find the city of Eilat – a vast recreation center with many hotels,… continue reading
Applaud the author of the article!
Articles nearby