The best of Bahrain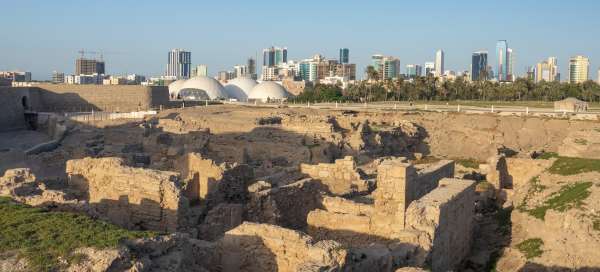 This smallest state of the Persian Gulf with a rich history and rapid economic rise in recent years, has something to offer to all possible travelers. Due to its size, it is possible to take all trips around Bahrain from one place and thanks to the very decent infrastructure, it is very convenient to get to all major tourist sites simply by car.
Qal'at al-Bahrain
I think this is probably the most important historical site in Bahrain. This is where all the history… continue reading
The capital of the Kingdom of Bahrain
Altitude: 5 m / 16 ft
From the first moment, the city of Manama can be seen to be the capital of a rich oil state. The modern,… continue reading
Bahrain National Museum
A country with a rich history has not preserved much, but the mother who remained here was able to present it… continue reading
A mosque named after the founder of Bahrain
Altitude: 7 m / 23 ft
Al-Fateh Mosque, built in 1988, is one of the largest mosques in the world. It occupies an area of 6,500 m2… continue reading
The National Library at the Isa Cultural Center
The library aims to provide access to all literary works in all possible forms (printed, audio and visual)… continue reading
Riffa fort
|
Altitude: 45 m / 148 ft
Riffa fort stands on the site of the original fortress from the time of Bahrain's rule by the Persian Shah… continue reading
Tree of Life
The Bahrain Tree of Life is about 10 m tall and is a prosopis cineraria tree in Czech, then an eared tree,… continue reading
One of the many small Bahraini archeological sites
These are actually three temples that were built on top of each other over time. Part of the temples was a… continue reading
Budaiya beach
Small city beach with a nice promenade, in the evening a lot of people come here for a romantic sunset continue reading
Bahrain International Circuit
Altitude: 14 m / 46 ft
Once a year, the circuit hosts a F1 race, this race has been run here since 2004. You can't go inside freely,… continue reading
King Fahd Causeway
Altitude: 6 m / 20 ft
The bridge is composed of several bridges and viaducts that connected Bahrain with Saudi Arabia in 1986. continue reading
Applaud the author of the article!
Articles nearby