14-day travel around the island of Zanzibar - Unguja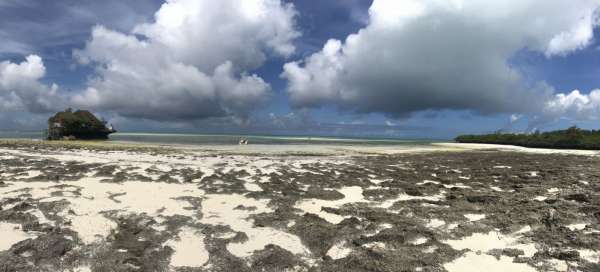 A little adventure, beautiful beaches great food and relaxation. It offers the archipelago of Zanzibar. But also mosquitoes, a two-kilometer low tide and annoying sellers of almost everything. Yeah, and as a white man, he'll try to cover you everywhere. But even so, our trip to this island was worth it. I would go back there right away, my wife probably not :-) it is said that once was enough.
Prague - Istanbul - Stone Town
I would like to take this article more informatively. For those who are thinking about a trip to Zanzibar, but may have some doubts, fears, etc … the wife is not an expeditionary type, rather a beach lounger, but a little persuasion and the promise that we will sleep in better hotels, convinced her and so we began preparations. 13,000 ticket with one quick transfer. Vaccination against yellow fever is now no longer mandatory, but we had it. But true, no one wanted him for us. and also an international driver's license, it costs 40 CZK and that's it. and then just plan your trip and book some that hotel through Booking.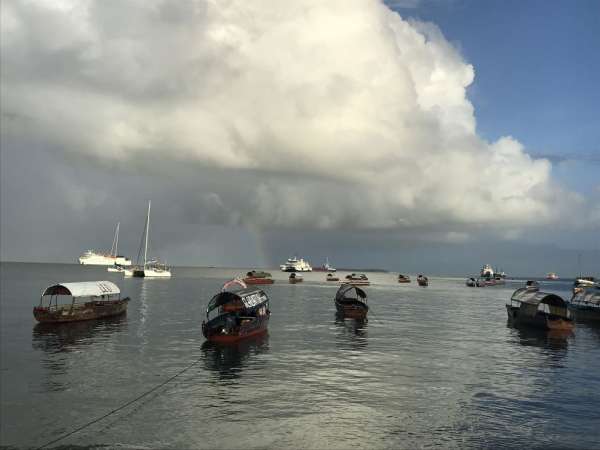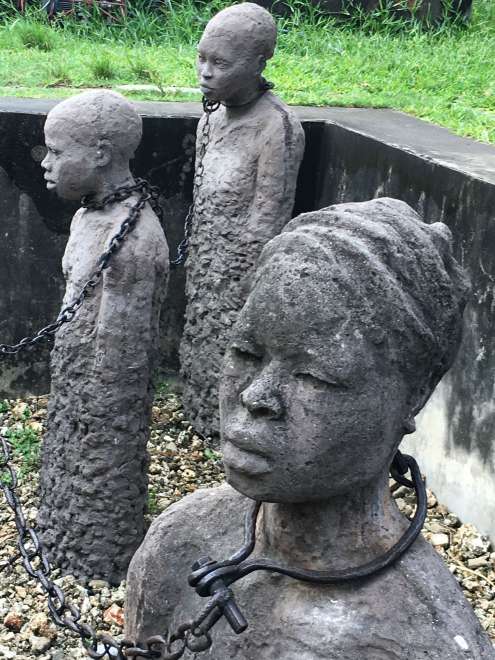 We start Stone Town
Landing at 4:00 in the morning and surprisingly a car was waiting for us at the airport with a local guy. Exchanging money, I was even surprised that they had almost the best rate at the airport. And that 1Euro – 2600TSH. Later in the hotel I changed with the rate of 2300TSH. First I trained to the left in the parking lot and then hurray to the big city. Well, at the roundabout, turn left and then not drive in the opposite direction when leaving, there was a problem at the beginning, but after a while I drove 40 km / h. There were problems with parking. There are narrow streets in Stone Town, lots of cars and taxi drivers, so there is a problem with parking. In addition, there is a lot of stealing, so we were warned not to leave anything in the car. We even had to take the windows out of the doors. This is said to be a scarce commodity, priced at $ 100 apiece. So I walked around town with a backpack, water in it and two door controls. There is not much in Stone Town. The big market, the market, Fredi Mercury's bir­thplace, the House of Miracles, the Anglican Cathedral ..... a taxi driver calls you three times a minute and a young black man joins you every minute and offers guide services. We were already looking forward to the north of the island, the beaches.
Nungwi - beaches in the north
We're leaving Stone Town. The first problem when paying parking. The price was supposed to be 1000TSH per day, but now he wanted 1000TSH per hour. So it will cost us that we stood overnight – for 10,000TSH, which is about 100 CZK. I hate to, but I agree. It's not about a hundred, it's about principle. I'll pay, I'll get a receipt and we're leaving. It is only in the car that I notice that there is 1000TSH per day on the receipt. Fly like this :-) And we're going to the gas station right away. I'm going to refuel, but a saleswoman runs up and is already refueling for me. I'm telling her I want half the tank down. He will refuel me for about 18 liters, for 40 thousand TSH and he wants 50 thousand TSH for me. I point to the stand where she is 40,000, she smiles and Hakuna Matata. Which means NO PROBLEM :-) You're just white, so pay. I give her $ 42,000 and we're running away. Gasoline therefore costs about 22 CZK / liter.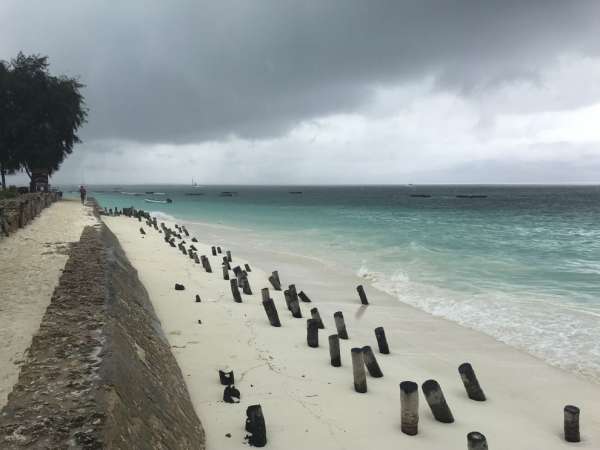 Nungwi - Warere Beach Hotel
Nice hotel on the beach, with pool … great cuisine and really nice staff. And the turquoise sea … it's just not wrong.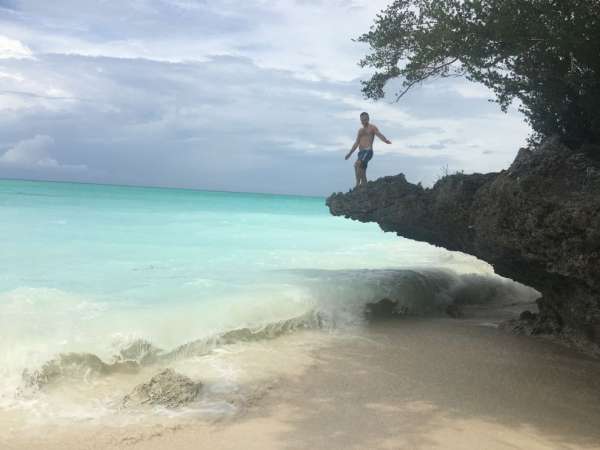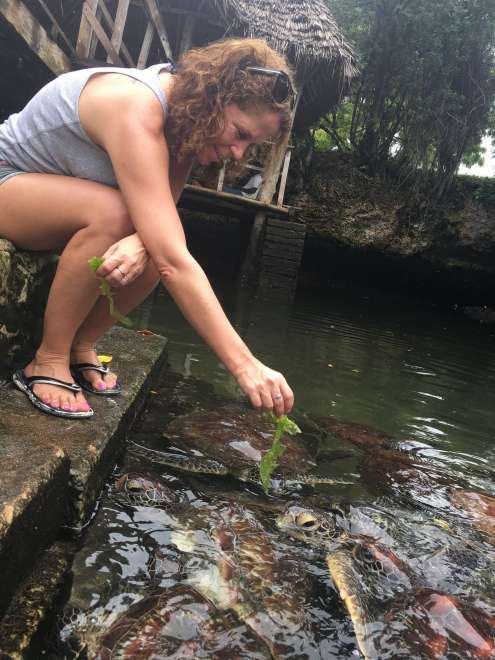 Turtle Farm - Nungwi
In the north, the low tide is not so great, so you can swim in the sea during the day. But watch out for hedgehogs … they're everywhere. In Nungwi, we visited a turtle rescue farm. It's a charity and talking about turtles is really interesting. Otherwise beautiful walks along the beach, among local fishermen, boats and of course sellers of experiences and everything else.
Kiwengwa - east coast
After three days we moved east to the beaches of KIWENGWA. The beaches are not as nice as on Nungwi. More resorts, more grass in the sea, more vendors. So they only bother you twice in ten minutes. In the village there is a bank, a liquor store (150–200 CZK for wine and a bottle of Freixenet Brut for 280 CZK) Resort Marafiki Bungalows – no glory, in addition, the owners are Poles, so at dinner we played Polish shites in the style of Michal David. Really three days in each resort is enough. That is, if you do not want to roll by the pool for 14 days. The ebb was also much greater. But we didn't mind. In the morning we swam in the sea, then walk along the cast beach, where there were lots of shells, starfish, crabs and fish. Local women and children walked along the beach and gathered everything they could to eat. It was really interesting. Then lunch at a local restaurant and return to the hotel in the afternoon, before high tide. Swimming pool and then dinner at the hotel. Catch of the day – the catch of the day, the chef prepared something new every day and 100% fresh, caught that day.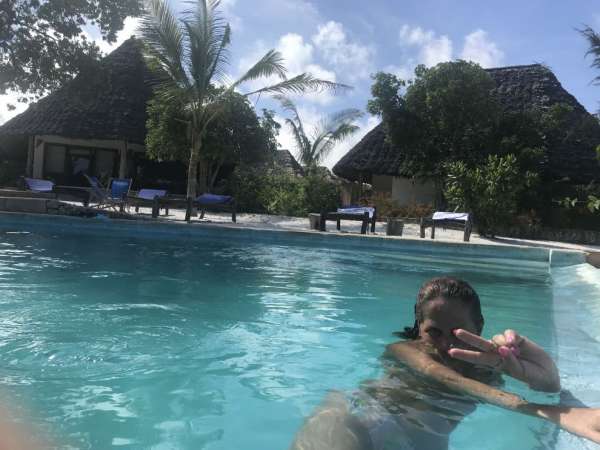 Snorkeling - Mnemba Island
Of course, we were persuaded to go on a trip – snorkeling over the coral reefs, in Mnemba National Park. It was worth it. Trip for 3 hours, price $ 45 per person. They will lend you all the equipment. You see all the fish you know from Captain Nemo. Splendor.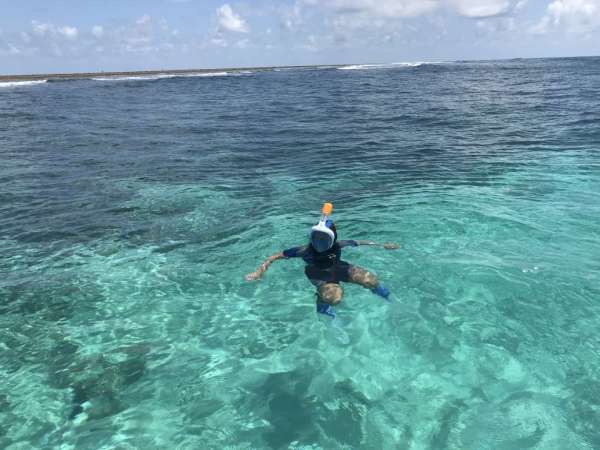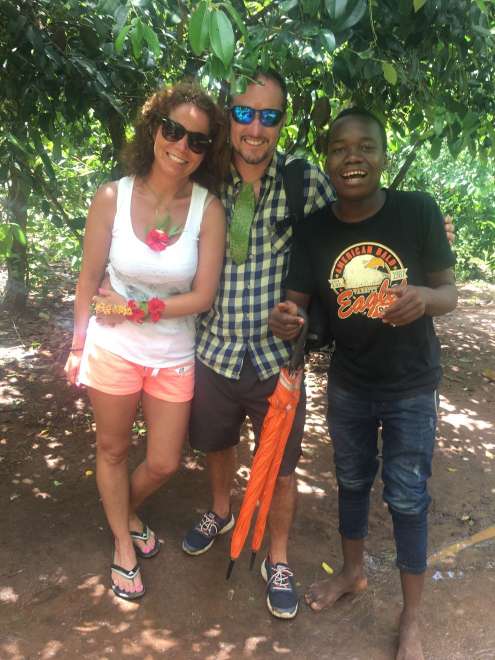 Road to the South - Spicy Tour
After three nights we change the hotel and destination again. We go south, but on the way we stop at the so-called SPICY TOUR. There are a lot of them. There are chases by the roadside, who are crowding by the road and as soon as the car is approaching, they entice you on the Spicy Tour. According to Tripadvisor, we chose the best rated – Tangawizi Spice Tour. Admission $ 5, but we pay 10. We don't deal with it anymore :-) Hakuna Matata. It is interesting and every visitor to Zanzibar should go through it. Just an island of spices. And finally a tip for the guide … so don't forget the smaller bills.
Paje and Jambiani - the last resort
We spend the last four days in Paja. We decided between Paje and Jambiani. And we did well. Do not take Jambiani. Long turquoise beach, no tourists, clear sea … you say paradise on Earth. But the TV Boys – dream sellers, don't give you a break. They always start their spinning wheel – Hello, how are you, are you from … and they go and they go. The best defense is right after Hella, say Sorry we're going home tomorrow. But when you meet them the next day, they don't trust you anymore :-)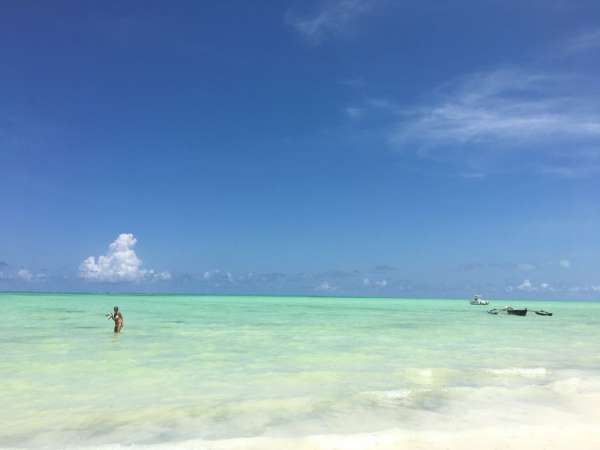 Restaurant ROCK
Restaurant that has an atmosphere. Although purely touristic, a little more expensive, but it's worth it. And surprisingly, you don't expect a drink or food in this restaurant. They know that the sooner you drop out, the sooner new guests will arrive. But the atmosphere is friendly, the capacity is 30 people ...... just don't forget the drink, because around 4 pm the tide will come and you won't get back.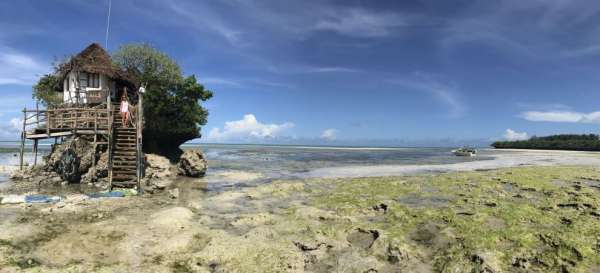 Hotel Zanzibar Ocean Blue - Paje
Beautiful, tiny hotel, right on the beach. Two swimming pools and really nice staff. In addition, as in the only hotel, they pulled out a mosquito net before the evening and sprayed our bedroom.
Empty beaches
Perfect relaxation, empty beaches, white sand and dinner every time in a different restaurant.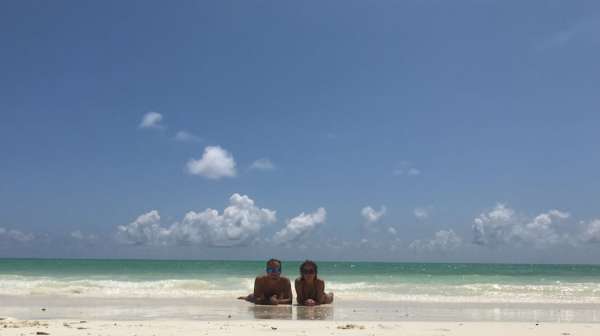 Kizimkazi - a trip for dolphins
The southern tip of the island is famous for the presence of dolphins. We were lured by a local experience vendor for this trip. Price $ 40 for both. At 6:30 a car was waiting for us in front of the hotel, in Kizimkazi he handed us over to his friends in a boat and we went to chase the dolphins. About three more boats with us. Beautiful cruise and as soon as they saw a flock of dolphins, they overtook them and we went into the water with goggles and snorkel. A real experience – you swim in the middle of a flock of 15–20 dolphins, which will swim you and disappear into the distance. So get in the boat and in front of them again … and back in the water. I can't imagine it in a season when twenty boats are chasing them. He then took us back and we still had breakfast at 9:30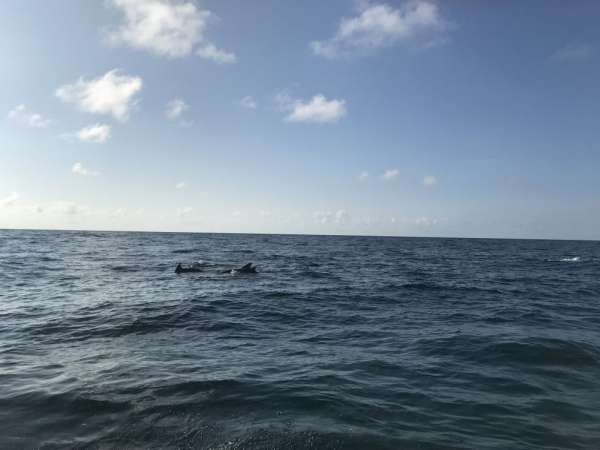 Visit to the rainforest
One of the tourist attractions. Since we had a car, we went there to see for ourselves. But as an organized trip for $ 40, I probably wouldn't be thrilled. Just a forest where an endemic monkey lives. Such a small, disheveled, Zanzibar monkey. Then you move around to the almond forest, which is perhaps more interesting.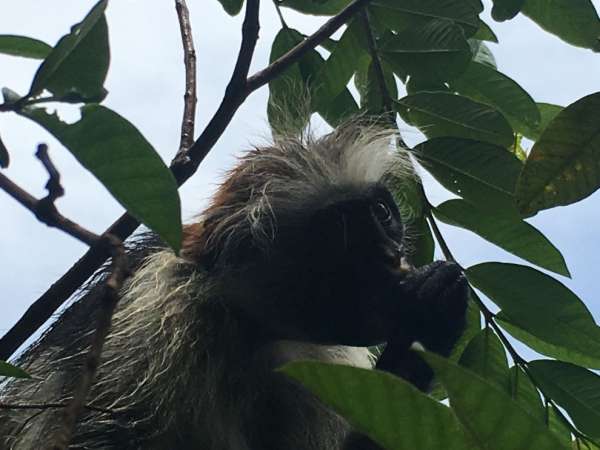 In conclusion
If you are still thinking and like a little active holiday, do not hesitate and go. In terms of price, it's like here. Food 150–200 CZK. Beer 50 CZK. You bargain souvenirs ..... just be a little careful. You can pay with everything. It depends to whom the hotel or restaurant belongs. Depending on that, they have prices in euros or dollars. And of course in their currency. When paying by card, they charge a 5% commission everywhere.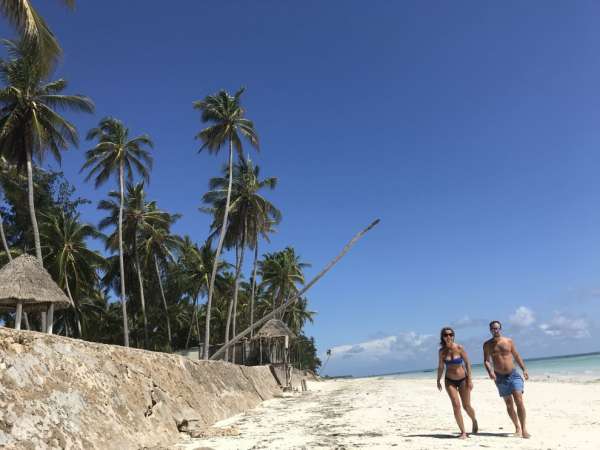 Kilimanjaro
and finally we saw Kilimanjaro :-) at least from the plane. Hi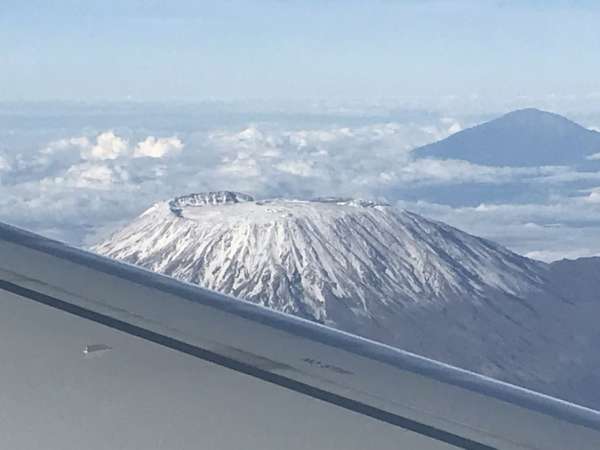 Applaud the author of the article!
Thanks!
Have you been there? Write a review of this place
Already rated by 1 traveler