Semicircular column colonnade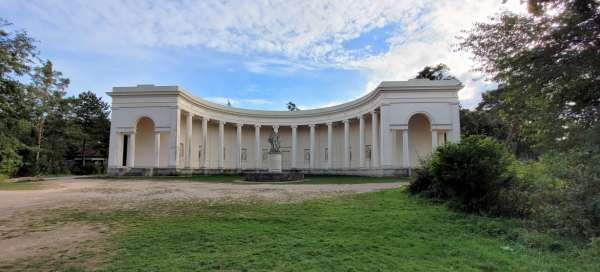 Approximately in the middle between Lednica and Valtice, on an elevated spot near the southern shore of Prostřední rybník, an unusual building stands out. This building has the form of a colonnade on a regular semicircular plan. It is a classicist summer house from the 19th century, in front of which there is a sculpture of three naked women,
The facade of the building is turned to the north in order to visually communicate with the front facade of the Rybniční zameček, built on the opposite bank of the pond.
A semi-circular structure
The summer palace has the form of a colonnade on a regular semicircular plan and was built in 1824–1825. From the social hall inside the building, it is possible to observe the Pond Castle on the opposite bank of the pond and the sculpture of the Three Graces in front of the colonnade.
A rectangular building with three windows is attached to the rear wall on the south side.
Covered colonnade
The Temple of the Three Graces is a horseshoe-shaped covered colonnade formed by twelve Ionic columns, which is closed by two facades formed by two symmetrical arcades with Doric capitals.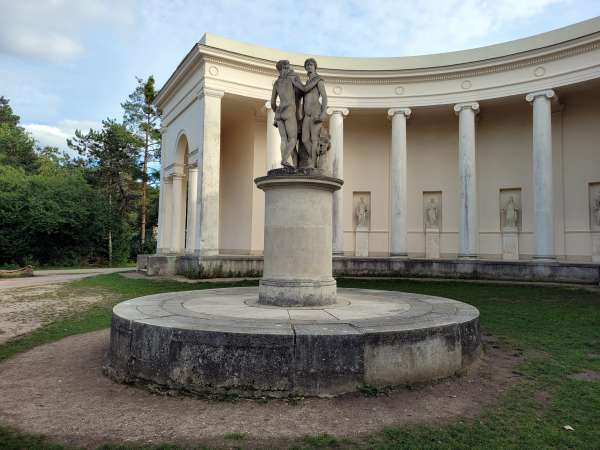 Three Graces
In the axis in front of the building there is a late classicist sculpture of three naked women, sculpted by Johann Martin Fischer in 1799.
The sculpture represents Charitka – the Greek goddess of beauty and grace. The first holds the helmet of Minerva, the goddess of war, wisdom and crafts, the second the wing of Mercury, the god of trade and commerce, the third a myrtle, the symbol of the river Perseus.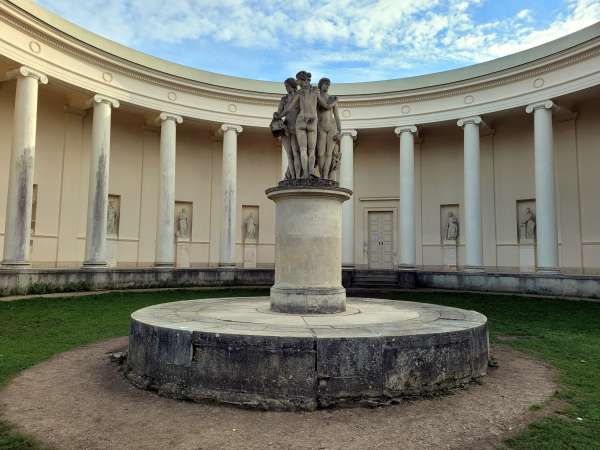 Applaud the author of the article!
Articles nearby
Part of gigalist
Giga List:
Lednice-Valtice area - what to see and experience
In the southernmost part of Moravia, in the district of Břeclav near the border with Austria, there is a world-unique landscape… continue reading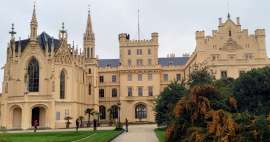 Thanks!
Have you been there? Write a review of this place
Already rated by 0 travelers