Life and business in Marrakesh's medina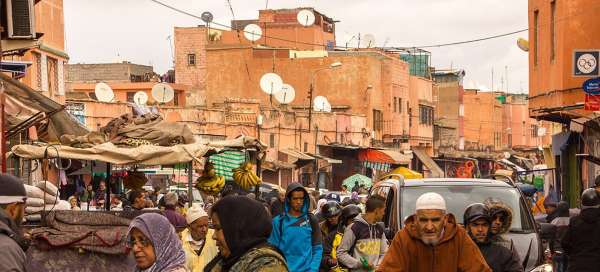 Marrakesh's medina is probably the main point of interest of tourists visiting Marrakech. It is the main tourist area of the city, where you can find ancient streets, thousands of shops, markets, but also important monuments. Even though it is the most visited tourist part of town, it has retained the charm of authenticity and the life in it is completely undaunted by tourism.
 
Walls and passages
The entire historical part of medina is surrounded by walls. In many corners of the historic part of town are passages that lead directly from buildings, where people are still living. Moroccans usually transport in the narrow streets by bicycle or motorbike.

 
Walls of ancient buildings
Some of the passages lead from the oldest parts of buildings and it is possible to see the contrast with newer buildings.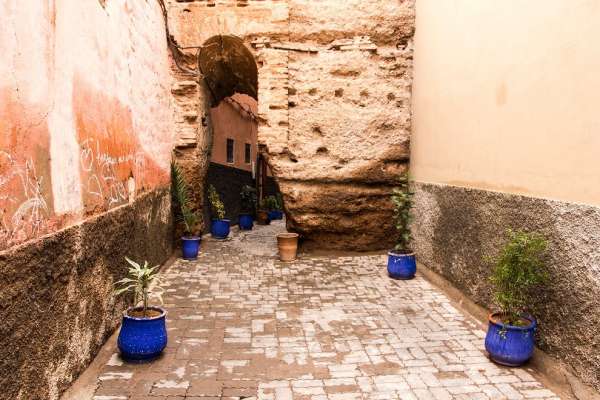 Chaos in the streets
One of the main streets run from the square Jemaa el-Fnaa with its bustle and hustle. You can meet here a variety of street sellers, beggars, but also plenty of shops, restaurants and entrances to riads (traditional Moroccan palaces).



 
Typical atypical streets
Medina makes by its streets one big maze. Many streets are so atypical that it does not make sense, how the town was built.
 
Fruit market
You can buy a great variety of fruit in many aisles. You can buy it at a stall, on the sail on the ground or directly from a passing trash on a donkey.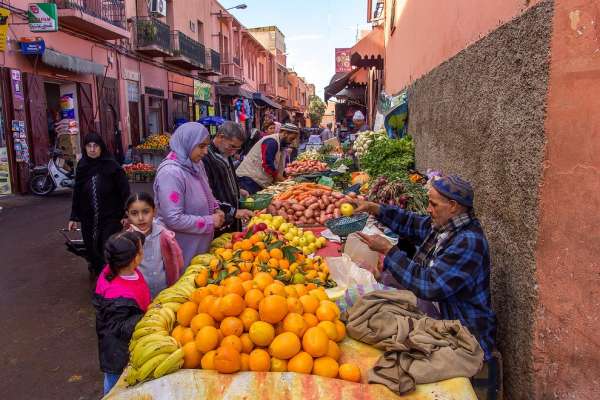 Colors and spices
Colors and spices are also typical for the Medina of Marrakech. They are arranged in baskets and piles to impress the passing tourists and Moroccans themselves.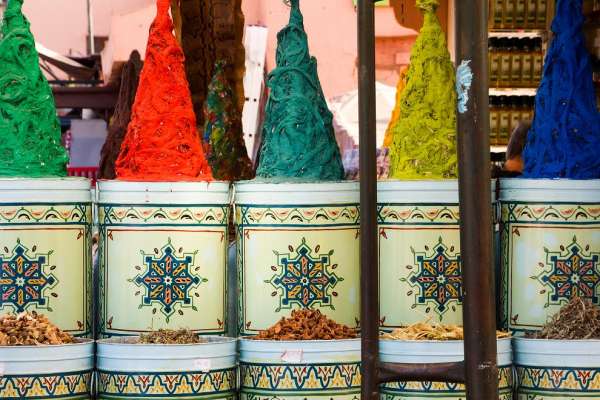 Busy street
Some streets in medina are almost abandoned and you walk here alone. Other bigger streets are busier.

 
Moroccan mint
Moroccan mint is renowned for itself. Especially typical Moroccan tea, combined with green tea, called "Moroccan whiskey" is prepared from it. Tea is really full of mint taste, it is sweet and is served almost throughout Morocco.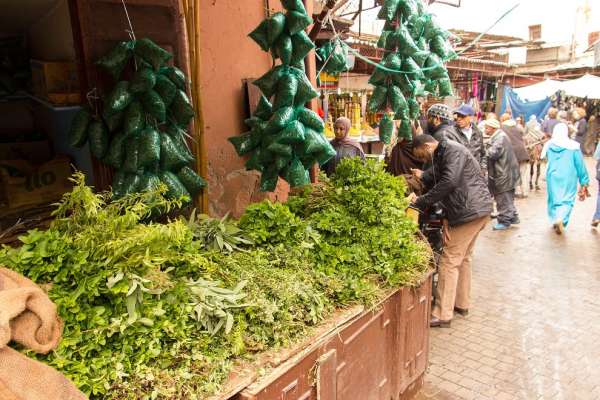 Shops with tinned vegetables
There are many shops with olives. Olives in Morocco are of different colors, flavors and can be prepared very differently.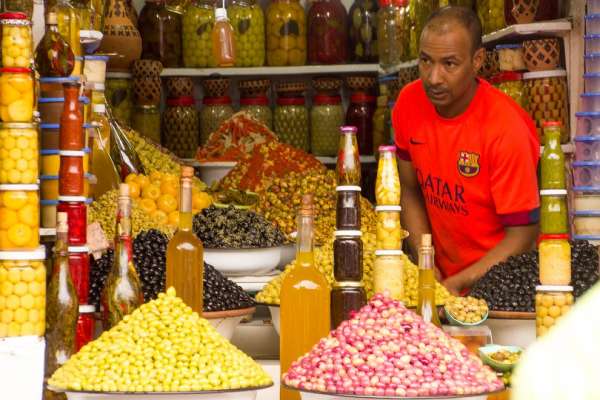 Household articles of all kinds
Europeans may find the street markets quite funny. But Moroccan women are seriously interested and can buy here all sorts of household items.
 
Shoes in pile
Any clue how to choose the correct shoe size from such a large pile? :-)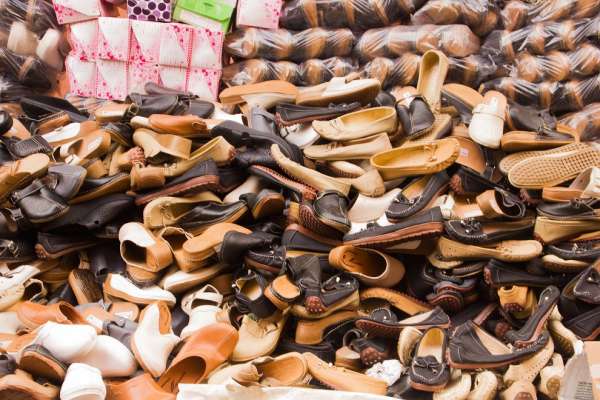 Musical instruments
Music shop in Marrakech can be a paradise for every musician. You can find here various forms of stringed instruments, drums or blowing instruments that cannot be found so easily in Europe. I myself bought Arabic lute "Oud"in this shop. It is of course advisable to bargain, you can then haggle almost to half of the original price.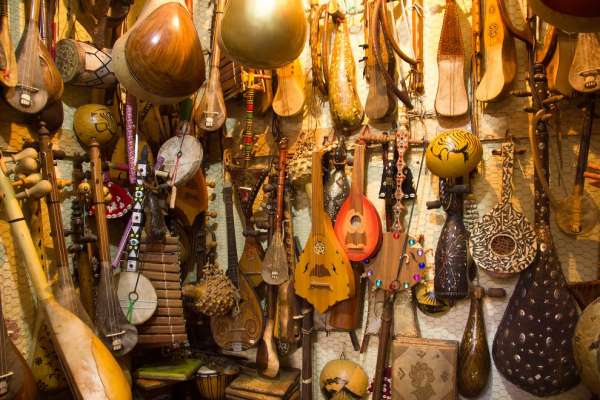 Fossils
Fossils are very common goods in Morocco. In Marrakech's medina, you can find a few of them almost in every shop.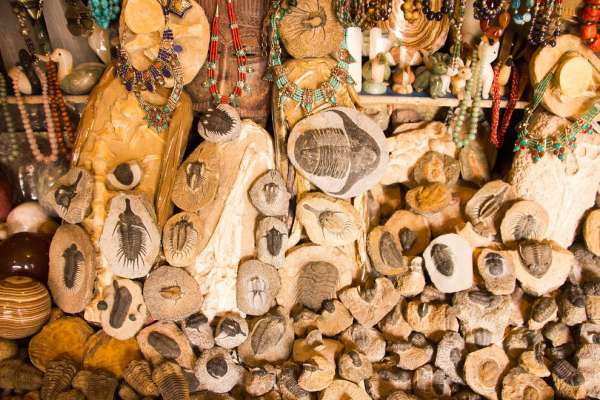 Masks and totems
Shop with bizarre masks and totems looks impressive.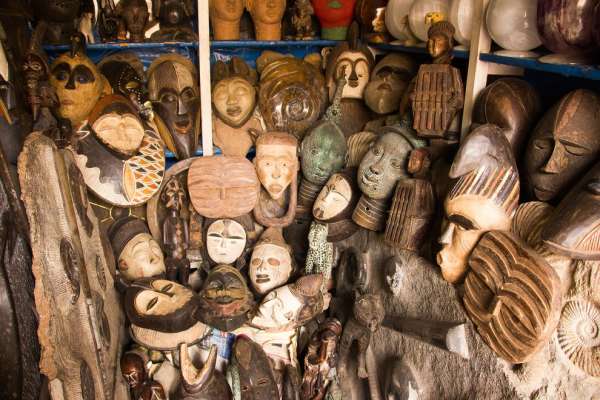 Applaud the author of the article!
Part of gigalist
Giga List:
The most beautiful trips in Morocco
Morocco is a really beautiful and colorful country, so you can organize a number of interesting trips here. From ascents to high… continue reading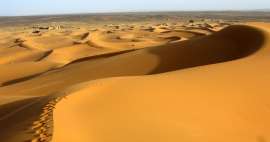 Thanks!
Have you been there? Write a review of this place
Already rated by 1 traveler