Popular hike with views of the Matterhorn
The lake path around Zermatt with views of the Matterhorn is very popular. You can help yourself with the underground cable car to Sunnegg, where there is a beautiful view of this mountain and now the lakes Leisee, Mosjesee, Grindjisee and Stellisee are waiting and back. It's a beautiful day trip
Underground cable car
Underground cable car on Sunnegg. I drove inside the mountain.
Matterhorn
From Sunneggy there is a unique view of the Matterhorn
Lake Leisee
The first lake is a short walk from Sunneggy
The local marmot
Sometimes they come across wildlife
Lake Mosjesee
It is a beautiful lake overlooking the surrounding mountains and the Matterhorn
Mosjesee and Matterhorn
It is quite difficult to photograph this mountain. It is often shrouded in clouds, but the best time is morning or evening
Beautiful valley
The beautiful valley is just a pity for the clouds that cover the Matterhorn
Lake Grindjisee
We are at the third lake. It again offers views of the Matterhorn.
Edelweiss
Sometimes luck smiles and comes across this rare plant
Lake Stellisee
Lake Stellisse lies the highest of all these lakes at an altitude of 2550 meters above sea level. Again with a view.
Way back
We went on a non-tourist route on the way back.
Tufteren
Classic Swiss dwelling. As I wrote in previous articles, it is easy to get off the trail, thanks to the markings, so we did well here on the 7th day, when I made a bad decision and we walked 7 km.
Afternoon Zermatt
Zermatt already in the dark and the last rays hitting the Matterhorn
Applaud the author of the article!
Part of gigalist
Giga List:
The most beautiful tours in Europe
Although Europe cannot boast such high mountains as other continents, you will still find beautiful hiking trails and ascents. In… continue reading
Part of gigalist
Giga List:
The most beautiful tours in Switzerland
Mountainous Switzerland is an absolute paradise for mountain hikers. Almost every corner of the country offers breathtaking hikes… continue reading
Part of itienary
Article:
Hikes and mountain ascents in the Valais Alps
The Valais Alps offer countless beautiful hikes and mountain ascents. The highest peak of the Valais Alps is Dufourspitze (4,634… continue reading
Thanks!
Have you been there? Write a review of this place
Already rated by 3 travelers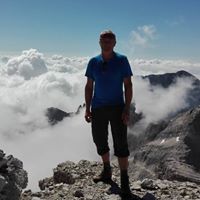 Krásná túra v nádherných horách.