Relaxing walk with one ford
The half-day return from Kagbeni to Jomsom runs along the Kali Gandaki River. The trip is shared with a trek around Annapurna. After completing the trek through the Upper Mustang, this part is a real walk.
On bikes and on foot
The wide and comfortable path between Kagbeni and Jomsom has the only slightly "action" part, which is to overcome the left tributary of the Panda Khola.
Ford
Off-road vehicles, usually heading as far as Muktinath, try to find the optimal way through the ever-changing riverbed.
Jomsom in sight
Jomsom appears in front of us in the south. We watch the clouds and in our mind we type what the weather will be like in two days, when we have to return to Pokhara by plane. At that moment, we have no idea that everything will be different.
Meeting
Sometimes an off-road vehicle passes us on a wide road. Tourists are inside, locals usually on the roof.
Man and river
The wide bed of the Kali Gandaki River is a source of building stone. The tractor with the tow truck is almost lost here.
Maneuver before landing
We are coming to the edge of Jomsom. Although it is cloudy, it is still flying. The south wind is already strong and sometimes gusting. Therefore, all the planes from Pokhara in the narrow valley turn and land from the north. But we stand safely on the ground and it is an attractive spectacle for us.
Wiring
We put our things in a small hotel. I am fascinated by the local wiring. Electricity is switched on here for an average of 5 hours a day (2012).
Jomsom
In the afternoon it's time to tour Jomsom. We climb over the city. The airport was orphaned. In the afternoon it no longer flies due to strong winds.
Applaud the author of the article!
They want there (0)
Be the first, who want to go there!
Have you been there? Contribute a good advice to travelers who want to go to this area or add places to your visited list.
Do you want to go there? There is nothing easier than having to deal with others and go on a trip or get tips on where you want to go.
Thanks!
Have you been there? Write a review of this place
Already rated by 2 travelers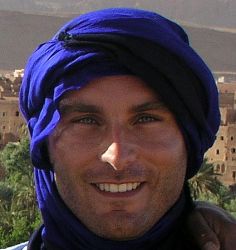 Šli jsme to v rámci treku okolo Annapuren v říjnu a brodit nebylo potřeba - výrazně méně vody