Hike Pueblo Sajama - Fumaroles
Outlook of Parinocata and Pomerape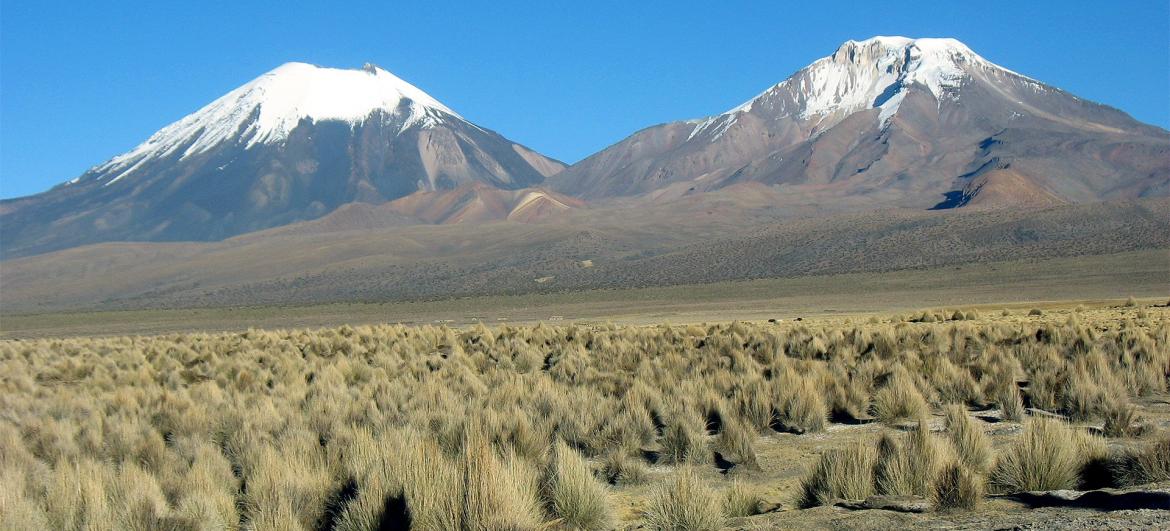 Sajama National Park offers a variety of beautiful hikes around the local Altiplano with view of the snowy peaks of surrounding volcanoes, which are the destination for many mountaineers. One of the longest and most demanding hikes is the circuit around the high mountain lagoons – Lagunas de Altura trek. The first stage of this hike is a journey from the village of Sajama to the "geysers", which is a small fumarole field. All the way you'll have a great view of perhaps the most famous South American volcano – Parinacota and also neighboring Pomerape and the highest mountain in Bolivia – Sajama. Along the way, you will probably not meet a living soul except for a few Ilamas and a few locals.
Volcanic Altiplano
Start of this hike is in the village of Sajama (4,245 m asl), which is also the lowest point of this trek. So you must be really well acclimated for this hike! From the village, head west and then cross the bridge over the river. The continuation is obvious – along the dusty road with ruts from jeeps taking climbers under the volcano Parinacota and Pomerape. Everywhere around you grow yellow altiplano grass and horizon will be lined by five and six thousands meters high volcanoes.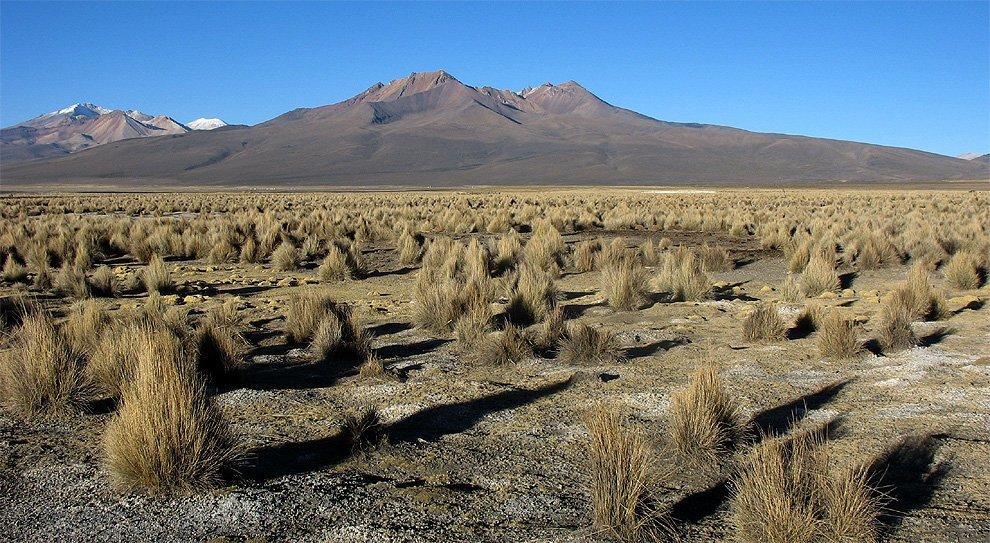 Parinacota and Pomerape
In the beginning awaits you four-kilometer long walk northwest along endless plains to Illama farm, where is also a crossroads. You will be able to admire a beautiful panorama with volcanoes Parinacota and Pomerape towering from Altiplano in front of you.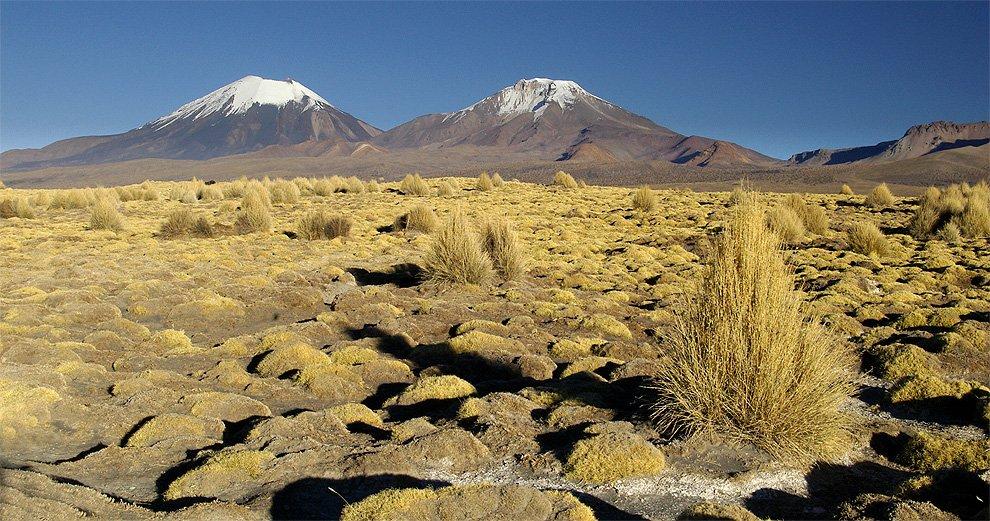 Ilamas and volcanoes
After a half-hour walk there will be llamas in ever greater numbers. It is a sign that you are slowly approaching the farm. High mountain altiplano lagoons (destination for this hike) hide in the volcanic massif behind them.
At the farm
In less than an hour you will get to Ilama farm. From here the jeep paths branch off to the west under the volcanoes. You stick more to the north and ascend further along the stream to slowly emerging valley.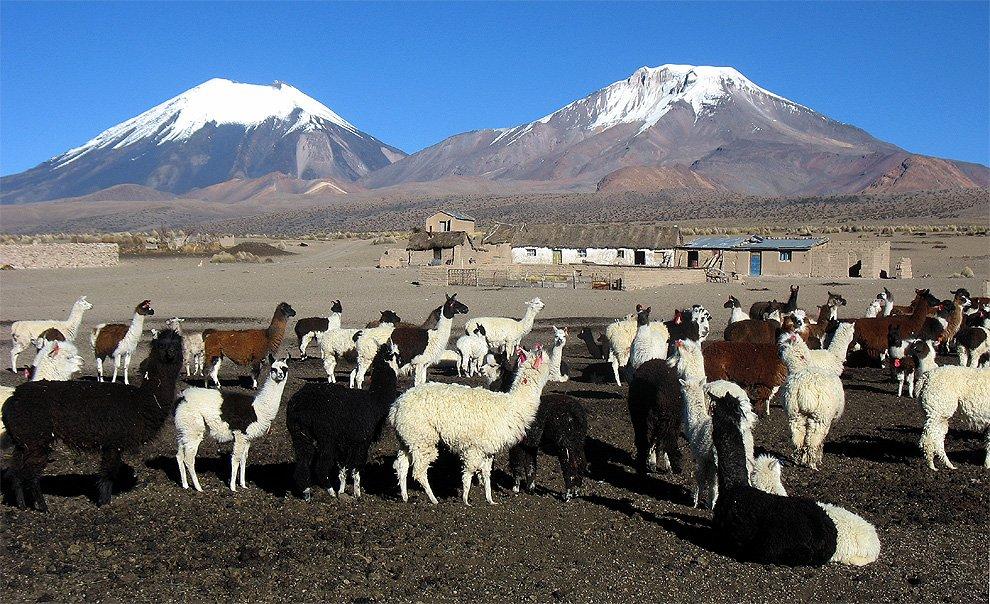 Path to fumaroles
It is about three kilometers from Ilama farm to fumaroles, all the time along the jeep path (the path ends a short way behind the fumaroles ends and you then need to be more careful). The path leads along a small stream all the time and heads between the volcanic massif Condoriri and lonely weathered colorful peak (at about 5,300 m asl), which could also serve as an interesting outlook point.
Geysers Sajama
After almost two hours of walking you finally get to fumaroles that are gracefully named Sajama Geysers (4 400 m asl). Of course, they are certainly not as cool as the most famous Tatio in Chile or Sol de Manana, but you are completely alone here.
Dragon's eye
Fumaroles in Altiplano are interesting mainly for the temperature difference. Somewhere sputters boiling water and only half a meter beside is everything frozen into ice. And in addition, minerals make the pools pretty colorful.
Sajam geysers
You will not find any real geyser here, but you will see here for sure smoke rising from boiling water early in the morning.
House at the end of civilization
You will encounter a lonely house at the end of fumarole field. Here ends the civilization and begins real altiplano wilderness.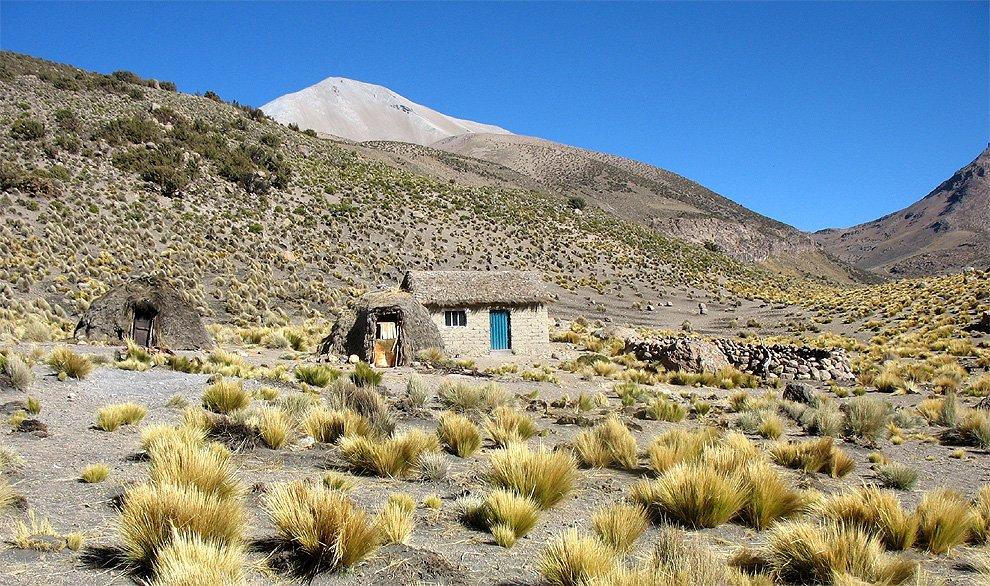 Path to altiplano lagoons
At the fumaroles you must decide whether to turn around and return back the same way or go further through the valley to magnificent high mountain lagoons. If you walk without a backpack, you shall count with beautiful day in the wilderness and return in the darkness.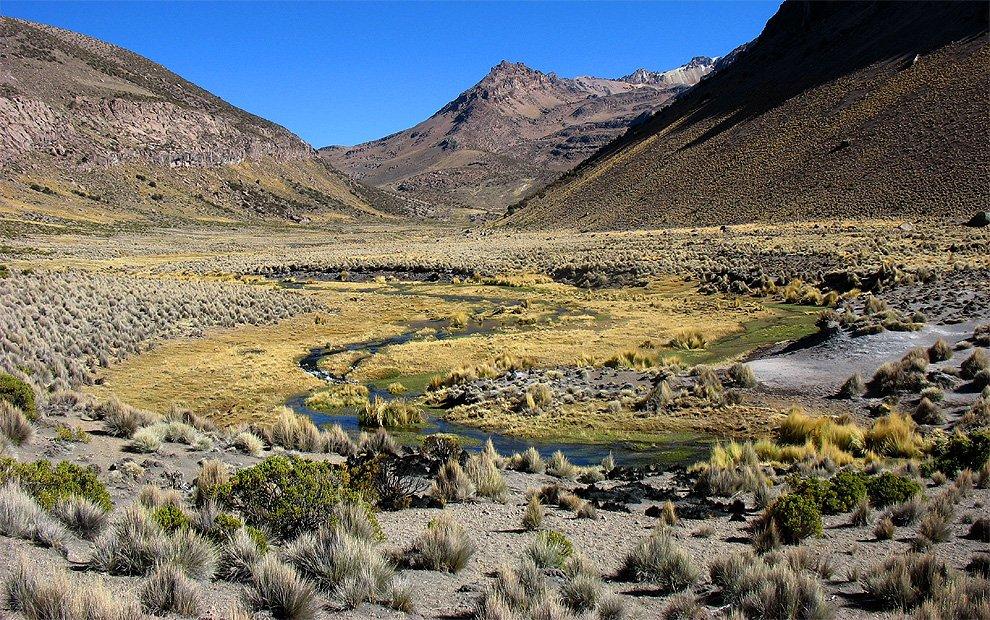 Practical information
Part of itienary
Article:
Trip to the NP Sajama
Classic trip to Sajama National Park as a Lagunas de Altura trek introduces you to all the beautiful places here. You will have… continue reading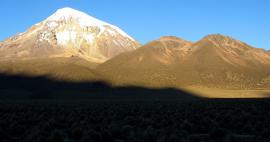 Thanks!
Did you like this article or not? Rate it!
Already rated by 0 travelers
Applaud the author of the article!
They been there (0)
Be the first who been there!
They want there (0)
Be the first, who want to go there!
Have you been there? Contribute a good advice to travelers who want to go to this area or add places to your visited list.
Do you want to go there? There is nothing easier than having to deal with others and go on a trip or get tips on where you want to go.