Starting point for a number of beautiful trips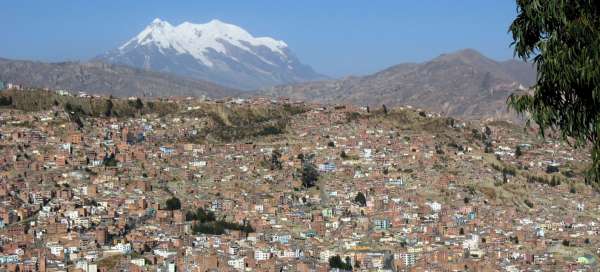 La Paz, the interesting capital of Bolivia, can serve you for many days as a perfect starting point for many trips not only to the nearby Cordillera Real
1 day
Tour of La Paz
One day is enough for your own city. There are also the best views from the edge of the valley and you will also return here from trips around
Day 2
Trip to Chacaltay and Moon Valley
The next day you can try your acclimatization with a light ascent to Mount Chacaltaya. In the afternoon, stroll through the Moon Valley in the southern suburbs of La Paz.
Awesome view of Cordillera Real
|
Altitude: 5 395 m / 17 700 ft
Mountain Chacaltaya (5 363 m asl) extending only 25 kilometers from the capital city of Bolivia La Paz, is… continue reading
The power of erosion in full glory
|
Altitude: 3 310 m / 10 860 ft
At the very southern and bottom end of La Paz is an interesting area of weathered rock towers aptly named… continue reading
Day 3
Downhill biking the famous Death Road
On the third day, arrange a bike trip along the famous Death Road. Almost always downhill from the icebergs to the misty Yungasu – an interesting experience
The most famous South American road
|
Altitude: 2 451 m / 8 041 ft
If you want to get to Yungas region or to the Amazon from the Altipláno plateau, you always have a dangerous… continue reading
Day 4
A trip to the Palca canyon
On the fourth day, head to the magnificent Palca Canyon and admire the hundreds of rock towers.
Stone beauty with a view of Illimani
|
Altitude: 3 518 m / 11 542 ft
Lots of natural beauty and spectacular geological formations so close to the city. This is the Palca Canyon… continue reading
Day 5 - 7
El Choro trek
If you want to walk some Inca trail, the El Choro trek is easily accessible from La Paz.
Over Andes along the Inca trail
|
Altitude: 4 900 m / 16 076 ft
The most famous Bolivian trek leading along the old inca trail is El Choro. Within just a few days you pass… continue reading
Applaud the author of the article!
Articles nearby
Thanks!
Have you been there? Write a review of this place
Already rated by 2 travelers