A wonderful and varied day trip in the Stubai region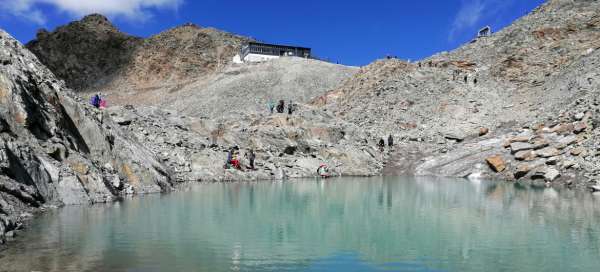 The end of the Stubai valley offers a huge amount of natural beauty. Thanks to the cable car, which takes you over two intermediate stations up to a height of around 3,200 meters above sea level, a variety of mountain landscapes and a whole range of other hiking options await you. Let's take a look at what can be done here.
Cable car to the top of the mountains
It is ideal to take the cable car to the very top early in the morning and get to know the individual intermediate stations on the way down. Be aware that there is a huge elevation gain ahead of you and some may have a problem with the quickly gained altitude.
By cable car to the Stubai Glacier
Altitude: 2 265 m / 7 431 ft
One of the biggest attractions of the Stubai Alps, or rather the Stubai Valley, is the cable car ride over… continue reading
Hikes and walks from the top station of the cable car
There are many options to go to, but these three are the most famous:- Climb to the observation platform TOP of Tirol- Take a mountain hike to the Schaufelspitze- Walk to the glacial lake a few hundred meters below the cable car
The most famous viewpoint of the Stubai Alps
Altitude: 3 154 m / 10 348 ft
One of the most famous attractions of the Stubai Alps is the cable car leading over the Stubai Glacier to the… continue reading
Beautiful view over the Stubai Alps
Altitude: 3 332 m / 10 932 ft
The Schaufelspitze is a relatively high peak in the Stubai Alps. At the same time, it is very accessible,… continue reading
Trips on the way down
In the second intermediate station you can visit a glacier cave and in the first you can go on a whole series of other hikes or just look at a small waterfall
Center for tourism in the Stubai Valley
Altitude: 2 306 m / 7 566 ft
The mountain hut Dresdner Hütte, located at an altitude of 2,300 meters above sea level, is one of the iconic… continue reading
A walk around the Grawa waterfall
On the way back, be sure to stop at the Grawa waterfall, one of the most beautiful in Austria and the widest in the Eastern Alps
Trip to the most beautiful waterfall in Tyrol
Altitude: 1 539 m / 5 049 ft
The Grawa waterfall is undoubtedly one of the most beautiful waterfalls in Austria and is certainly the… continue reading
Applaud the author of the article!
Articles nearby
Thanks!
Have you been there? Write a review of this place
Already rated by 0 travelers