A walk through the historic center of Passau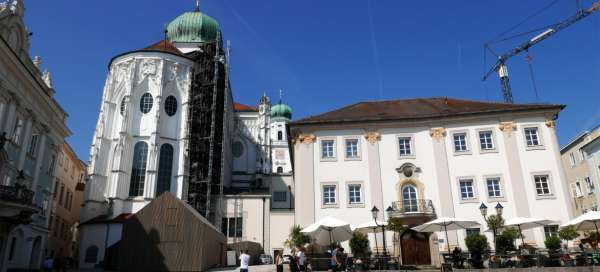 Passau is a relatively small town with a beautiful historic center surrounded by two famous rivers – the Danube and the Inn. The classic walk will take you through this "pointed" promontory to the confluence of both of these large rivers.
Ludwigstraße
The Stadtgalerie shopping center, located next to the train station on Bahnhofstraße, is an ideal base for exploring Passau's historic center. Here you can park on the roof and head to the city center. You will cross Ludwigsplatz, a square crossed by a traffic artery, and you will follow Ludwigstraße along the pedestrian zone.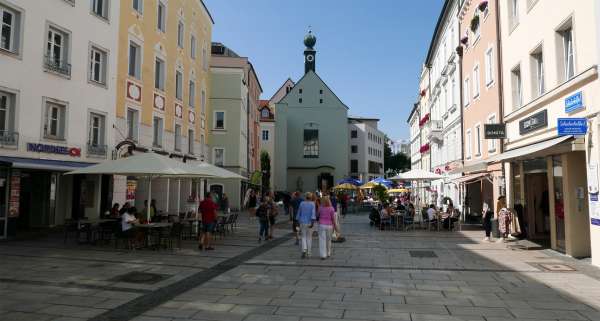 Rindermarkt Square
The scenic Rindermarkt Square is about 400 meters away. It is one of the liveliest parts of the city. A typical landmark is the church tower of the local Spitalkirche "St. Johann "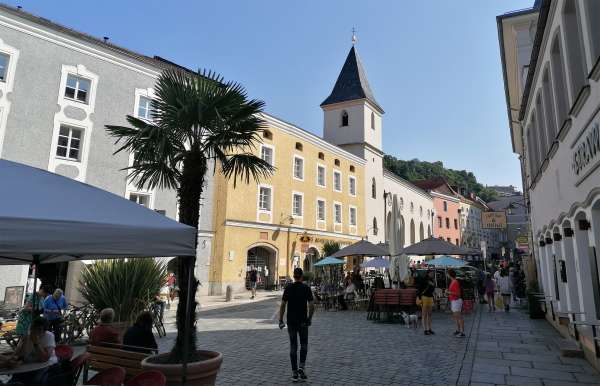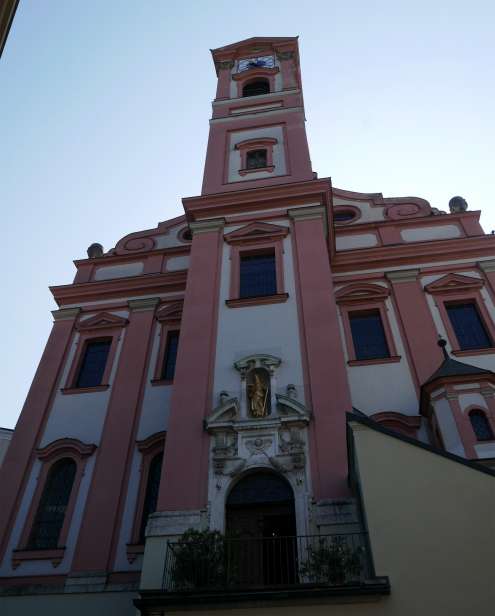 Stadtpfarrkirche St. Paul
At the eastern end of the square there is a huge church of St. Paul, which you can recognize by the pink-white facade. The church is followed by an interesting passage / gate Paulusbogen.
Garden next to Paulusbogen
Just behind the passage is a beautiful garden and views of the Danube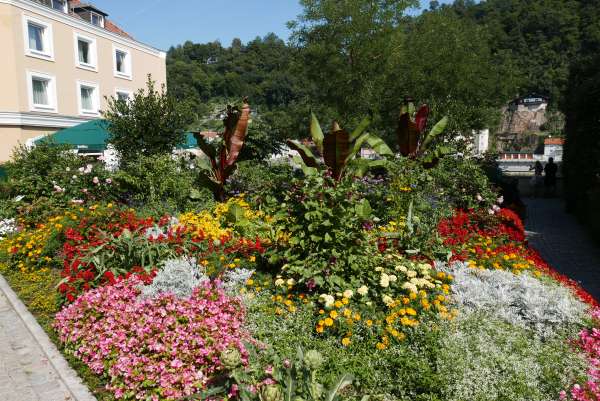 Domplatz
The narrow Luragogasse, where there are pleasant refreshments, takes you to the Domplatz in front of Passau's largest monument, St. Stephen's Cat­hedral. The cathedral is amazing, but the square itself is not very interesting, mainly due to the fact that it serves as a car park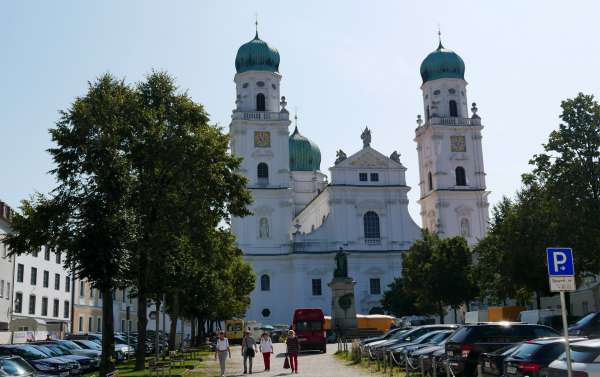 Residenzplatz in Passau
We bypass the cathedral and take Große Messergasse to the most picturesque square in Passau – Residenzplatz. From the square there is a view of the back wall of the cathedral. There is also a beautiful Wittelsbacher­brunnen fountain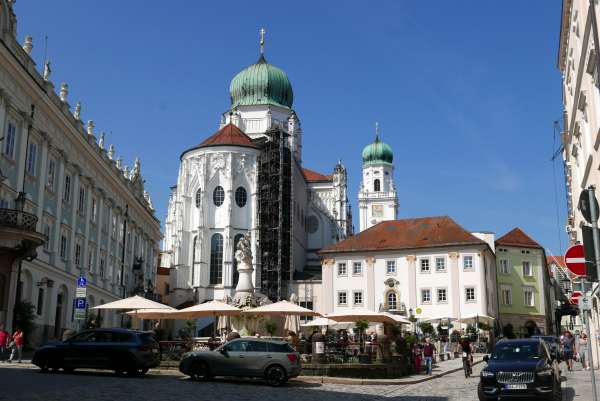 At the Benedictine monastery
We continue along the main artery of the historic center. After a while we will have in front of us two towers of the Benedictine monastery. Here we turn left and go to the Danube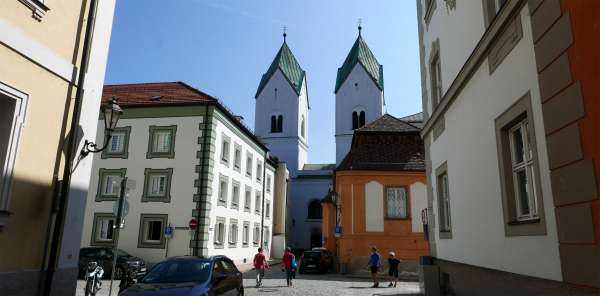 Viewpoint from Luitpoldbrücke in Passau
We come to the Danube at the point where the Luitpoldbrücke bridge crosses it. It offers beautiful views of the river, the town hall and both the local fortresses Veste Oberhaus and Veste Niederhaus. After enjoying the views, we continue along the river to the confluence.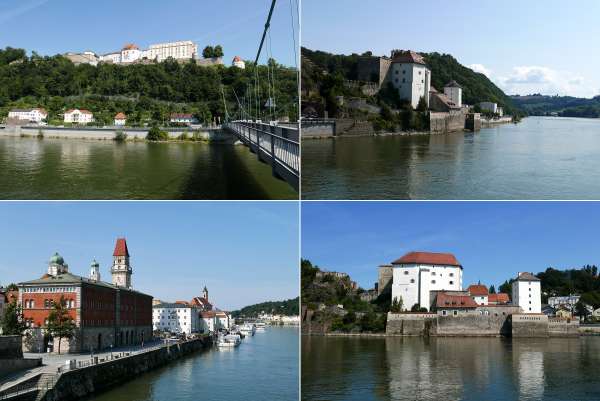 View from the confluence of the Inn and the Danube
We are finally coming to the very end of the city. Here the bright Inn meets the dark Danube.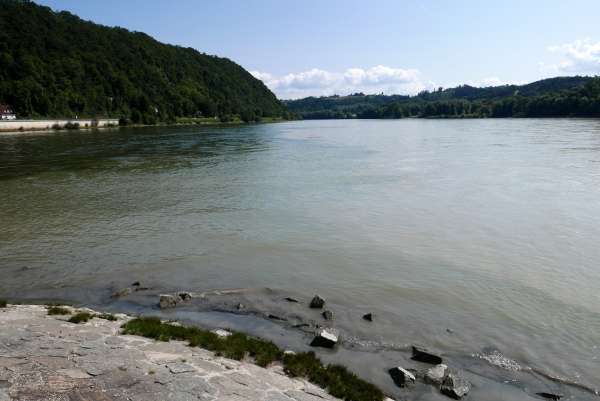 Schaiblingsturm
We return along the path leading along the Inn. The local attraction is the defense tower Schaiblingsturm.
View of the Wallfahrtskirche Mariahilf
Nice view is on the other side of the river, where on the hill is the famous pilgrimage church Wallfahrtskirche Mariahilf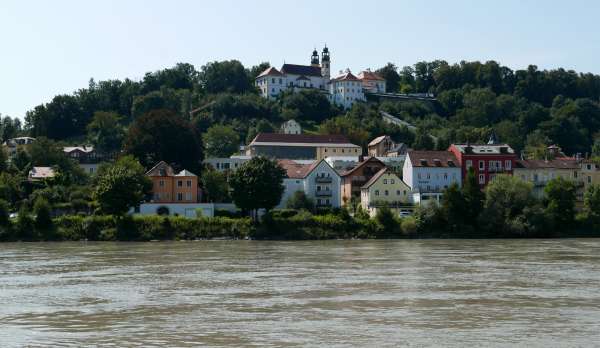 Theresienstraße
We return from Inn to the streets of the historic center and back to the beginning of the circuit we can go, for example, the picturesque Theresienstraße with the nice church of St. Matthäus
Applaud the author of the article!
Articles nearby
Thanks!
Have you been there? Write a review of this place
Already rated by 1 traveler