Caye Caulker
Island of golf carts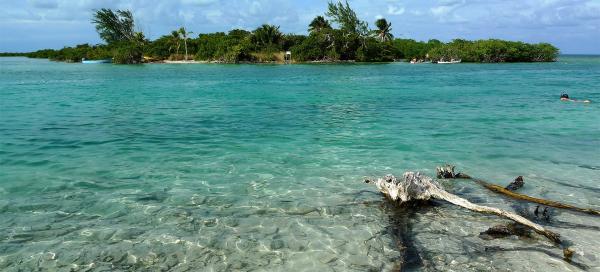 The island of Caye Caulker (sometimes also called Caye Corker) popular mainly with backpackers is situated about 32 km from Belize City and has dimensions of only about 8 km x 1.5 km. Hurricane Hattie halved the original island in 1961 and created two islands, of which the north is less accessible. In the streets there is a live, fresh juices are sold, there are plenty of bars and restaurants and nice locals often speak with tourists – there is a relaxed atmosphere. There is no official beach, but there are wooden piers scattered around the island, which can be used for swimming. The most frequent spot for swimming is the end of the island in place of "crack", where a half-broken traverse is used for relax after swimming. It is a pity that it has not been made nicer here. The local "water attraction" is the current at the point of crack, which is used by people to "glide" a few tens of meters away. Refreshment is available at the nearby bar Lazy Lizard. On the island there are only 3 sandy roads and it is interesting that there are not cars, but golf carts running here. Caye Caulker is the perfect place for a few of days rest when traveling around Mexico or Central America.
Have you been there? Contribute a good advice to travelers who want to go to this area or add places to your visited list.
Do you want to go there? There is nothing easier than having to deal with others and go on a trip or get tips on where you want to go.
Activities
Practical information
Applaud the author of the article!
Thanks!
Have you been there? Write a review of this place
Already rated by 0 travelers
Recommended article
Giga List:
The most beautiful places of Provence
A selection of the most beautiful places in French Provence, where you can find beautiful historic towns, azure coast and amazing… continue reading