The best of Austria's waterfalls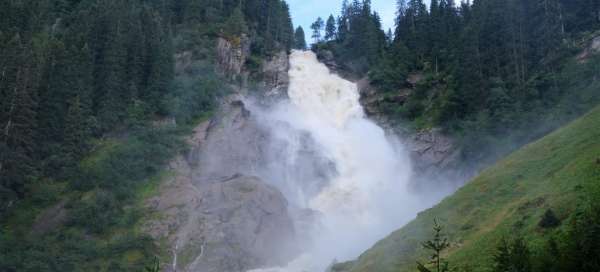 As an Alpine country, Austria offers a number of beautiful waterfalls. Some, such as Krimmelské or Grawa, are among the most beautiful and well-known in Europe. So let's take a look at the most beautiful waterfalls in Austria.
The most spectacular waterfall in Austria
|
Altitude: 1 490 m / 4 888 ft
Krimmel Waterfalls is a three-stage waterfall with a total height of 380 meters. Especially in spring, when… continue reading
The most beautiful waterfall in Tyrol
Altitude: 1 608 m / 5 276 ft
The Grawa waterfall is considered the most beautiful waterfall in all of Tyrol. At the same time, it is also… continue reading
The largest waterfall in Tyrol
|
Altitude: 1 410 m / 4 626 ft
The Stuibenfall Waterfall, thanks to its height of 159 meters, is the largest waterfall in Tyrol. It consists… continue reading
Little known and yet beautiful waterfall near Ehrwald
Altitude: 948 m / 3 110 ft
About a kilometer and a half from the junction of the roads to Ehrwald and Lermoos, you will find the… continue reading
Romantic waterfall
|
Altitude: 502 m / 1 647 ft
At the foot of the Kleine Göll mountain in the village of Golling an der Salzach you will find the very… continue reading
A waterfall flowing through a wild gorge
Altitude: 887 m / 2 910 ft
The Untersulzbachtal is a lesser-known and wilder valley winding from the famous Gross Venediger mountain (as… continue reading
Waterfalls on the river Waldbach above Hallstatt
Altitude: 794 m / 2 605 ft
Right next to the famous Hallstatt you will find the predatory river Waldbach flowing through a predatory… continue reading
Applaud the author of the article!
Articles nearby
Part of gigalist
Giga List:
What to experience in Austria
In Austria, a beautiful Alpine country, you should definitely experience its nature. You will find beautiful lakes here, not only… continue reading