What to visit and see in Wroclaw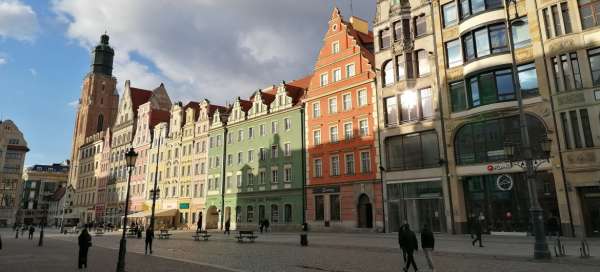 Wroclaw is famous for its historic center with its huge square and picturesque town hall. The second excursion center of the city is the Tumski island with a number of churches. Let's see what tours and walks we can do in Wroclaw.
A walk through the most beautiful part of Wroclaw
Altitude: 127 m / 417 ft
Wroclaw Market Square is the historical center of this city. The whole square is surrounded by beautiful town… continue reading
The most beautiful view in Wroclaw
Altitude: 125 m / 410 ft
Right next to one of the most beautiful squares in Poland – the Main Market Square in Wroclaw is the… continue reading
Trip to the oldest part of Wroclaw
Altitude: 119 m / 390 ft
After the Wroclaw Market Square, Tumský ostrov is the second most visited part of the city. It was a real… continue reading
View from the famous viewpoint of the Cathedral of St. Mary Magdalene
Altitude: 123 m / 404 ft
Probably the second most famous viewpoint in the center of Wroclaw is from the Pokutnice Bridge, which is… continue reading
Walk along Via Regia in Wroclaw
Altitude: 123 m / 404 ft
Via Regia is a famous pilgrimage (formerly trade) route leading to Santiago de Compostela. In Wroclaw, you… continue reading
The oldest zoo in Poland
Altitude: 117 m / 384 ft
Wroclaw Zoo is the oldest zoo in Poland, its biggest attraction today is the Afrykaruim Pavilion, which is a… continue reading
Applaud the author of the article!
Articles nearby