What to see in Karakol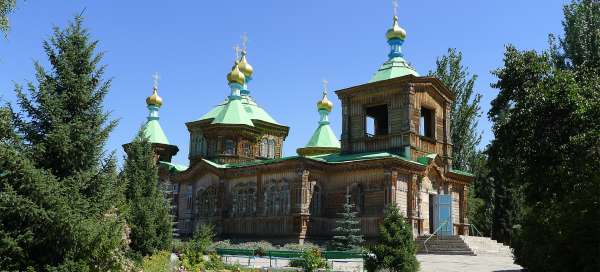 Karakol is a famous tourist and climbing resort in the northeast of Kyrgyzstan. In addition, there are quite a few historical monuments for Kyrgyz conditions. So before or after the trek you can go for a walk and admire the imperial architecture.
The largest monument in Karakol
|
Altitude: 1 750 m / 5 741 ft
The wooden Orthodox cathedral in Karakol is considered its greatest monument. The church itself has quite a… continue reading
Mosque with a Buddhist look
|
Altitude: 1 730 m / 5 676 ft
Dungan Mosque is probably the second most important church building in Karakol. Due to its architecture, it… continue reading
The largest historic house in Karakol
The last significant building in the old center is a huge merchant's house by local conditions. However, it… continue reading
Museum of regional significance
|
Altitude: 1 750 m / 5 741 ft
If you have some time in Karakol you can also visit the local historical museum. It is located just a short… continue reading
A classic from the Russian settlement of Kyrgyzstan
|
Altitude: 1 750 m / 5 741 ft
In the old part of Karakol, north of the main street Toktogul, you will find a number of historic cottages… continue reading
Applaud the author of the article!