The best of the Bernese Alps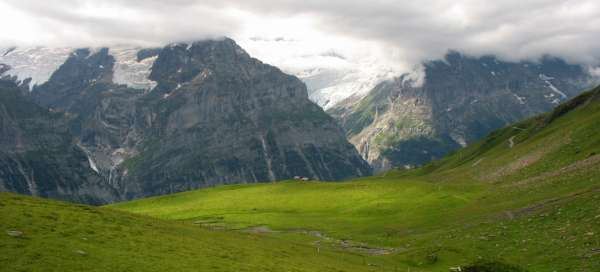 The Bernese Alps "fight" with the Valais for the title of the most beautiful mountain range in Switzerland. In the Bernese Alps you will find breathtaking peaks such as the famous Eiger. The famous cogwheel leading to the Jungfraujoch or monumental waterfalls and valleys. The highest mountain in the range is the Finsteraarhorn (4274 m), which is interesting because it is the highest alpine mountain outside the main ridge. Let's take a look at the most beautiful places in the Bernese Alps, which are definitely worth a visit.
Europe's largest glacier
|
Altitude: 2 640 m / 8 661 ft
Aletschgletscher is the largest glacier in Europe, and in the Alps. It is 23 km long. It is located in the… continue reading
Pass with the highest train station in Europe
|
Altitude: 3 471 m / 11 388 ft
Jungfraujoch (3,471m asl) is a mountain pass in the Bernese Alps between the cantons of Bern and Valais. It… continue reading
The most beautiful valley of Switzerland
|
Altitude: 788 m / 2 585 ft
The monumental Lauterbrunnen Valley and its surroundings are among the most beautiful places not only of… continue reading
Waterfall from postage stamp
|
Altitude: 986 m / 3 235 ft
In the Lauterbrunnen Valley you will find a number of interesting waterfalls thanks to the high cliffs. One… continue reading
James Bond Cable Car
|
Altitude: 2 970 m / 9 744 ft
Schilthorn (2 970 m asl) is a beautiful scenic mountain from which you have the Bernese Alps in the palm of… continue reading
The highest waterfall of Switzerland
|
Altitude: 1 343 m / 4 406 ft
The most significant waterfall in the Lauterbrunnen valley is the Mürrenbachfall waterfall. It is mainly… continue reading
Lookout peak over Bachsee
|
Altitude: 2 681 m / 8 796 ft
The 2681 meters high Faulhorn mountain is located in the Bernese Oberland between Lake Brienz and the town of… continue reading
A waterfall trapped in a rock
|
Altitude: 927 m / 3 041 ft
Among the interesting Swiss waterfalls is definitely the waterfall Trümmelbachfälle, which is basically a… continue reading
Famous waterfall over Lake Brienz
|
Altitude: 711 m / 2 333 ft
The Giessbachfall Waterfall became famous due to its connection with Sherlock Holmes. Even without him, this… continue reading
Lake between the mountains
|
Altitude: 564 m / 1 850 ft
Lake Brienz is one of the most beautiful lakes in Switzerland. It is also a great starting point for the… continue reading
A mountain with an impressive north face
Altitude: 3 970 m / 13 025 ft
The Eiger (3,970m) is not one of the highest mountains in the Alps or in Europe, but it is famous for its… continue reading
Applaud the author of the article!
Articles nearby