The best of Saxon Switzerland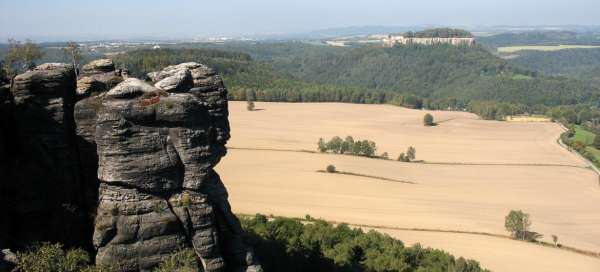 Saxon Switzerland is a picturesque area adjacent to other protected areas already in the Czech Republic. Here you will find the famous sandstone mesas surrounding the river Elbe. There are also technical monuments artfully integrated into the local beautiful nature, such as the famous Königstein fortress or the Bastei bridge.
The famous rock bridge
|
Altitude: 243 m / 797 ft
This rock bridge in the Saxon Switzerland National Park is one of the most popular places. In Czech it is… continue reading
The most beautiful Table Mountain
|
Altitude: 415 m / 1 362 ft
Lilienstein (415 meters above sea level) has the reputation of being the most beautiful table sandstone… continue reading
The biggest fortress in Europe
|
Altitude: 157 m / 515 ft
Fortress founded by Czech King Václav III. is the largest fortress in Europe. The tower system has a… continue reading
The mountain of the same name with a lookout tower
|
Altitude: 412 m / 1 352 ft
The unmissable Table Mountain Pfaffenstein. You can get to the top from both sides only by a rock pass.… continue reading
Rock pass in Saxon Switzerland
|
Altitude: 206 m / 676 ft
The Swedish pits are a short distance from Bastei. It is a beautiful rock pass, which is very neglected,… continue reading
A small but beautiful table mountain
Altitude: 448 m / 1 470 ft
Gohrisch (448m) is a small table mountain located about halfway between Bad Schandau and Königstein. In… continue reading
Applaud the author of the article!
Articles nearby