The most beautiful places in Everest
Natural beauty of the Himalayas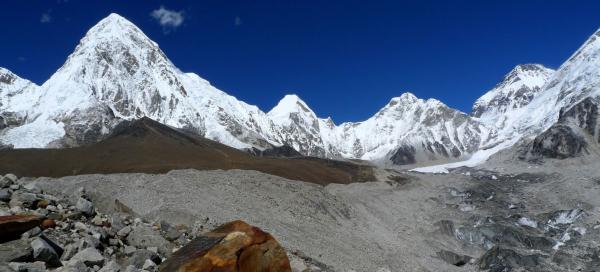 The Khumbu – Everest region will enchants you especially with beautiful lookout points from hiking mountains and mountain passes. There are also lots of beautiful lakes and glaciers, as well as interesting Buddhist architecture.
The most beautiful outlook of the world
|
Altitude: 5 648 m / 18 530 ft
Kala Patthar is only insignificant grassy mountain with rocky top lying on the ridge falling sharply from… continue reading
The most beautiful pass in Khumbu
|
Altitude: 5 528 m / 18 136 ft
Kongma la pass (5 528 m asl) working as a link of Lobuche with Chhukhung belongs among the most beautiful… continue reading
Interesting prospect not only on Everest
|
Altitude: 5 357 m / 17 575 ft
Mountain Gokyo Ri is the second most famous tourist prospects in the Khumbu region (after Kala Patthar). You… continue reading
The real starting point to Mount Everest
|
Altitude: 5 280 m / 17 323 ft
Directly on Khumbu glacier, at an altitude of about 5280m asl, is located Everest Base Camp. This is real… continue reading
Mountain above Thame
|
Altitude: 5 368 m / 17 612 ft
More than five thousand meters high Sunder Peak lies directly above the village of Thame. Although an easy… continue reading
The main river in Khumbu
|
Altitude: 3 000 m / 9 843 ft
River Dudh Koshi springs from glacier Ngozumba and drains the whole area of Everest. Its best part is close… continue reading
Eagle´s nest above the village
|
Altitude: 3 950 m / 12 959 ft
Monastery in Thame stuck to the rock at a height of nearly four thousand meters above sea level also serves… continue reading
The first outlook on Mount Everest
|
Altitude: 3 870 m / 12 697 ft
On the drab hill, high above the valley of the Dudh Koshi, is a glorious prospect "Everest View" (3870 m n. M… continue reading
The hearth of Khumbu
|
Altitude: 3 440 m / 11 286 ft
Namche Bazar is one of the most famous climbing bases around the world. It is the largest town in the Khumbu… continue reading
The largest monastery in Khumbu region
|
Altitude: 3 860 m / 12 664 ft
Directly on a mountain ridge towers the largest Buddhist temple in the Khumbu – Tengboche. Very often foggy… continue reading
The most dangerous airport in the world
|
Altitude: 2 850 m / 9 350 ft
Gateway to the Everest region – Khumbu is the town of Lukla. It is famous mainly for its airport which falls… continue reading
Emerald diamond
|
Altitude: 4 750 m / 15 584 ft
Lake Dudh Pokhari (4 750 m asl) lying just below the lodges in Gokyo is a favorite destination for walks and… continue reading
Awesome bridge over the gorge
|
Altitude: 2 885 m / 9 465 ft
On Everest trek you will see a lot of interesting, typical for Nepal, suspension bridges. Probably the most… continue reading
Have you been there? Contribute a good advice to travelers who want to go to this area or add places to your visited list.
Do you want to go there? There is nothing easier than having to deal with others and go on a trip or get tips on where you want to go.
Activities
Practical information
Applaud the author of the article!