Northern part of the island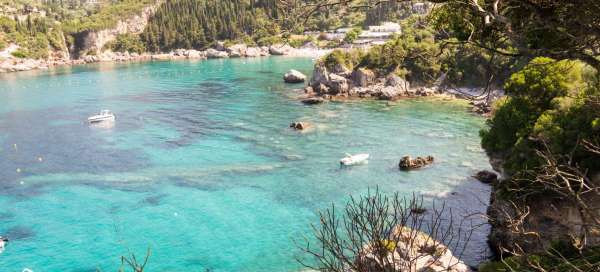 Corfu is known mainly for its beaches, but in addition to them, it also offers a large number of other attractions. These are historical places, but also natural attractions, castle ruins or historical villages. I think I will choose for you some of the most beautiful places on this island, which I think is worth visiting if you are going on vacation in Corfu. It is possible to pay for an optional trip, or rent a car and go through it all yourself.
Hidden beauty
It is a pebble beach, hidden from view. I do not recommend using the nearest parking lot by the beach,… continue reading
Cliffs
The sandstone cliffs of Kape Drastis are located in the northwestern tip of the island of Corfu, about two… continue reading
Western castle
|
Altitude: 256 m / 840 ft
One of the most important castles in Corfu, which serves for a long time to defend the island. The castle… continue reading
Picturesque monasteries
The monasteries are located in the town of Palaiokastritsas and if you came to the town only because of the… continue reading
Cafe by the rock
It is not a beach in the classical sense, I would rather call it a cafe by the sea. This is a very small… continue reading
Hidden beauty
The beach is about a 15-minute walk from Avlaki Beach. It is a hidden beach where not many tourists come.… continue reading
A village from the past
|
Altitude: 424 m / 1 391 ft
Old Perithia is an example of what life on Corfu looked like in the past. These are mostly the ruins of an… continue reading
Dominant of the City
The historic old fortress above the city has served to defend the island of Corfu for centuries. Today, most… continue reading
Under the cliff
It is a very narrow beach, where the tide comes in the evening and it reduces the size of the beach to a… continue reading
The capital
The capital of Corfu is particularly interesting for its narrow, picturesque historic streets with many shops… continue reading
Applaud the author of the article!
Articles nearby