A gem in the Andaman Sea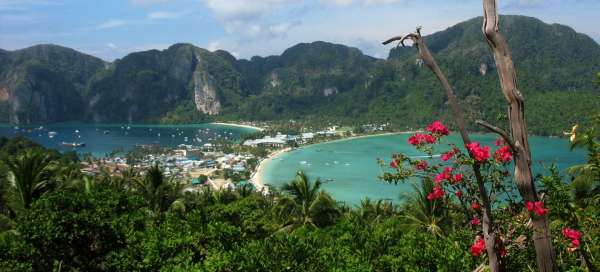 A trip to the Phi Phi Islands is one of the greatest Thai classics. Even so, it is an interesting place not only for swimming, but also exploring more remote beaches. The most famous place here is the uninhabited island of Phi Phi Lee with the famous Maya Bay. 4–5 days will suffice for a peaceful knowledge of the island.
1 day
Arrival to Phi Phi Island
Boat taxis arrive on Phi Phi Island from both Koh Lanta, Phuket and Krabi (Ao Nang Peninsula). Most tourists arrive here by night bus from Bangkok combined with a ferry. The first day is more for accommodation and peeking out. You can stay both in the center around the bays of Loh Dalum and Ton Sai or on the more distant and quiet Long Beach.
Quiet part of island Phi Phi
If you want to stay in a less busy part of the island of Phi Phi Don, choose your accommodation and base for… continue reading
Day 2
Trip to the deserted beach of Moo Dee
The next day, take a short walk to the virtually deserted Moo Dee Beach. Even on the bustling island of Phi Phi, you can feel almost Robinson.
Robinson beach on Phi Phi
Also in Phi Phi Don can be found a beach, where you can feel almost like Robinson Crusoe. It is beach Moo Dee… continue reading
Day 3
Trip to the famous Maya Bay
Be sure to visit the uninhabited island of Phi Phi Lee with its famous bay and Maya beach. Try to be here as soon as possible, because the crowds are huge.
The most famous beach in Thailand
The Maya Bay beach is the most famous in Thailand. The movie the beach was set on the Maya Bay beach. You can… continue reading
Day 4
Trip to View point and Runtee beach
Probably the most sporty trip you can take on Phi Phi Don is a trip to the famous View Point and then an inland march to Runtee Beach.
Ascent to the most famous viewpoint of the island
|
Altitude: 139 m / 456 ft
Most tourists come to Phi Phi to have a nice place on the local white beaches. However, there is one output… continue reading
Day 5 and more
Of course, you can stay on the islands much longer, but if you continue, a good type is a cruise to Krabi (respectively to the Laem Phra Nang peninsula with famous rock cliffs) ** Other tips for beautiful places on the island: ** – Nui Bay – Pileh Lagoon
Sailing in the kingdom of cones
Also an ordinary ferry between two islands can be very interesting, especially if it leads in the countryside… continue reading
Applaud the author of the article!
Articles nearby
Thanks!
Have you been there? Write a review of this place
Already rated by 0 travelers