4 day trek to the highest table mountain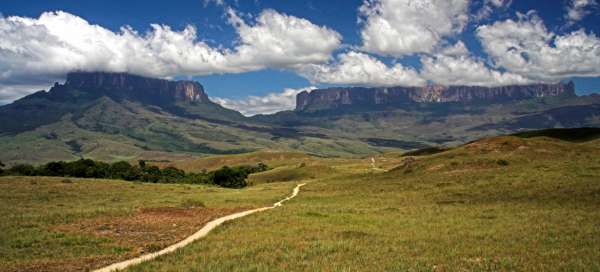 Probably the most famous trek you can do in Venezuela is to climb the most famous and highest table mountain – Roraimu. Another interesting fact is that at its top you will find the tri-border states of Venezuela, Brazil and Guyana. Most travelers go to the mountain for five or six days, but the trek can be completed in four days.
Day 1 - Start of the trek on Roraim
If you leave Ciudad Bolivar by night bus, you will be in the morning in the town of San Francisco de Yuraní. Arrange the import to the Paraitepuy trek here. From here you will set out on a tiring savannah path to the river Kukenán.
Starting point for the trek on Roraim
Altitude: 874 m / 2 867 ft
If you want to go on a beautiful trek to Table Mountain Roraimu, you must first travel to the Indian village… continue reading
Trek through the Venezuelan savannah
|
Altitude: 1 318 m / 4 324 ft
** Roraima Trek I. **: The introductory stage of the trek to the monumental Table Mountain Roraima leads from… continue reading
Day 2: Ascent to Table Mountain
The next day we first have a hike from the river Kukenán to the foot of Table Mountain. Then we finally start to climb Table Mountain along an interesting trail. At the top of the mountain we will be surprised by a completely different world and a night in a beautiful camp between the rocks.
Table mountain to the touch
|
Altitude: 1 897 m / 6 224 ft
** Roraima trek II. **: the next day you have to decide whether to choose a simpler variant of the trek or a… continue reading
The first steps on Table Mountain
|
Altitude: 2 205 m / 7 234 ft
** Roraima trek III. **: If you have chosen a more demanding variant of the trek, you will climb to the top… continue reading
Day 3: Hike to Triple Point and start of the return
The third day is the best. We set off at the top of Table Mountain to its highest point – Triple Point. Along the way there are a number of beautiful nooks and fairytale rocks. After returning to the camp, we begin the descent and camp under the wall of Roraima in the base camp.
Borders of Brazil, Venezuela and Guyana
|
Altitude: 2 264 m / 7 428 ft
** Roraima trek IV. **: The peak of the trek on Roraima is the ascent to the highest point of this mountain.… continue reading
Day 4: Return
Following the same route we return to the river Kukenán, and then across the savannah to Paraitepuy. Here it is possible to spend the night or move straight to the main road and wait for the bus to the next location
Applaud the author of the article!
Articles nearby
Thanks!
Have you been there? Write a review of this place
Already rated by 1 traveler