One of the most beautiful places in Saxony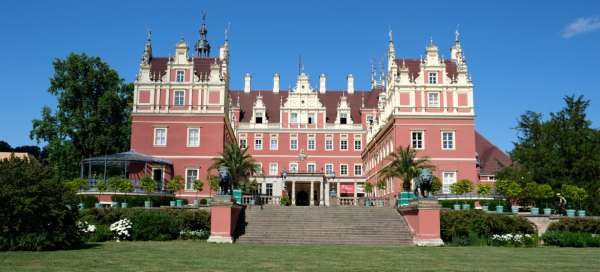 You can find Bad Muskau at the very north-eastern end of Saxony near the border with Poland and the other federal state of Brandenburg. The picturesque Lužická Nisa river acts as a border here. The entire area falls within the Muskau Park, which, thanks to its exceptionality, is protected by UNESCO as the largest English park in Central Europe. Tourists are also drawn here by one of the most beautiful castles in Saxony – Neues Schloss, around which you can take a very pleasant walk.
Markt in Bad Muskau
The historic part of Bad Muskau stretches along the road to the Polish town of Leknica. The full center is then around the Markt Square, where you will find the fountain and market stalls. From there it is only a short walk to both local castles.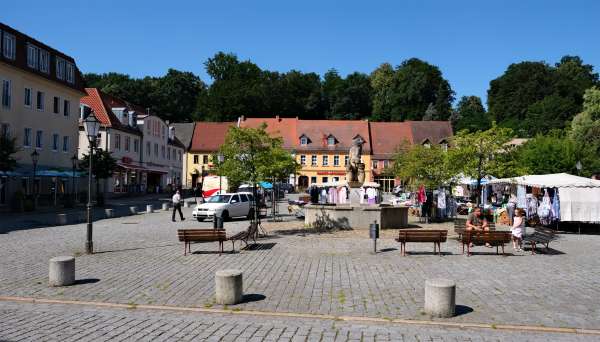 Old castle in Bad Muskau
The first thing you will come across is the more modest Old Castle, where weddings are now held, for example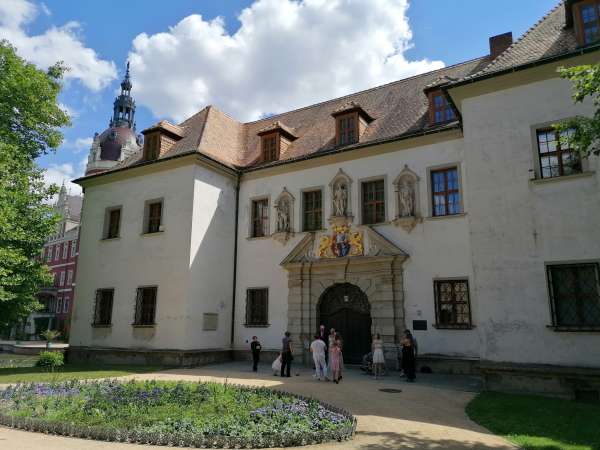 Neues Schloss Bad Muskau
Right next to the Old Castle, there is a local fairytale gem – the New Castle. It is beautifully integrated on the shores of Lake Luciesee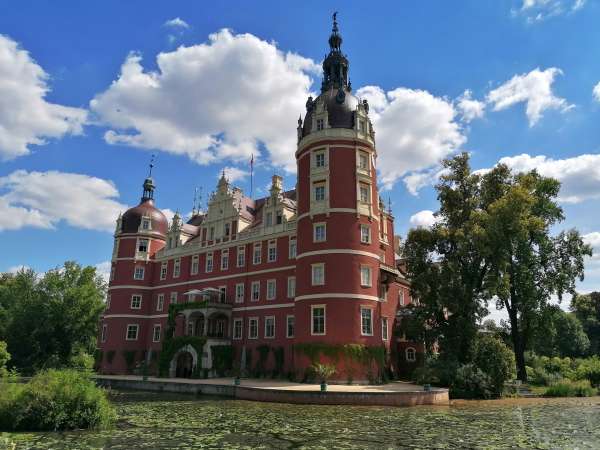 Neo-Renaissance gem
The castle is built in the Neo-Renaissance style, unlike the baroque Old Castle. It is dominated by two massive towers and fascinates with its beautiful setting in the surrounding landscape.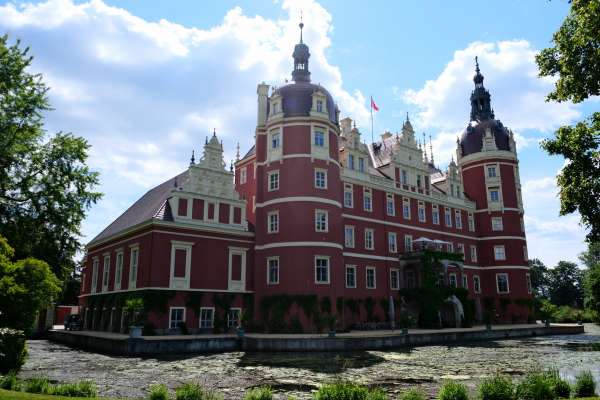 English park in the surroundings of the castle
There is a gigantic English park in the surroundings of the castle, which is registered in UNESCO. Especially its passages around the river are very beautiful. Here you can wander for hours and see the lakes and various viewpoints. Exploring by bike is ideal, as the park is really vast.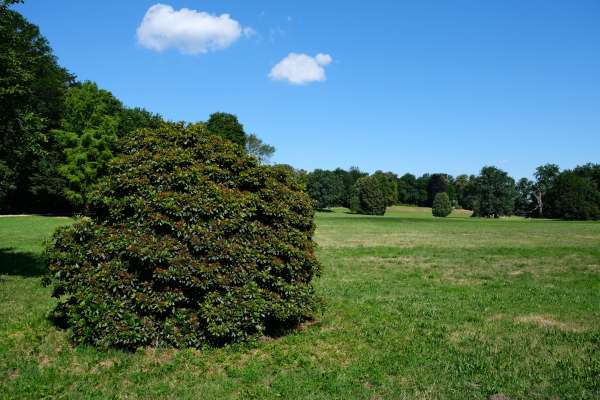 Lock from the other side
The castle looks completely different from the other side. It is dominated by a huge staircase guarded by two huge lions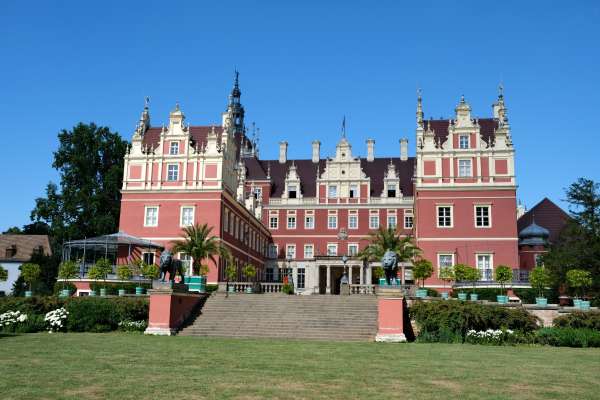 View of the Old Castle across the lake
Across the lake Luciesee there is a nice view of the much more modest Old Castle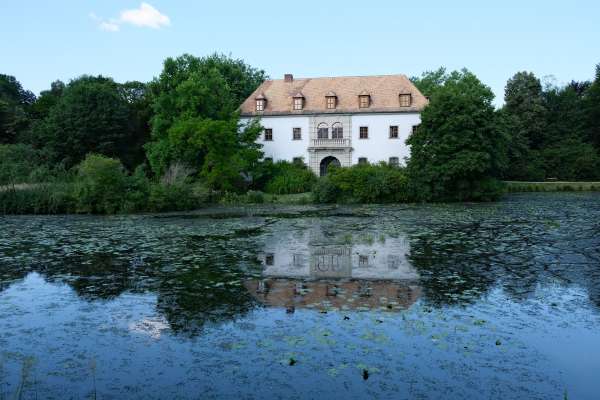 Schlossvorwerk
Hiking trails start from the back of the New Castle in the local famous English Park. You will also find several other interesting buildings here, including the castle stables, orangery, etc.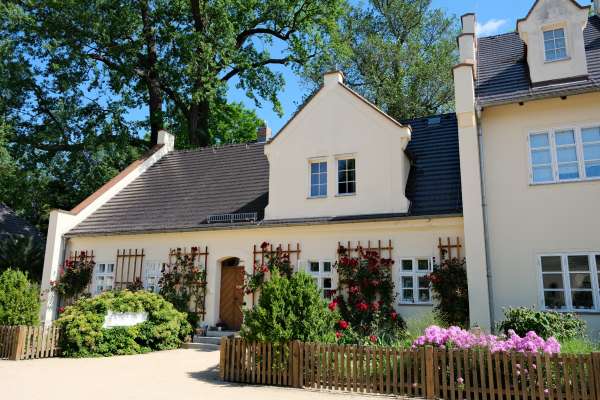 Schlossvorwerk Bad Muskau
After visiting the buildings here, be sure to take a tour of the park, which is also worth it.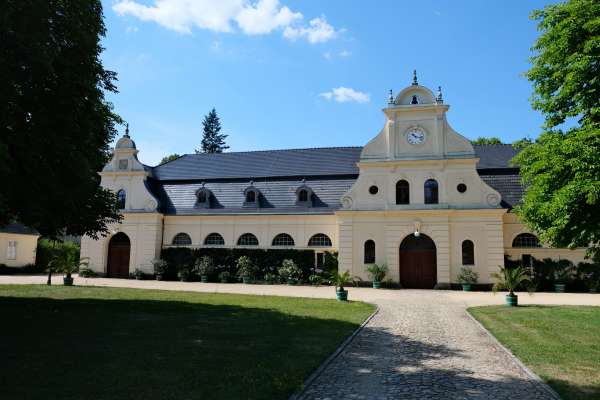 View of Nový Zámek across the lake
A nice tip is to walk along the grass to the southern end of the lake, from where there is a great view of the New Castle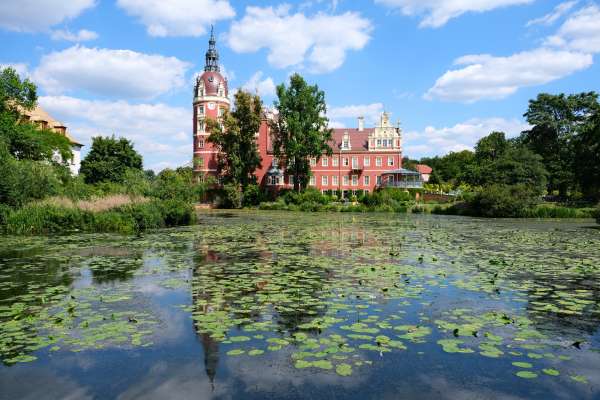 Applaud the author of the article!
Articles nearby
Thanks!
Have you been there? Write a review of this place
Already rated by 0 travelers