A mountain hut standing from afar, visible from afar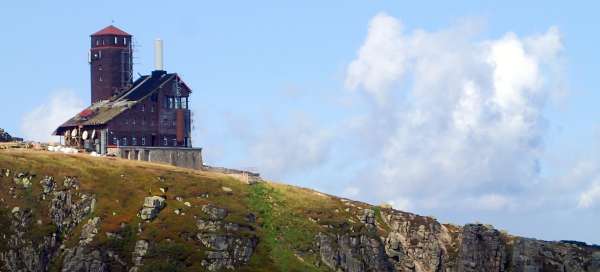 The hut at the Snow Pits (Schronisko Nad Śnieżnymi Kotłami) is built in Poland about 140 m beyond the Czech-Polish border directly on the edge of the Snow Pits. Thanks to its location directly on the ridge of the Giant Mountains at an altitude of 1490 m above sea level and the slender tower of the transmitter, it is really visible from afar and it is certainly the least overlooked structure on the ridges of the Giant Mountains.
The hut stands directly above the abyss
This hut stands directly above the massive glaciers on the northern and eastern slopes of the High Plain between the Violík and Vysoké kolo hills on the Polish side of the Giant Mountains. On the northern slope is 550 meters long Malá Sněžná jáma, Velká Sněžná jáma on the eastern slope is 800 m long. Both are about 300 meters deep and offer stunning views of the valley with glacial lakes.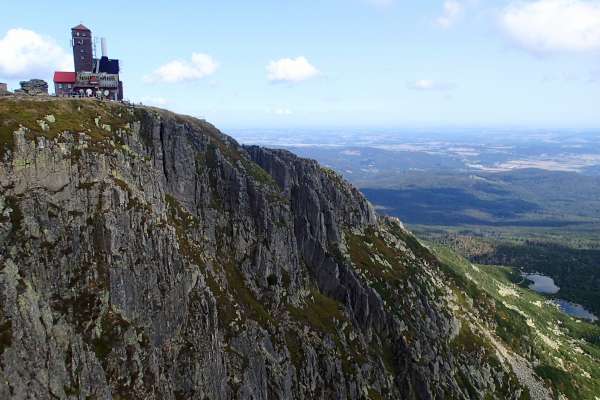 Location directly on the ridge
Thanks to the extraordinary natural scenery, the hut became a popular destination in the beginning of tourism in the Giant Mountains. In good weather, it offers a distant view, especially of the Silesian side of the mountains. Due to the location on an uncovered mountain ridge, it is necessary to take into account the frequent strong winds and sudden changes in weather.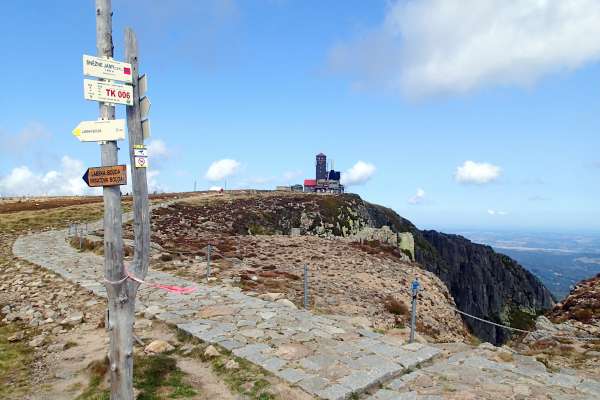 History
A small shelter for two people was built in these places in 1837. In 1860 there was already a stone hut with a restaurant and accommodation for 21 people. In 1897 there was already a four-storey luxury hotel. For II.sv. During the war, the hotel was used for recreational purposes by the German Luftwaffe, and later the Germans added a radar to it. The current appearance of Bouda u Sněžných jam comes from 1960–1978, when the last building modifications took place. It is interesting that after Silesia fell to Poland in 1945, the Poles began to call it Wawel, due to the similarity of the silhouette with Krakow's castle.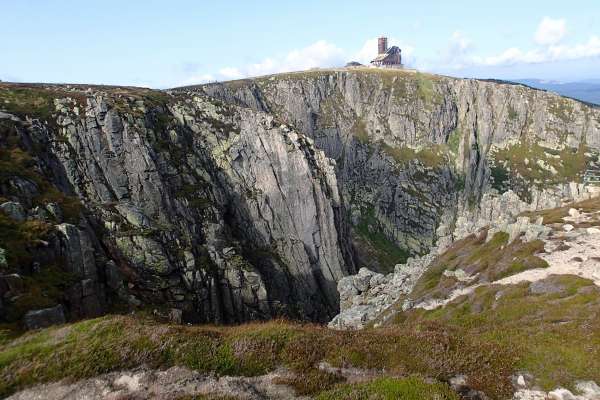 Accommodation and meals
The building is not open to the public, it only serves as a signal transmitter for Polish television and mobile operators. Only in case of emergency and in extreme weather It is possible to ask employees for shelter. However, extensive construction work is currently underway, so we may see a surprise in the form of reopening in the future.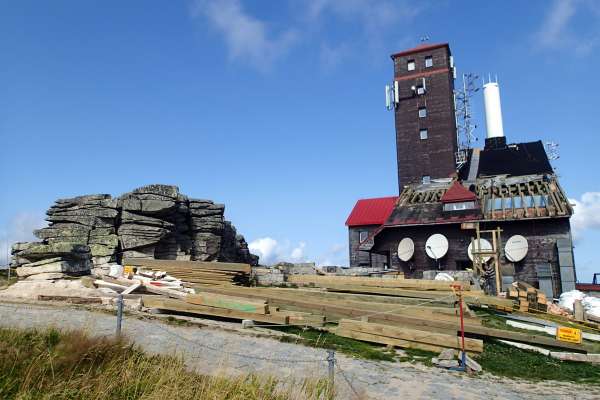 Applaud the author of the article!
Articles nearby
Part of gigalist
Giga List:
The most beautiful Krkonoše mountain huts
At first, shelters for lumberjacks and shepherds were built on the Krkonoše glades. These became known as sheds. Gradually, the… continue reading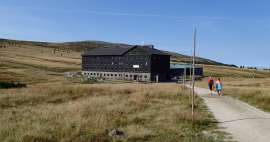 Thanks!
Have you been there? Write a review of this place
Already rated by 1 traveler