At the very end of the Bohemian Paradise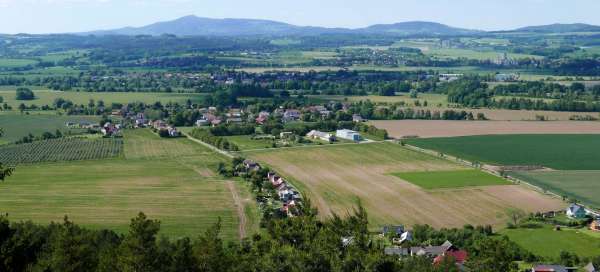 You can get to know the village of Všeň from a distance thanks to the huge church of St. Philip and James built on a hillside. It is a good starting point for exploring the western end of the Bohemian Paradise or marching further to Hruboskalsko or Turnov. It is possible to make a nice circuit, which we will describe here. Along the way we will visit the rock castle Kozlov and we can enjoy Rais's viewpoint or the view of Bezděz. We can refresh ourselves, for example, halfway in Kacanovy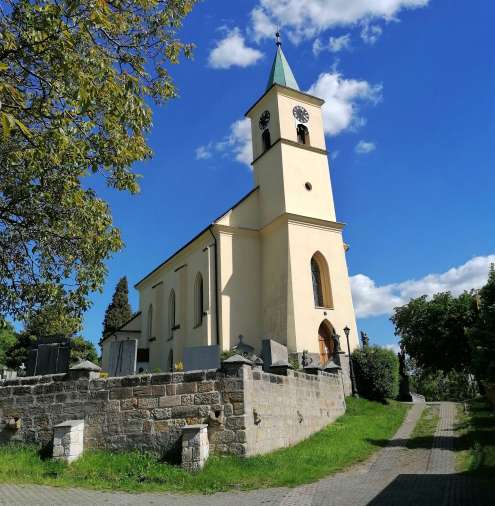 Church of St. Philip and James in Všen
The beginning of this tour is located in the small village of Všeň. You can leave your car just below the church. The church is an important dominant of the surroundings and can be seen from the viewpoints in the Příhraz rocks. Right from the church there is a nice view of both Ještěd and Turnov
Pond Vústra
From the church we set off along the yellow tourist route. We immediately disappear into the forest and after a kilometer and a half we reach the picturesque pond Vústra. We are already under the main attraction of this circuit – the Kozlov rock castle (Chlum)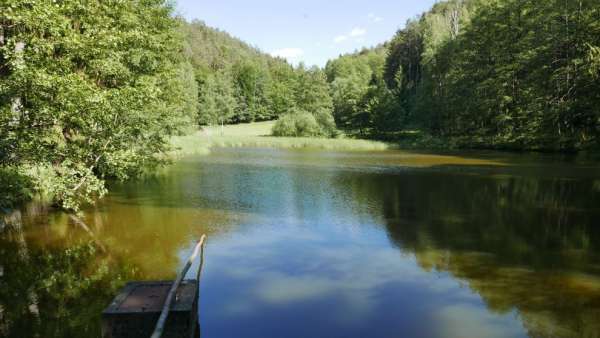 Rock town Kozlov
From Vústra you can climb a little noticeable path directly upwards or a 600 meter longer circular, more relaxed marked path. There is a small rock town around the ruins of a rock castle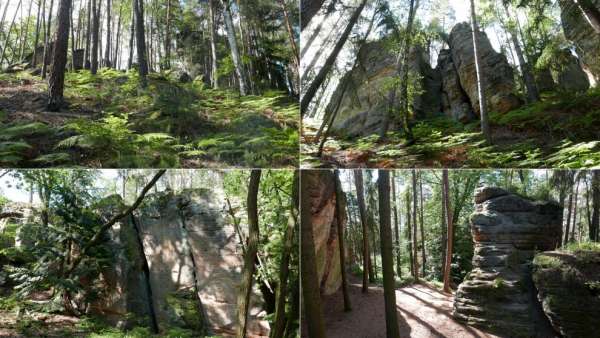 Kozlov Rock Castle
Basically at the top of the rock town are the remains of the rock castles Chlum. Of course, the wooden part disappeared centuries ago. To this day, rock flats so typical of the Bohemian Paradise have been preserved. There are many of them. An ideal place to sleep on the chundra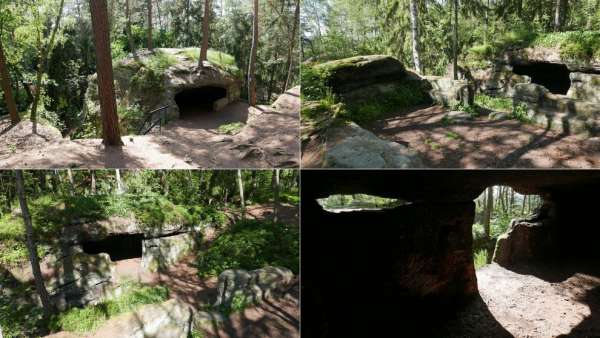 Castle well
Apart from the rock dwellings and stairs, there is another attraction of the castle well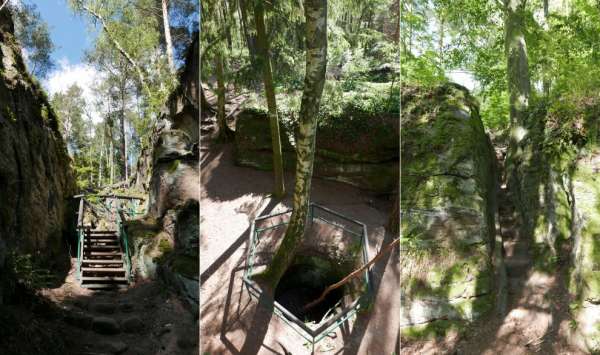 Rais' prospect
It is still rising a bit from the rock town and just a short distance from the highest elevation Kozlov (381 m above sea level) is a really beautiful view of Rais. As if in the palm of your hand, you have the Jizera valley lined with Ještěd on the horizon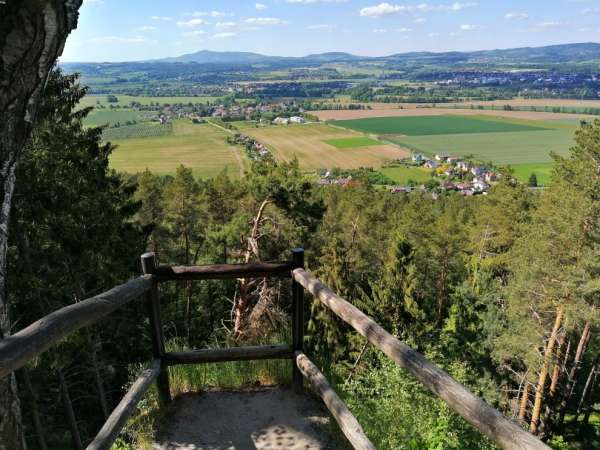 Foothills
We continue along the yellow road and less than a kilometer from Rais's viewpoint, we leave the forest to a place called Podpohoří. There are only a few recreational facilities around the former clearing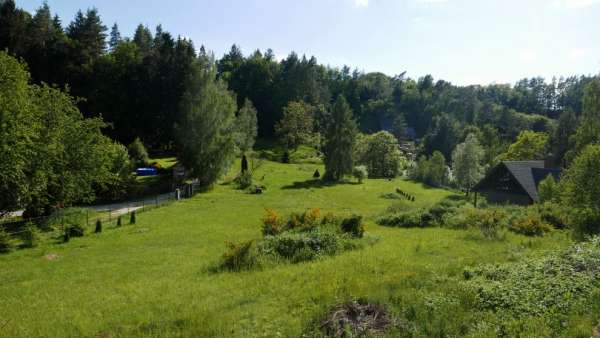 Kacanovy - Hotel Králíček
From Podpohoří you will descend through the forest to the sunny valley to the road connecting Vyskeř with Turnov. At the crossroads stands a nice hotel Králíček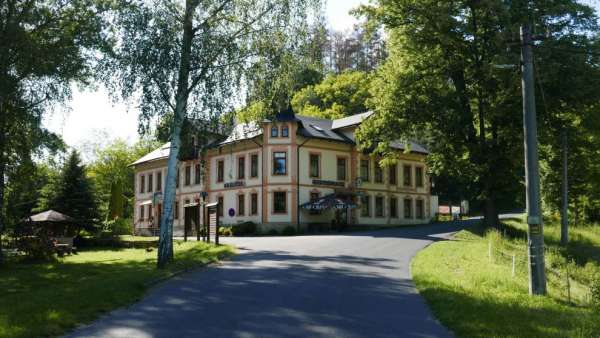 Kacanovy - Folk architecture
In Kacanovy you will find several interesting folk buildings. The most important of them is the Country House No. 57. But there it is a few hundred meters walk from our circuit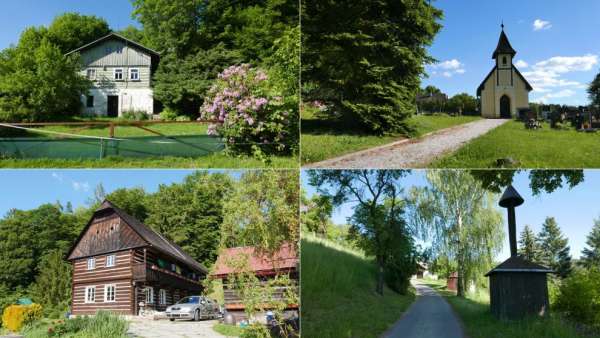 Swimming pool Kacanovy
Another place where you can refresh or refresh yourself at this place is the swimming pool in Kacanovy.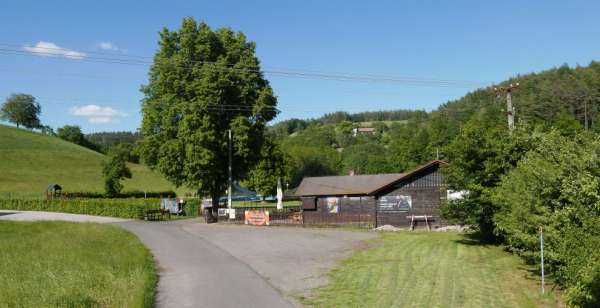 Landscape near Olešnice
From the swimming pool in Kacanovy you have two options for how to continue – either along the cycle path 4009 north of the Kacanovský brook or along the blue tourist path south of it. In any case, after less than a kilometer and a half, the two variants are connected a short distance from the village of Olešnice. From here we will ascend in the direction of the Mountains. The surrounding landscape is picturesque. There is also a view of Ralsko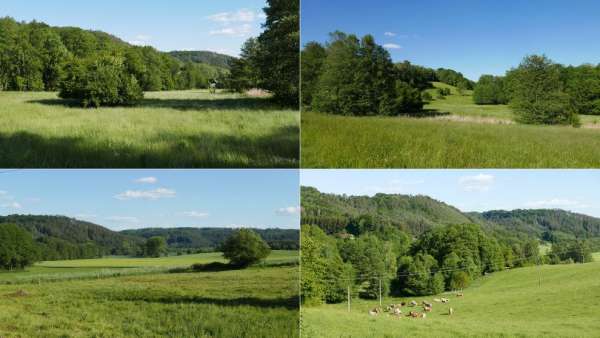 View of Bezděz
From Olešnice you follow a narrow road that climbs up a hill in a few bends. The hiking trail (green) shortens some of them. Almost at the top of the hill, on the edge of the forest, don't let the turnoff to Vyhlídka na Bezděz run. You can enjoy not only Bezděz, but also Příhrazské skály from the beautiful rock tower. But the view itself is definitely a better morning here, when there is no such backlight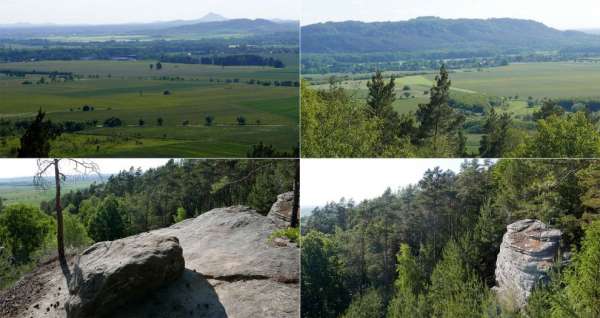 Mountains
After returning from the viewpoint, we ascend a few more meters and we are in the Mountains. Here we will leave the green route, because otherwise it would take us to where we were already today and we will continue west on the cycle route 4012. It is such a pleasant ridge. When marching, don't forget to turn around, because in time Vyskeř will look out at you on the horizon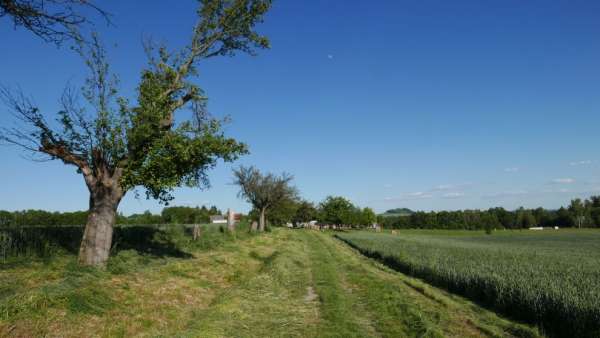 Descent to Všen
The road eventually leaves the plateaus and meadows and through the forest you descend back to Všen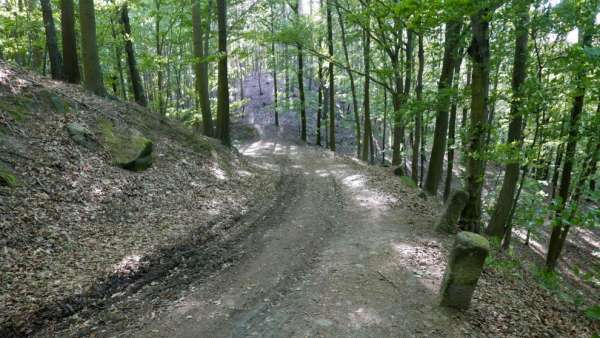 Applaud the author of the article!
Part of gigalist
Giga List:
The most beautiful tours of the Bohemian Paradise
Bohemian Paradise is a promised area for tourists. Here you will find beautiful trails through the famous rock towns,… continue reading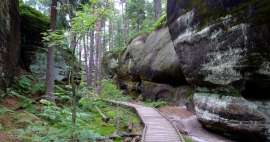 Thanks!
Have you been there? Write a review of this place
Already rated by 1 traveler