Trip to the most beautiful beach on the island of Samos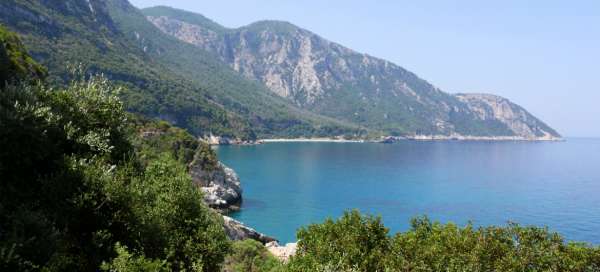 From the famous Potami Beach, you can walk along the marked route to the beautiful and deserted Mikro Seitani Beach. The route measures 2.5 km in one direction with a total elevation gain of 150 meters. The route can be shortened by about half if you move by car along a forest road. Beautiful views, a path through an old olive grove and, most importantly, a beautiful beach at the end await you
View of Potami Beach
The tour starts at Potami Beach, where there is also a tourist sign. At its western end is this nice vantage point. In the meantime, we are walking on a decent road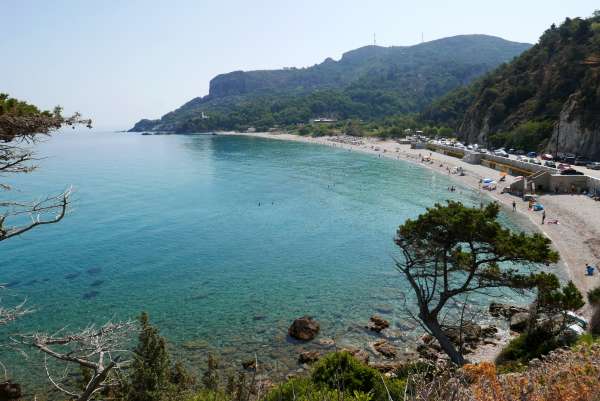 View of the peninsula
The road leads more than 50 meters above sea level. This is a view of the peninsula that terminates Potami Beach.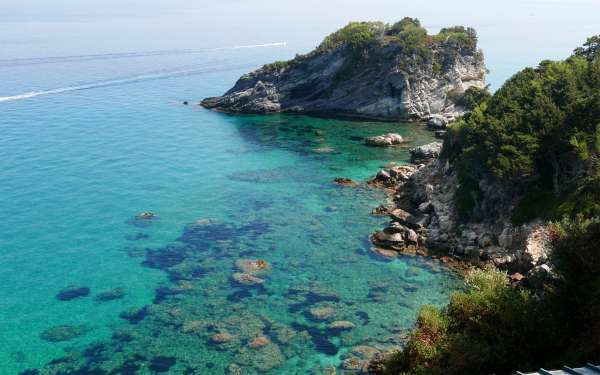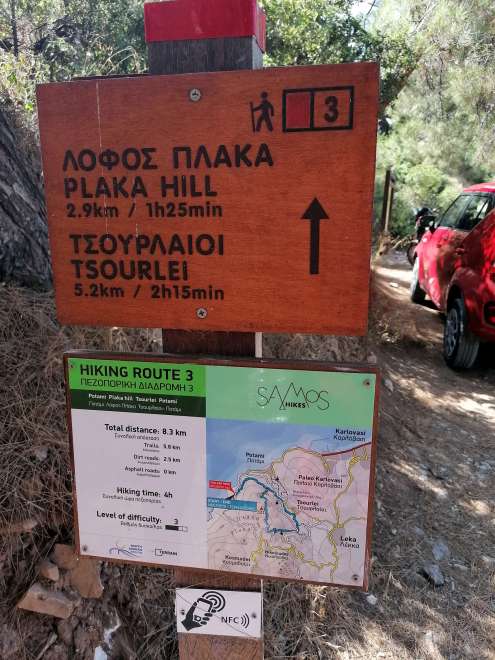 Crossroads of tourist routes 1 and 3
After about a kilometer of walking, the relatively good journey ends and everyone has to continue on foot. There is a turn to route number 3 leading to Plaka hill. We continue along the road No. 1 in the direction of Mikro Seitani.
View of the northwest coast of Samos
Finally we leave the road and follow a nice path. In front of us is a view of the beautiful mountainous northwest coast of Samos. We are moving in this direction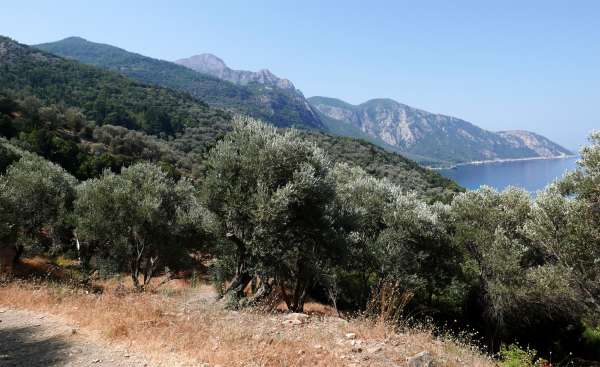 Footpath to Mikro Seitani beach
Fortunately, the hiking trail leads most of the time in the shade of the trees. The path seems to have been used for many centuries and has led to the now abandoned olive groves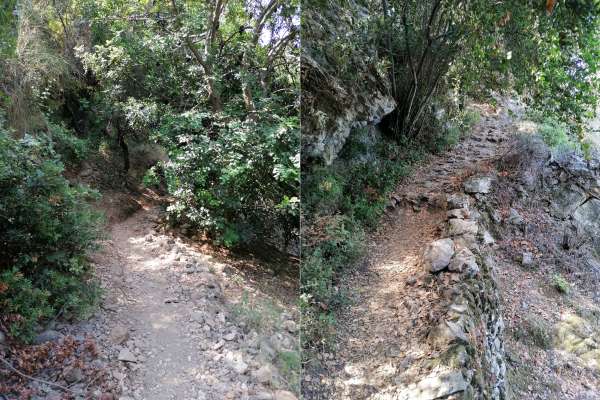 Road through olive groves
Along the way you can enjoy beautiful ancient olive trees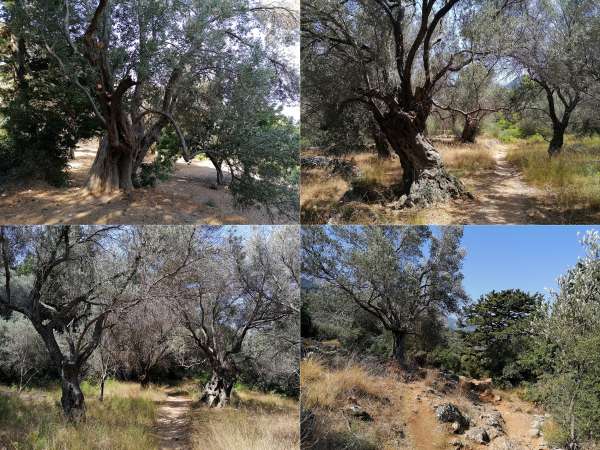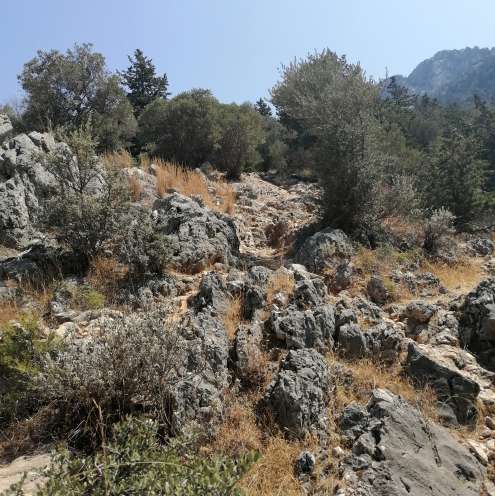 Descent rocky slope
The most challenging part of the journey is the descent of a rocky slope without the sun. The path descends with many curves and branches several times, but fortunately only one leads down again.
Bending formations
The road finally reaches the sea again. Just before Mikro Seitani Beach, there are many rock formations along the coast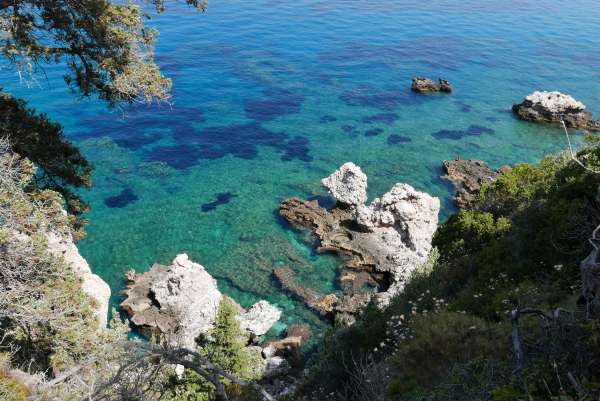 First view of Mikro Seitani beach
After a 35-minute walk from Potami Beach, we finally arrive at this beautiful deserted Mikro Seitani Beach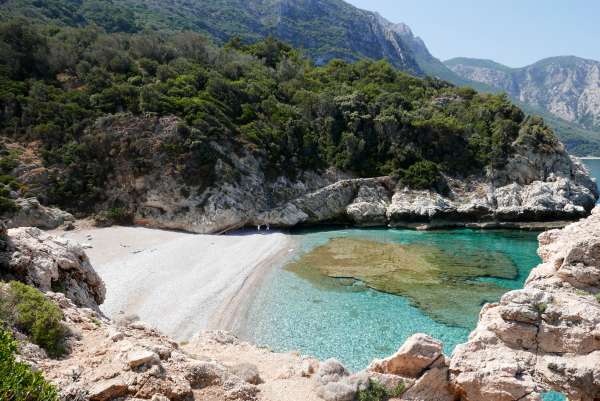 Applaud the author of the article!
Articles nearby
Part of itienary
Article:
Trip to Potami and surroundings
In the northwest of the island of Samos, west of the town of Karlovasi you will find the beautiful beach of Potami. From here you… continue reading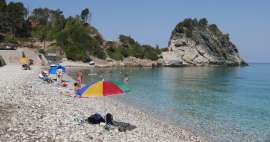 Part of gigalist
Giga List:
The most beautiful trips to Samos
Samos is undoubtedly one of the most beautiful Greek islands. It offers not only very beautiful beaches, but also a dramatic… continue reading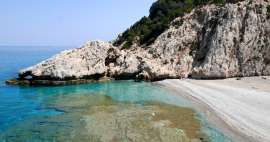 Thanks!
Have you been there? Write a review of this place
Already rated by 1 traveler