The beach with the most beautiful view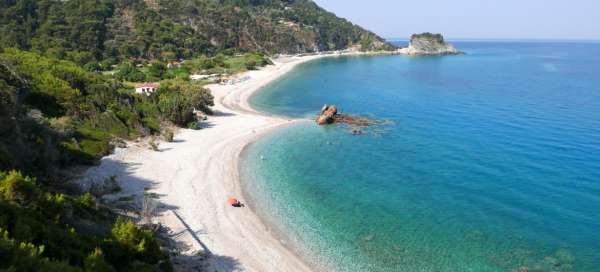 Potami Beach is one of the most famous bathing destinations in Samos. At the same time, it is a great starting point for two nice hikes – to the beaches of Mikro Seitani and Megalo Seitani and also to the local waterfalls. The beach itself is easily accessible, as it is located just a short walk from the large town of Karlovassi
Church of Agios Nikolaos
A trip to Potami Beach is best started at the modern Agios Nikolaos Church. From here is the best view of the beach. Ideal early in the morning, when the sun will shine on you and there will be few people on the beach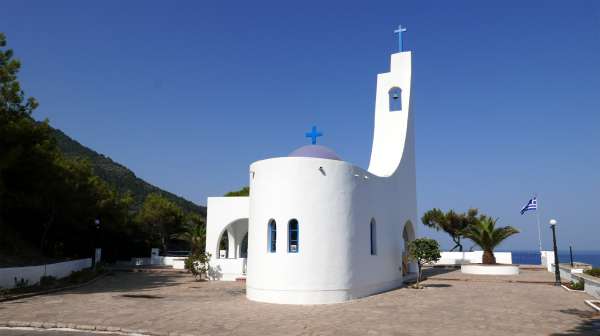 View back to the road from Karlovassi
From the church you can also see the view back to the road from Karlovassi, from where you came. But that's not the famous view yet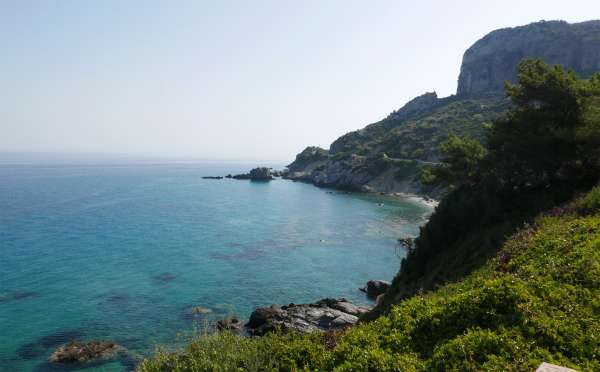 Views of Potami Beach
From the viewpoint you can see the rocks dividing Potami Beach into two semicircular bays. The closer bay is not organized to the more distant are two sections of deck chairs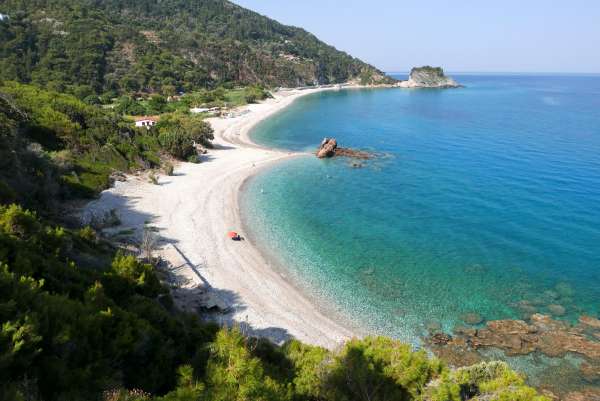 Rocks between two bays
Potami beach is pebble, but the pebble beach is smaller and the access to the water is good. One of the hallmarks of this beach are the colored rocks in the middle between the bays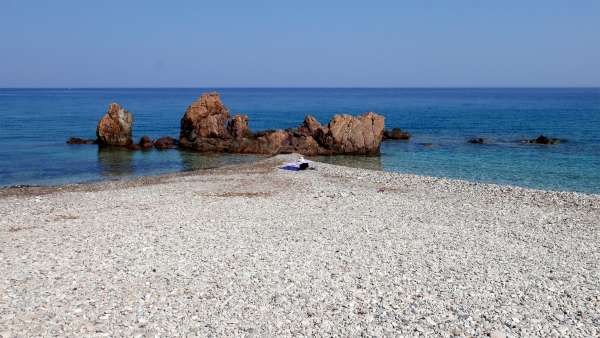 Inland views
The beach is surrounded by several hundred meters high peaks, which gives it a very nice backdrop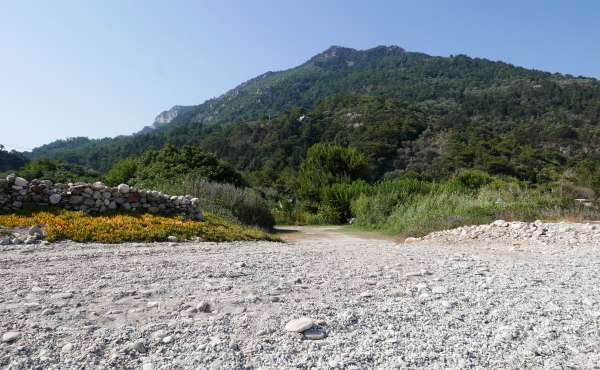 View back to the church
Looking back you can see the modern building of the church on the cliff. From the perspective, the two bays seemed almost the same size, but it's just an optical illusion. The more distant one is at least 5 times longer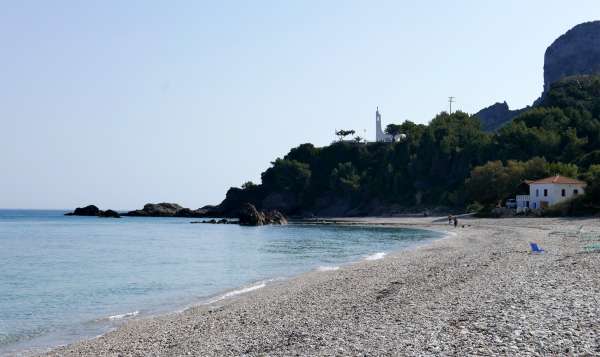 The mouth of the stream
At the beach you will also find the mouth of the stream on which there are famous waterfalls. From the beach it is about a kilometer and a short walk to the waterfalls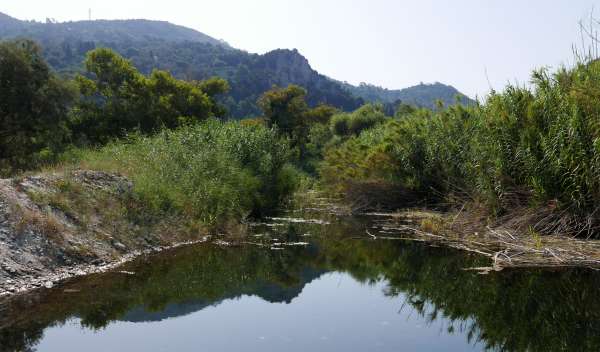 Potami Beach
Potami Beach is really large, it is more than 500 meters in length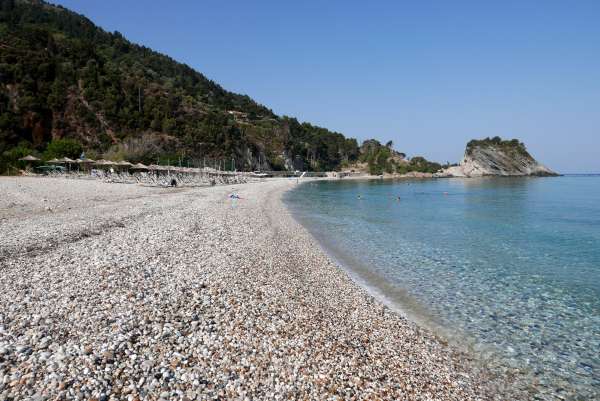 Rock at the west end of the beach
Another landmark of this beach is a nice rock at the western end of the beach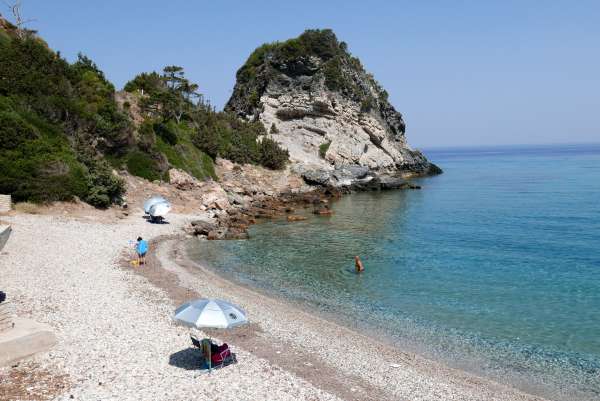 Parking by the beach Potami
Definitely worth a trip to Potami Beach in the morning. It fills up very quickly and around noon there is slowly no place to park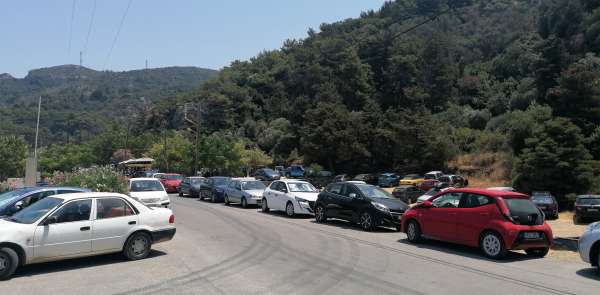 Applaud the author of the article!
Part of itienary
Article:
Trip to Potami and surroundings
In the northwest of the island of Samos, west of the town of Karlovasi you will find the beautiful beach of Potami. From here you… continue reading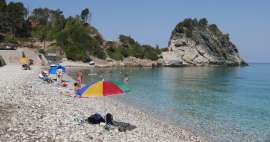 Part of gigalist
Giga List:
The most beautiful trips to Samos
Samos is undoubtedly one of the most beautiful Greek islands. It offers not only very beautiful beaches, but also a dramatic… continue reading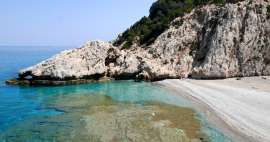 Thanks!
Have you been there? Write a review of this place
Already rated by 1 traveler