Hike to Khumjung and Khunde
Sherpa villages above Namche Bazar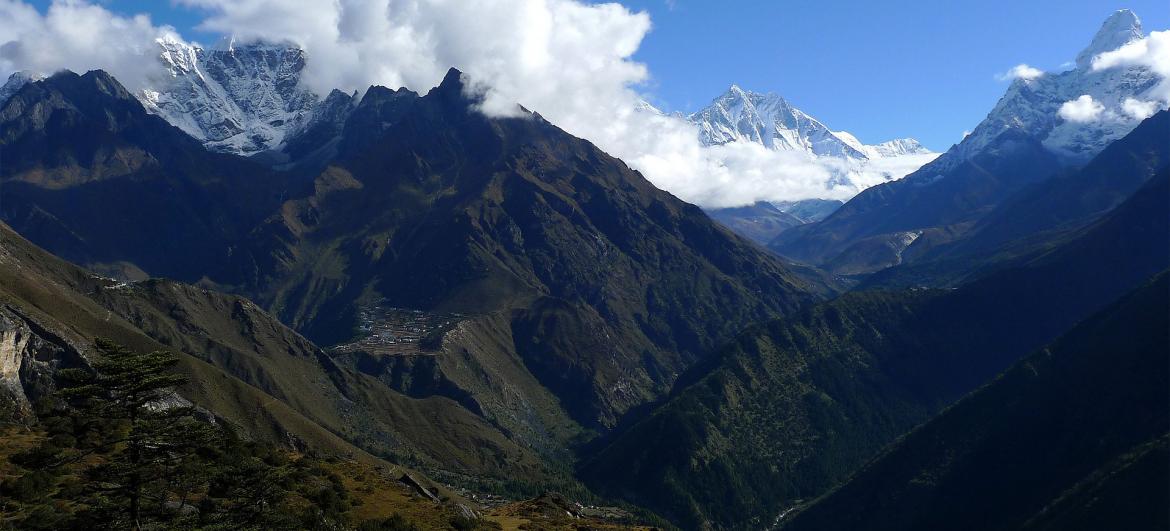 Favorite acclimatization trip leads to the outlook point Everest view and continue to sherpa villages of Khumjung (3 780 m asl) and Khunde (3 860 m asl). The first views of Everest, Lhotse and Ama Dablam will definitely take your breath away. The circuit is for about half a day, but if you will enjoy the views and do not rush, it will definitely take longer. You should also consider whether to walk with all the backpack or accommodate in Khumjung for better acclimatization.
The ascent to the lookout Everest view
Set out from the center of Namche Bazar along the main trekking path leading to Everest. After about 100 vertical meters, when you reach a small pass, turn off and now awaits you steeper ascent to inoperative airport Syangboche. If you walk with just a small backpack for a day trip, you will have no problems with the ascent.When you ascent to the airport Syangboche (3,790 m), you will find out that it is just a stone plowed with even shorter runway than in Lukla. You will not be surprised that nothing flies here. From there you can already see the hotel above you, but it is not yet the first destination of your journey to Everest View. It is Syangboche Panorama, from where there are not so nice views.As soon as you come to the hotel, you will see that a few hundred meters are still waiting for you, but they already lead along more pleasant traverse path. There are meadows and small remnants of nice coniferous forest combined with rhododendrons around the path. Looking back, you will see the top of Kongde Ri (6 186 m asl).
Everest view outlook
Finally, after two hours from Namche you arrive to the hotel with an adjoining heliport (3 870 m asl). A short walk away is the famous first outlook of Everest (8 850 m asl). But you will see only a small top of Everest towering over the long ridge of Nuptse (7 864 m asl). The dominant mountain of this outlook is Lhotse (8 516 m asl), which is actually three peak mountain. Except for the main peak there are peaks Lhotse Middle (8 410 m asl) and Lhotse Shar (8 382 m asl).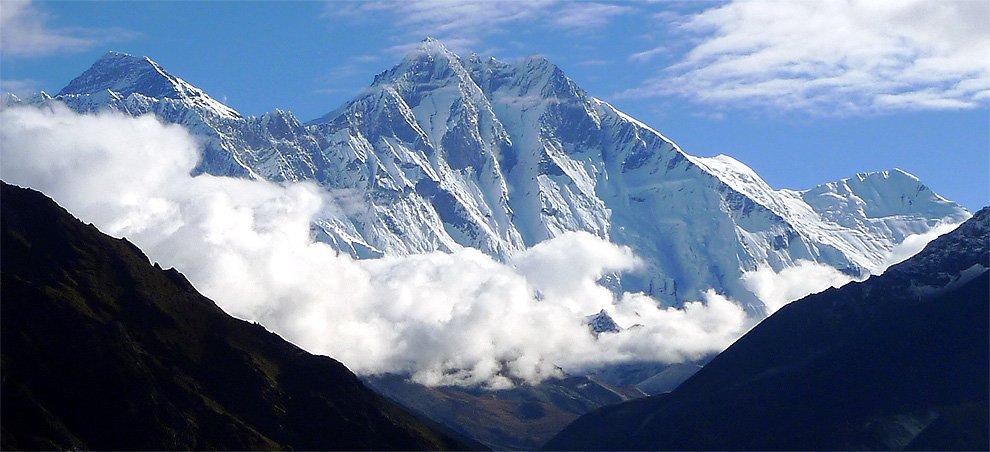 Ama Dablam and Lhotse
Another beautiful mountain you will see from this outlook point is one of the most beautiful mountains in the world – Ama Dablam.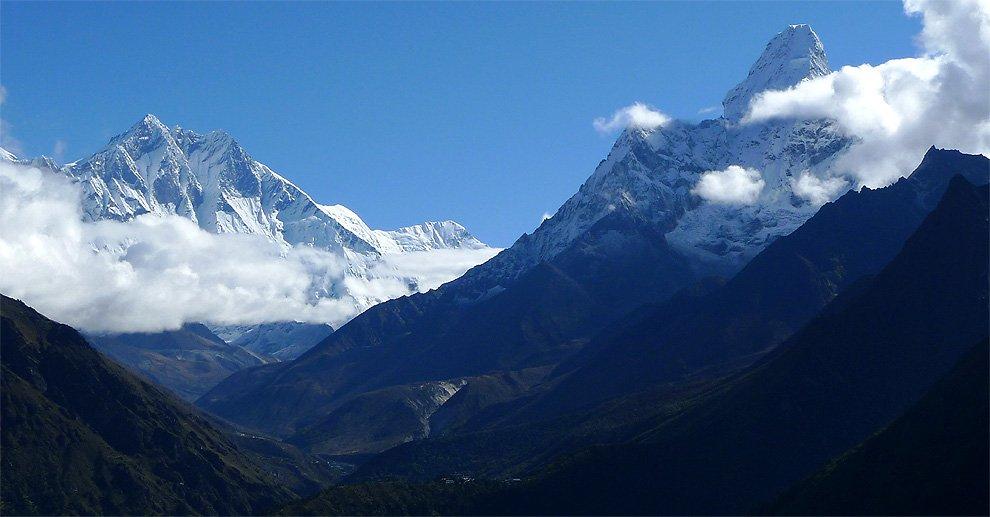 View of Khumjung
The path slowly drops down to the largest sherpa village in Khumbu – Khumjung (3 780 m asl). It's actually a fairly large flat agricultural land between low ridge above Namche and holy mountain Khumbi la (5 765 m asl).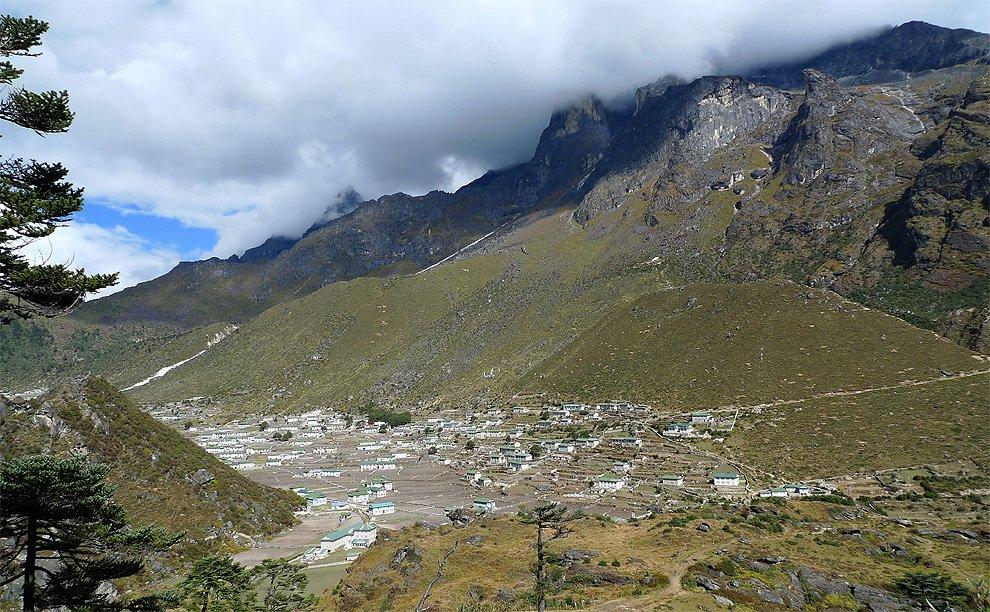 Khumjung
All houses look exactly the same in Khumjung – they are white with a green roof, so it's probably pretty difficult to navigate someone to a particular house. However, it is almost impossible to get lost in the village itself. The main street is bordered by walls, so it is practically impossible to lose the way. On the horizon you will already see the ridge of Gangla Danda, which closes this fertile valley in the heart of the mountains.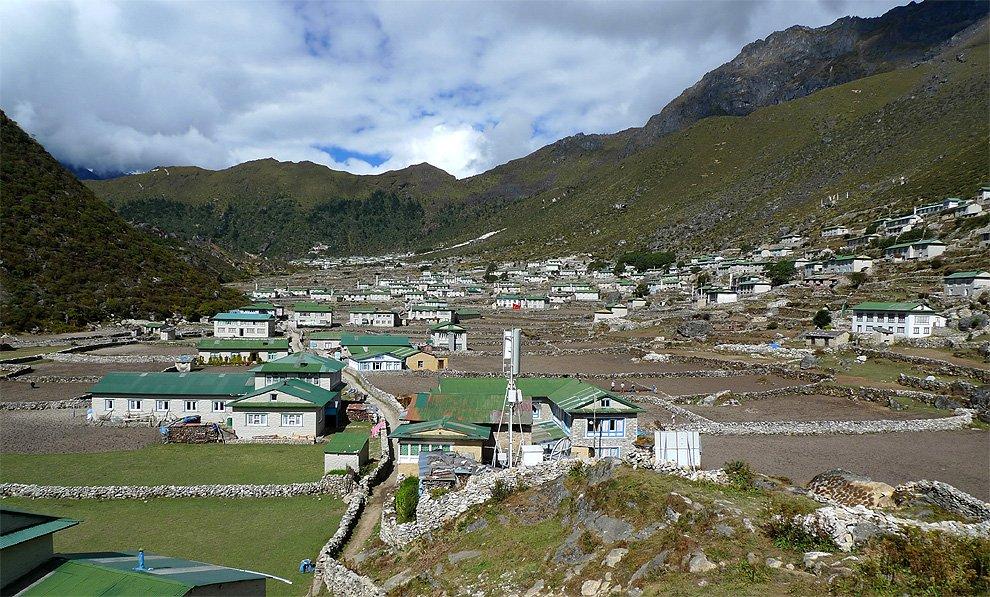 Life in Khumjung
In this village you will see a lot of people working on the fields. For example, potatoes are harvested here during the main trekking season in October.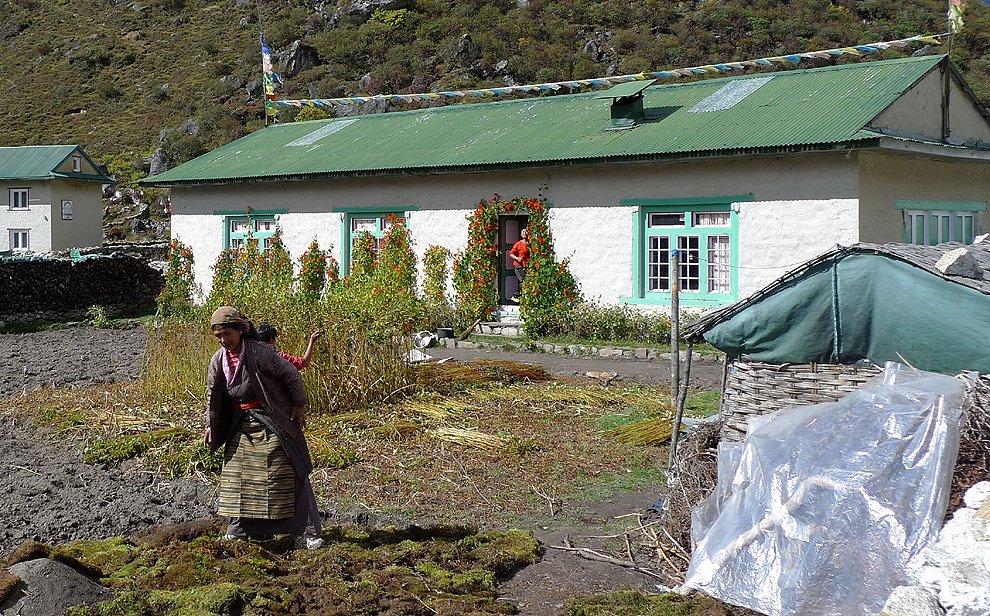 Chortens in Khumjung
Buddhism prevails throughout the area, which is recognizable not only by the fluttering prayer flags, but also by Mani walls and white chortens.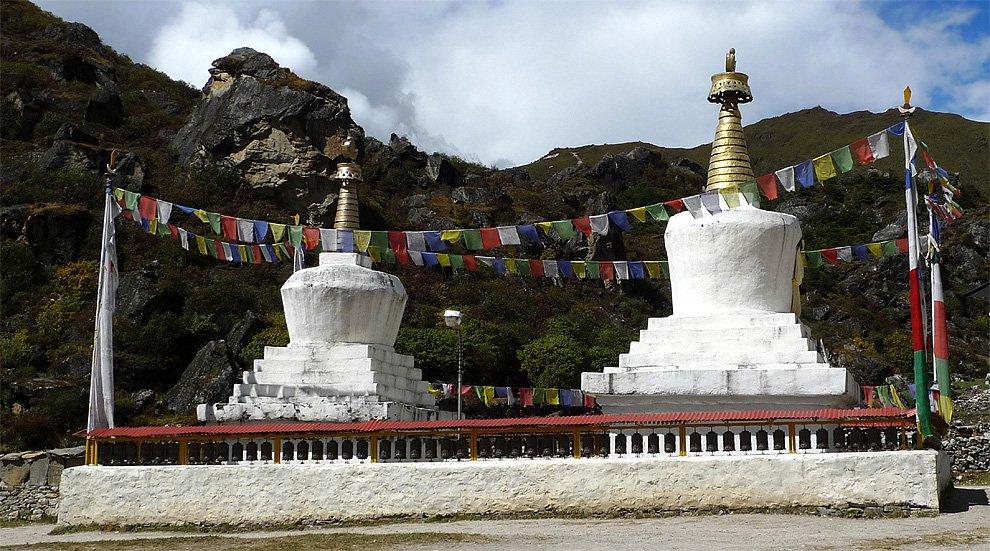 View of Thamserku
As well as in Namche Bazaar, the main outlook mountain here is Thamserku.
Khumbi la
For sherpas sacred mountain of Khumbi la towers above Khumjung. So if you are accommodated here and you have thus more time, it is certainly good idea to have a walk on the hillside and enjoy the views at some of the outlook points.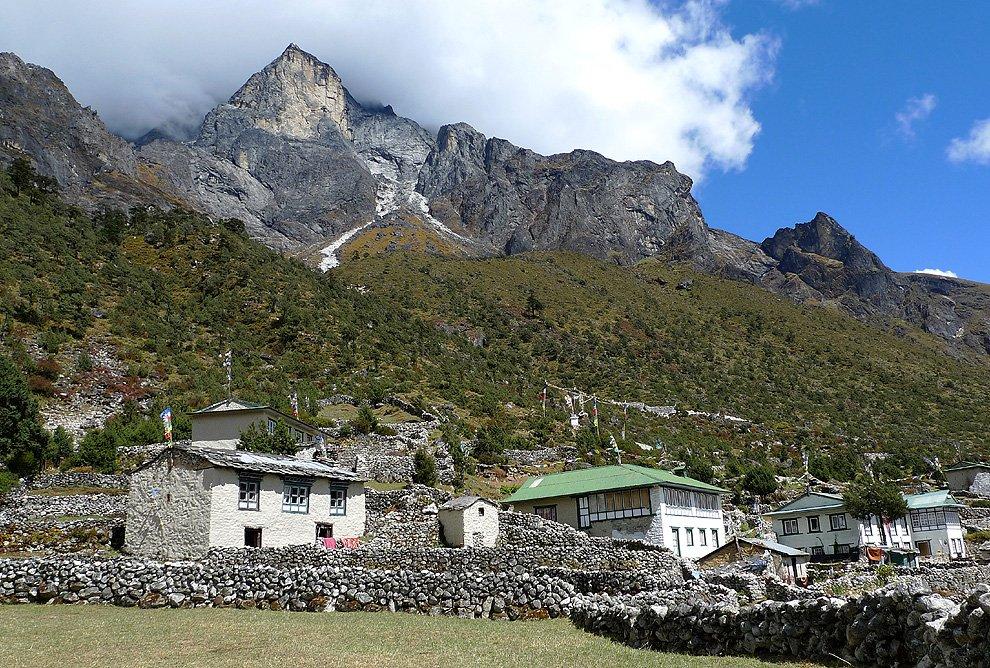 View of the villages
The path rises really only slowly to Khunde (3 840 m asl), which continuously follows up on Khumjung. From here you can go down directly to Namche Bazaar or even ascent steep path to the abandoned gompa (3 909 m asl) on the ridge of Gongla Danda.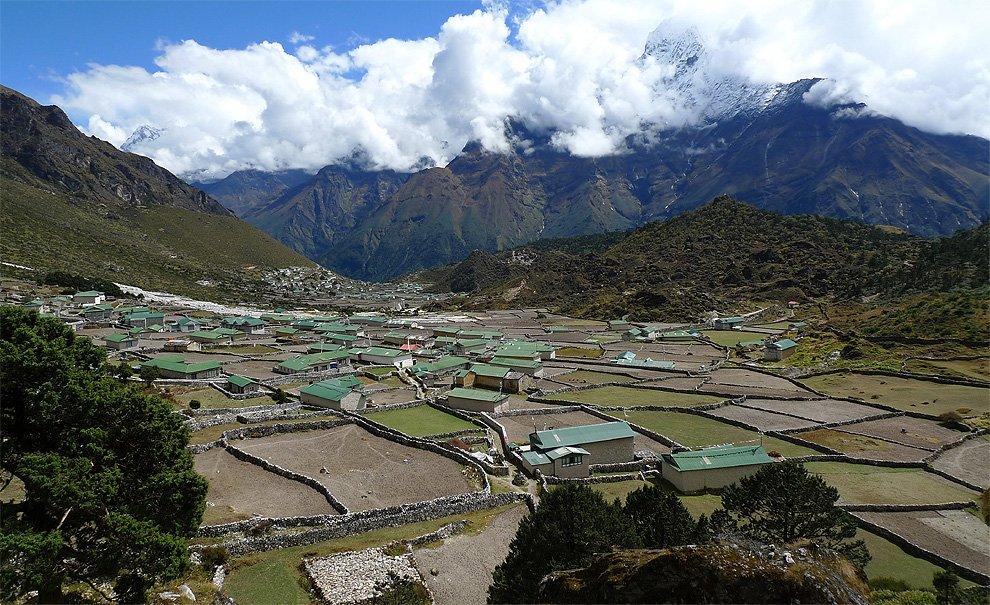 Hike along Gongle Danda
If you have energy enough and weather still permits /there are mostly a lot of clouds in the afternoon/, you can make a trip from gompa along the ridge Gongle Danda. The path modestly rises in traverses first in the forest and at the end on the grass practically to the end of the whole ridge (4 040 m asl). There is a great view not only of the places you've seen all day, but also of Bhote Koshi valley to Thame. You can continue along this ridge without problems even higher up to the foot of Khumbi la. Now it is time to consider whether you will return back to gompa and down to Khunde and along a nice path to Namche Bazar or you'll descend alternatively in a "shortcut", which eventually ends with pushing the way through the juniper bushes.From the western end of the airport Syangboche leads the path like in trenches dug by fast flowing rainwater. You finally get back to the edge of the "pot", in which lies Namche Bazar. So before you finally descend, admire this view once more.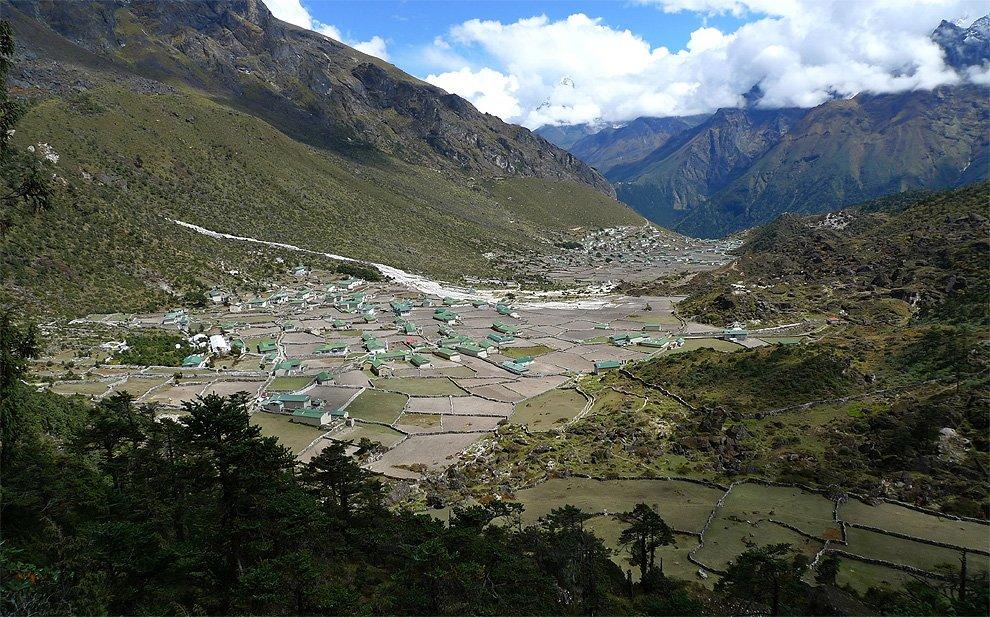 They want there (0)
Be the first, who want to go there!
Have you been there? Contribute a good advice to travelers who want to go to this area or add places to your visited list.
Do you want to go there? There is nothing easier than having to deal with others and go on a trip or get tips on where you want to go.
Activities
Practical information
Part of itienary
Article:
Everest View Trek
Everest View Trek (or Namche Bazar trek) is a basic introduction to Khumbu area. It is suitable especially for those who are… continue reading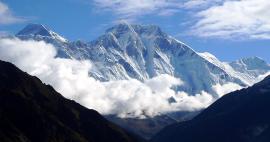 Applaud the author of the article!
Thanks!
Have you been there? Write a review of this place
Already rated by 0 travelers
Recommended article
Magazine:
How to Travel South America
South America is undoubtedly one of the most colorful continents in the world. You will be captivated by beautiful mountains,… continue reading