The best of the sights in Italy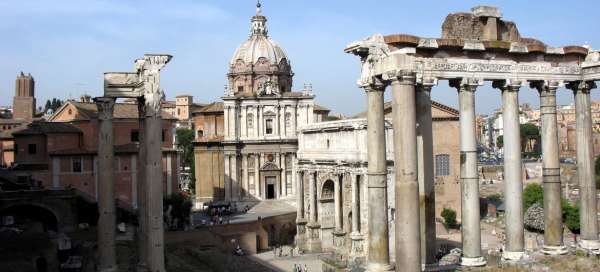 Italy is famous not only for its beautiful beaches, pizza and football, but also for its beautiful historical monuments. Of course, the most famous of them can be found in Rome or Florence, but other cities also offer magnificent monuments. Let's take a look at the most beautiful and famous monuments in Italy.
The largest amphitheater of the Roman Empire
The Roman Colosseum is the most famous amphitheater in the world. It is almost two thousand years old. It was… continue reading
The best example of Byzantine architecture
St. Basil's Cathedral Mark is the main church and one of the most important monuments of Venice and Italy.… continue reading
Architectural curiosity
The Leaning Tower (Torre pendente) is located in Pisa, Italy. Together with the Duomo, the Baptistery and the… continue reading
A city buried in ashes
Altitude: 26 m / 85 ft
The ancient city of Pompeii with a tragic event in which it was covered with ashes after the eruption of… continue reading
The most famous fountain of the world
The Baroque Trevi Fountain is one of the most visited Roman monuments. It is considered to be the most… continue reading
The most beautiful square of Tuscany
Altitude: 318 m / 1 043 ft
In the center of the Tuscan Siena you will find not only a beautiful but also an interesting and original… continue reading
Alabaster city
|
Altitude: 530 m / 1 739 ft
Do you like pure Tuscan history in one place? Would you like a theater more than two thousand years old next… continue reading
A romantic town in the south of Italy
Altitude: 408 m / 1 339 ft
Alberobello is a small town located in the very heels of Italy – in Puglia. The town is known for its… continue reading
Unique octagonal building
Altitude: 541 m / 1 775 ft
Castel del Monte from the 13th century attracts at first sight with its regular octagonal profile, which was… continue reading
The best preserved ancient temple
The Pantheon was built before the beginning of our era and was originally dedicated to all Roman gods. Thanks… continue reading
Verona's most famous monument
Altitude: 61 m / 200 ft
Right in the middle of Verona's historic center – in Piazza Bra stands the wonderfully preserved Roman Arena,… continue reading
The most beautiful ancient temple in Sicily
Altitude: 100 m / 328 ft
In Sicily you will find not only the largest European volcano Etna, but also a number of well-preserved… continue reading
Applaud the author of the article!
Articles nearby