The best of Vietnam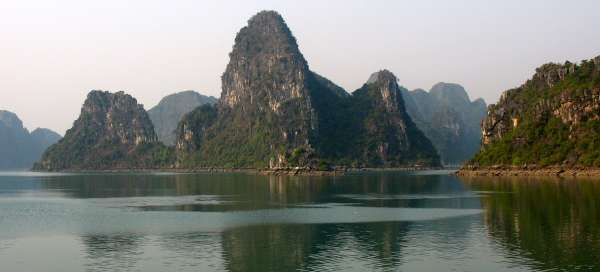 Vietnam is one of the countries with a really diverse nature and ancient culture. It's not just the endless rice fields and jungles that many people who have never been there imagine. The most beautiful places can be found mainly in the mountainous north or south in the delta of the Mekong. There are also some of the most beautiful karst clumps in the world. Let's take a look at places that are definitely worth a visit.
The most beautiful area of Vietnam
One of the biggest attractions of Vietnam and the coast of Asia is the Ha Long Bay. There are thousands of… continue reading
Rice fields under the mountains
|
Altitude: 634 m / 2 080 ft
Under the tallest Fan Si Pan mountains in Vietnam you will find the Sapa town. Near the town are the… continue reading
Delta is the tenth longest river in the world
Altitude: 0 m / 0 ft
It is almost five thousand kilometers long pilgrimage of the Mekong waters from Tibet to its mouth into the… continue reading
A city surrounded by green hills
Altitude: 850 m / 2 789 ft
In the far north of Vietnam you will find Ha Giang Province. From here, head to the famous green mountains.… continue reading
The capital of Vietnam
Hanoi is the capital of Vietnam, but the second largest city. It is a good starting point for the mountains… continue reading
The highest mountain in Vietnam
Altitude: 3 143 m / 10 312 ft
In northern Vietnam, not far from the famous tourist resort of Sa Pa, you will find the highest mountain in… continue reading
The capital of the last Vietnamese emperors
Altitude: 5 m / 16 ft
The former Hue Nguyen Hue Imperial City is located in Central Vietnam. The dominant feature of the historic… continue reading
The largest city in Vietnam
Altitude: 5 m / 16 ft
Ho Chi Minh City, also known by its original name Saigon, is the largest city in Vietnam with more than 6… continue reading
Monumental imperial tomb near the city of Hue
Altitude: 28 m / 92 ft
In the vicinity of the imperial city of Hue you will find several interesting imperial tombs. The most… continue reading
Holy See Temple in Tây Ninh
Altitude: 14 m / 46 ft
In the town of Tây Ninh in southern Vietnam, you will find the center of the local Vietnamese religion Cao… continue reading
Applaud the author of the article!
Articles nearby