The best of Muscat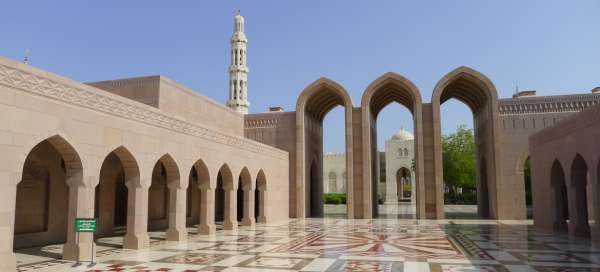 For most travelers, Muscat is just the starting destination for exploring beautiful Oman. Even here, however, you will find a number of interesting places that are worth visiting. Let's take a look at the most beautiful sights in and around Muscat.
Main Mosque in Oman
Sultan Qaboos Grand Mosque is monumental modern building constructed of marble. Renowned is by a huge… continue reading
Main Oman opera
The Royal Opera House in Muscat is one of the most important but modern buildings in Muscat (opened in 2011).… continue reading
A fortress guarding the harbor in Old Muscat
Altitude: 14 m / 46 ft
Fort Al-Mirani (built by the Portuguese) is, like the vast majority of Omani castles and forts, beautifully… continue reading
One of the oldest Arab bazaars
Altitude: 11 m / 36 ft
The souq in Muttrah is considered to be one of the oldest in the entire Arab world. You will of course find… continue reading
The largest park in Muscat
Qurum Natural Park is the largest park in Muscat. There is a big artificial waterfall, a large lake with… continue reading
Dominant of Muttrah
Altitude: 14 m / 46 ft
The biggest landmark and monument of the city of Muttrah is the local fort. The fort was built during the… continue reading
Official Royal Palace of the Sultans of Oman
Altitude: 10 m / 33 ft
Among the fortresses is the architecturally interesting palace of the Sultan – Al Alam – which means "The… continue reading
The second fort in the port of Old Muscat
Altitude: 4 m / 13 ft
Directly below Mirani Fort is Al Jalali Fort guarding the other end of the bay. Unfortunately, this fortress… continue reading
Mosque under the Mirani fort
Altitude: 9 m / 30 ft
Another important local monument is located directly below the Mirani fortress – the Al Khor mosque. Al Khor… continue reading
Gateway to Muscat
Altitude: 23 m / 75 ft
In Muscat, you will also find a museum operating in the original massive entrance gate to the city. Here you… continue reading
Applaud the author of the article!
Articles nearby