The best of Georgia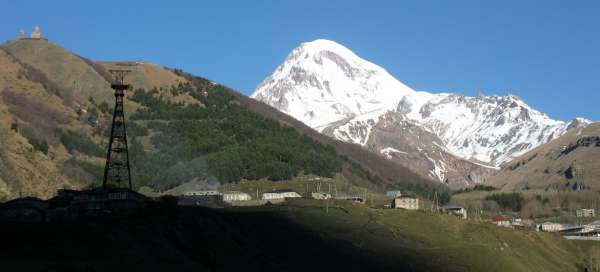 Georgia offers an incredible mix of beautiful places – the wild mountain nature of the Caucasus with icy peaks, beautiful lakes and gorges along with the Caucasian culture of fortified villages. In addition, the early Christian tradition with interesting monasteries and churches. Let's see which places in Georgia are definitely worth a visit.
Massive Caucasian volcano
|
Altitude: 5 047 m / 16 558 ft
Kazbek (5,047 m above sea level) is a massive volcano on the Georgian-Russian border. It is the third highest… continue reading
The most famous rock city in Georgia
Altitude: 1 300 m / 4 265 ft
Vardzia had both of its greatest glory as many as seven floors and reportedly up to 3,000 rock flats.… continue reading
Altitude: 2 119 m / 6 952 ft
We combined a visit to this town with a trek via Adishi (Basic route: Mestia – Zhabeshi – Adishi – Khalde /… continue reading
Beautiful lakes above Mestia
Altitude: 2 736 m / 8 976 ft
Despite the high ambient temperature, the lakes were very cold. However, it is perfectly sufficient to… continue reading
Monastery at the end of Georgia
Altitude: 703 m / 2 306 ft
The monastery also has smaller fortifications with watchtowers continue reading
Georgian Matterhorn
Altitude: 4 770 m / 15 650 ft
After less than five hours, we reached the viewpoint of Mount Ushbu. As it was the beginning of September and… continue reading
The famous church below Kazbeg
Altitude: 2 165 m / 7 103 ft
One of Georgia's most iconic sites is Cminda Sameba Church, standing on a hill high above the village of… continue reading
The most famous waterfall in Georgia
Altitude: 2 352 m / 7 717 ft
On the way to the glacier falling from the famous Georgian mountain Ushba you will come across the most… continue reading
The highest point of the trek from Juta to Roshka
Altitude: 3 335 m / 10 942 ft
If you go on a trek to the Abudelauri lakes, a beautiful route awaits you from Juta to Roshka. The highest… continue reading
Altitude: 1 418 m / 4 652 ft
The starting point for Koruldi lakes was the famous town of Mestia. It houses dozens of defense towers and is… continue reading
Applaud the author of the article!
Articles nearby