How to visit national parks in Kenya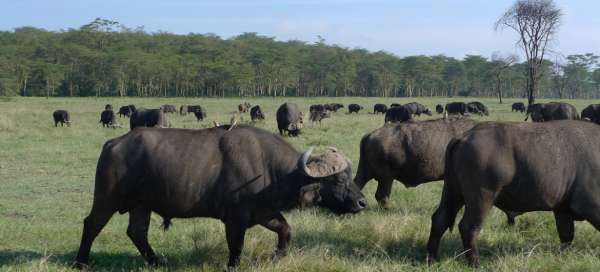 Kenya offers some of the most beautiful national parks in Equatorial Africa. Here you can go safari to the savannah, to the lakes or go to the mountain landscape of the volcanic massif of Mount Kenya. Let's take a look at the most beautiful parks in Kenya.
Landscape around the highest mountain of Kenya
|
Altitude: 5 083 m / 16 677 ft
Massive Mount Kenya is situated in the National Park of the same name, is one of the most beautiful mountain… continue reading
The most famous national reserve in Kenya
Altitude: 1 554 m / 5 098 ft
The very famous and well-known Serengeti National Park in Tanzania is followed by the Masai Mara National… continue reading
National park overlooking Kilimanjaro
Altitude: 1 049 m / 3 442 ft
There are really a lot of elephants in Tsavu. continue reading
A small but very popular national park in Kenya
Altitude: 1 130 m / 3 707 ft
The elephants in Ambosel Park are said to have some of the longest tusks. In the background Kilimanjaro. continue reading
Beautiful national park around Lake Nakuru
Altitude: 1 808 m / 5 932 ft
The heart of Nakuru National Park is the beautiful Lake Nakuru located just outside the city of Nakuru (170km… continue reading
One of the largest national parks in the world
Altitude: 599 m / 1 965 ft
Red earth, blue sky and animals. It's Tsavo. continue reading
Applaud the author of the article!
Articles nearby