The best of the cities of Croatia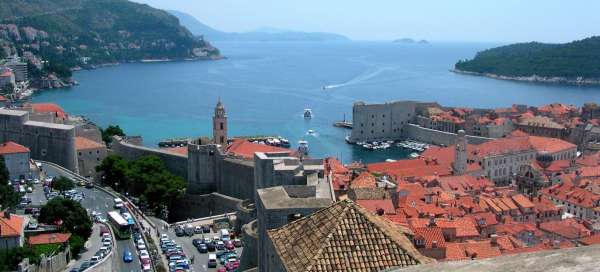 For most travelers and vacationers, Croatia is synonymous with beautiful swimming on the Adriatic Sea. But you will also find a number of very beautiful cities, mostly former rich ports. Let's take a look at the most beautiful of them.
The most beautiful city on the Adriatic
Dubrovnik can be found in the most visited area of Croatia – Dalmatia. It is without a doubt the most… continue reading
The largest city in Dalmatia
The city of Split is the largest city in Dalmatia and is the second largest city in Croatia. 180,000 people… continue reading
Croatian Venice
Trogir is one of the most visited cities in Dalmatia. Its origin dates back to the 3rd century Greek. A small… continue reading
Pearl of Istria
Altitude: 10 m / 33 ft
Rovinj is a Croatian fishing port on the west coast of the Istrian peninsula. The old town stands on a… continue reading
The capital of Dalmatia
Altitude: 3 m / 10 ft
Zadar is a very lively city in the north of Dalmatia, which is located partly on the mainland and partly on a… continue reading
City of fortresses
Sibenik is a medieval town founded by Croats. It successfully resisted the invaders. Especially the Ottoman… continue reading
The oldest Croatian royal city
Altitude: 1 m / 3 ft
Nin is a small town which, at its peaceful pace, rests on the coast of the southern part of the Nin Bay,… continue reading
The capital of Croatia
Altitude: 133 m / 436 ft
The capital of Croatia – Zagreb – is worth visiting and walking through the old town, parks and visiting… continue reading
A city with a beautiful mountain scenery
Omis is a small Croatian town located at the so-called Omis Gorge (estuary of the river Cetina into the sea).… continue reading
3rd largest city in Croatia
Altitude: 13 m / 43 ft
Rijeka is a port city in northern Croatia and the third largest in the country. It is also the capital of the… continue reading
North step gate in Istria
Altitude: 7 m / 23 ft
Umag is a town on the Croatian Istrian peninsula in the very north, just a few kilometers from the border… continue reading
In Zadar
Altitude: 42 m / 138 ft
About 30 minutes drive from Zadar in the bay of Novogradské sea you will find the picturesque port of… continue reading
Applaud the author of the article!