Golden beaches in the south of Island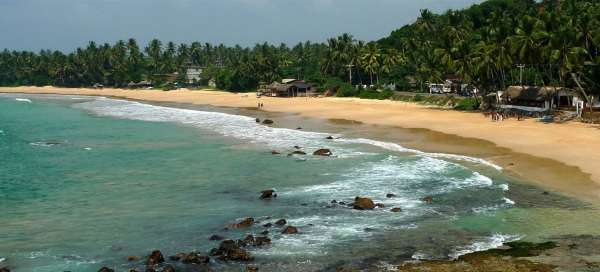 Sri Lanka – formerly known as Ceylon is famous mainly for its excellent tea and spices. There is, however, also beautiful beaches with golden sand mostly. The biggest, most famous and most accessible beaches are located at the very south of the island. The exception is Negombo, tactically lying only a short drive from the international airport. Beaches are in this list sorted by fame, not by their beauty and the beauty of their surroundings.
Bathing base close to the airport
Just a few kilometers north of Bandaranaike International Airport lies Negombo. It is characterized by more… continue reading
Two-face beach
The busy Hikkaduwa beach is really a two-face beach. The northern part of the beach where the accommodations… continue reading
Fairytale cove
Unawatuna beach is due to its location in the bay significantly less exposed to waves than other beaches in… continue reading
Romantic beach
Mirissa Beach is located in almost the southernmost place of Sri Lanka. It is a romantic beach in a beautiful… continue reading
Semi-desert beach
Tangalle Beach is one of the least visited of the famous beaches of Sri Lanka. The beach itself is seven… continue reading
Applaud the author of the article!