Tour of Kokkari and swimming on beautiful beaches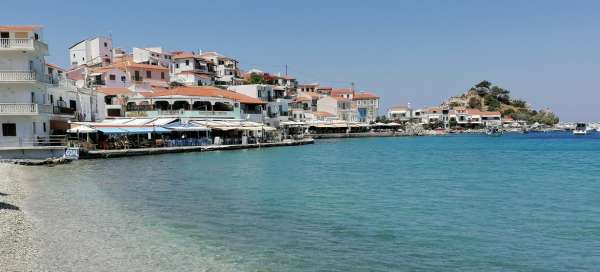 The most important place in the middle of the north coast of the island of Samos is the picturesque town of Kokkari. If you are staying in another resort on the island of Samos, be sure to go here for at least a day trip with a visit and swimming on the surrounding beautiful beaches.
On the way to Kokkari
If you go on a trip early in the morning you can stop before visiting Kokkari for a nice swim on Tsambou beach. From here it is possible to take a short walk to a nice view with the church Profitis Ilias.
A trip to one of the most beautiful beaches on Samos
Altitude: 6 m / 20 ft
Tsambou beach is located on the north coast of the island of Samos, about halfway between the towns of… continue reading
Beautiful views of the north of the island of Samos
Altitude: 67 m / 220 ft
Directly above the road junction to the mountain village of Vourliotes rises a small hill with a snow-white… continue reading
Kokkari tour
In Kokkari you can spend lunch time in one of the many pleasant taverns overlooking the sea. Kokkari itself has nice beaches, so you can swim here.
The most picturesque town in Samos
Altitude: 7 m / 23 ft
The resort of Kokkari is located only about 10 kilometers west of the capital Samos. For most visitors, it is… continue reading
Afternoon swimming on Tsamadou beach
Afternoons can be spent on the beautiful Tsamadou Beach, just a few kilometers from Kokkari.
Beautiful beach near Kokkari
Altitude: 8 m / 26 ft
Just two kilometers west of the beautiful resort of Kokkari you will find two picturesque beaches – Lemonákia… continue reading
Applaud the author of the article!
Articles nearby
Thanks!
Have you been there? Write a review of this place
Already rated by 1 traveler