Nice walk over Kazbegi to BC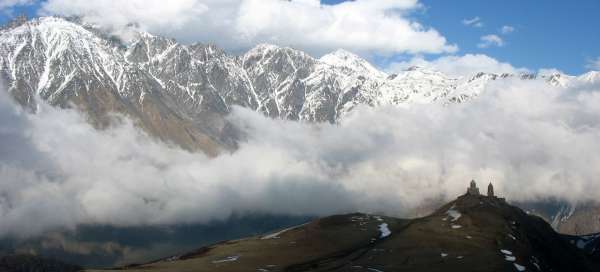 Even if you do not plan to climb the massive five thousand Kazbeg, you should definitely take a pleasant trip under it. At least walk to the base camp under the mountain. Practically all the time you will have wonderful views of the surrounding mountains and the iconic church of Cminda Sameba
View of the church of Cminda Sameba
The beginning of this tour is in the village Gergeti, which lies above the town of Kazbegi (Stepancminda). A dusty jeep road leads to the church, but the pedestrian path often shortens its curves.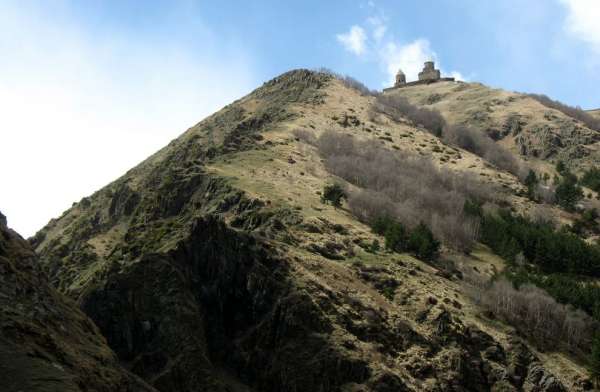 Under Cminda Sameba
The church itself stands on a small hill 300 meters above the village.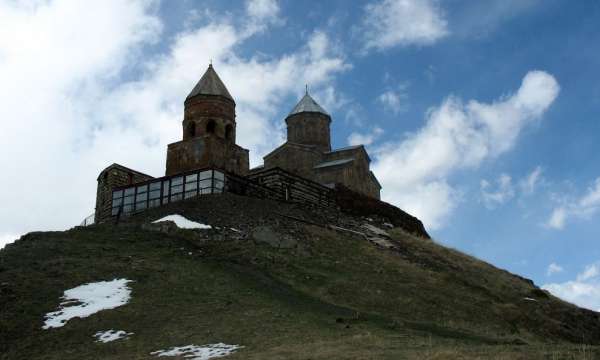 View of Kazbek
The path from the church leading to the ridge is quite obvious even in the spring, when there is still enough snow along the path. Kazbek is famous for its very changeable weather, which was confirmed to us on this tour, sometimes beautiful, sometimes clouds over the mountain
View back to the church
The most beautiful on this tour are, of course, the rear views of the church. Absolutely photogenic place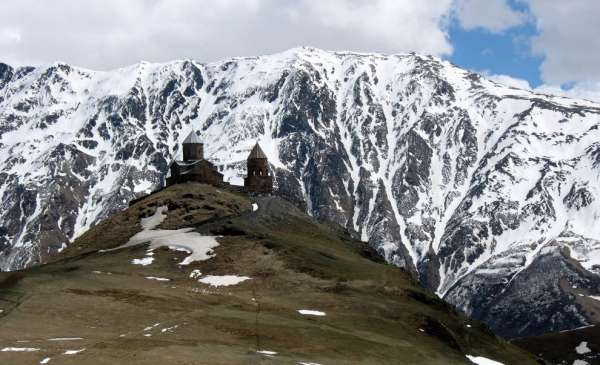 Caucasian views
The road climbs from the region still mostly on the grass (late April) and the views of the mountain barrier are getting nicer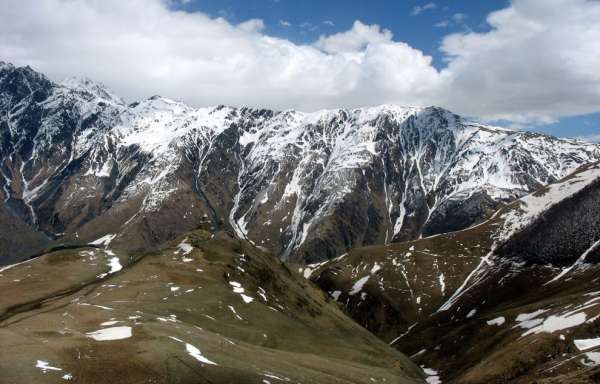 Under the view
After about 400 meters from the church, you are approaching another interesting lookout point. Opposite you, behind the shallow valley is an indistinct peak of about 3,200 m above sea level, which in case of more time and good weather could serve as another great view of Kazbek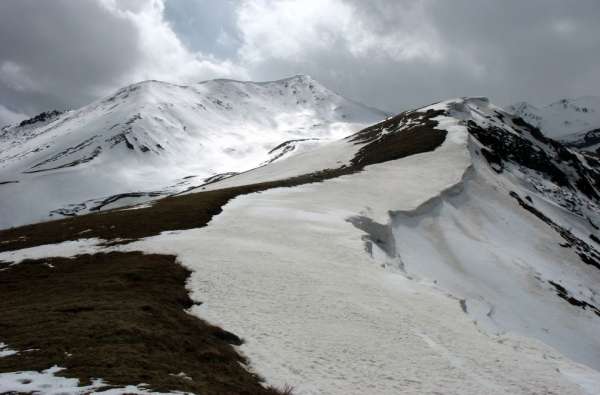 The prospect of four thousand
Thanks to the saddle between the peaks, the view to the east to the four thousand peaks on the horizon will finally open up to you. You can see them more closely during the trek through the Chauki Pass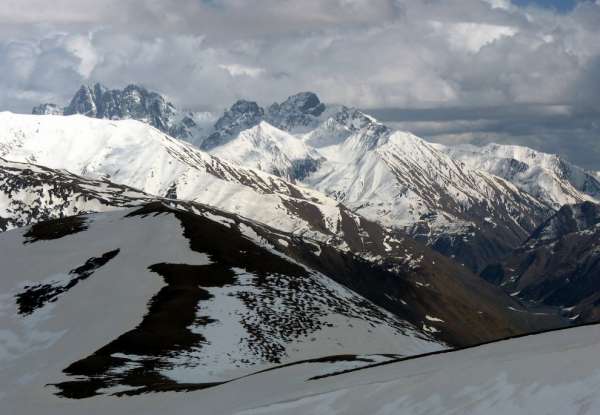 Mountain Caucasian idyll
Virtually the same place as in the previous photo, but when descending and without zoom. The weather has improved, so we spent a lot of time sitting on the grass and enjoying ourselves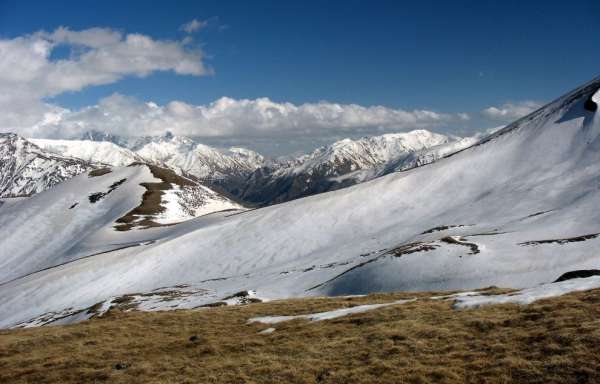 Beautiful Kazbek
Kazbek appeared here and there in all its beauty
Near BC Kazbek
Almost three thousand meters above sea level, at the end of April it was no longer worth continuing across the snowy plains, the glacier was still under snow.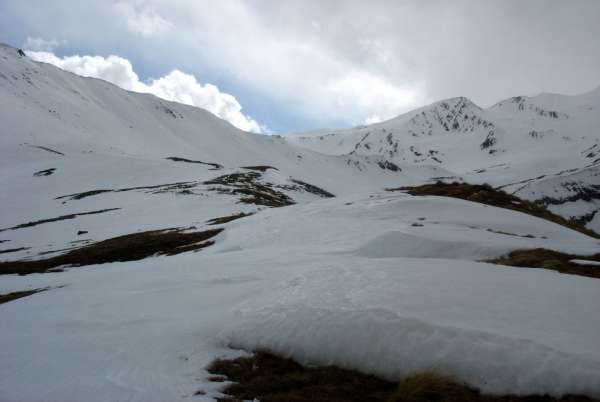 Way back
There is no reason to hurry back, the clouds chasing the sky are constantly enchanting new and new scenery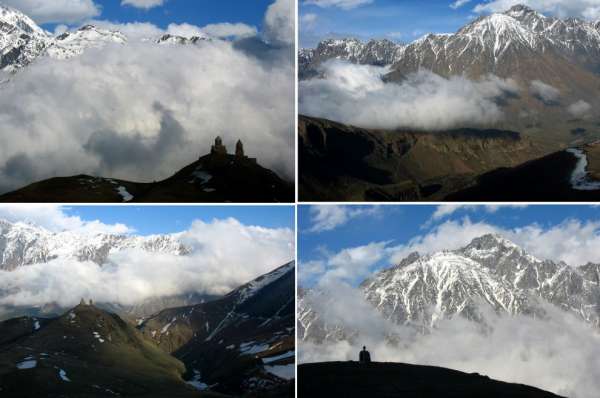 Applaud the author of the article!
Part of gigalist
Giga List:
The most beautiful trips in Georgia
Georgia, as a mountainous Caucasian country, offers a number of beautiful treks and tours. But also beautiful trips to church… continue reading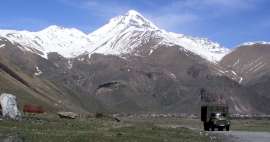 Thanks!
Have you been there? Write a review of this place
Already rated by 3 travelers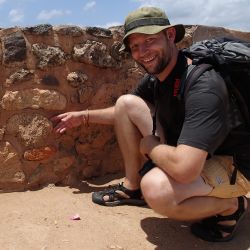 Ideální lehká vysokohorská turistika na jeden den.