Boat trip from Marmaris I.
Sailing along beautiful bays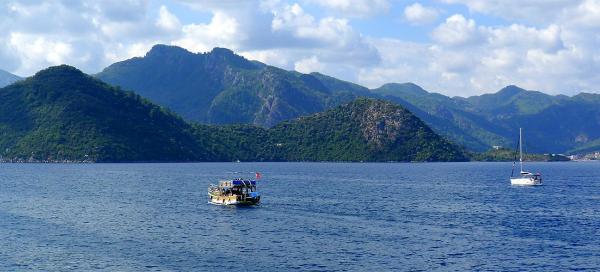 The most beautiful trip you can make in Marmaris and its surroundings is a boat trip to nearby and distant bays. Most barkers at the port offer a short trip, which basically stops for swimming in places which can be reached also by car (Turunc, Kumlubük… ), so it is better to choose longer trip where you will get up to the bay Pregnant Church, where it is very hard to get without a boat. This first part deals with the voyage along the bays you can visit also during the short trip.
 
The promenade in Marmaris
Before the ship really moves away from the shore, you can clearly see not only the promenade in Marmaris, but also the mountains behind the town. The best views are of the course from the top deck. Just watch out for treacherous breeze when you have a wrong impression that the sun does not burn too much.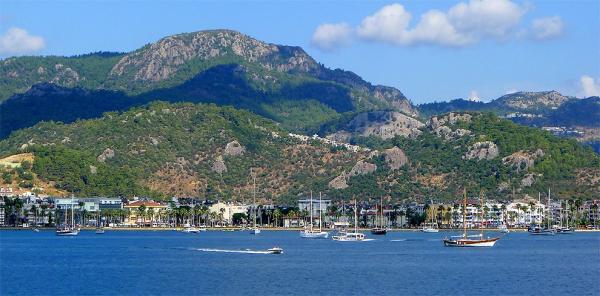 View of Icmeler
In less than twenty minutes after leaving the port opens a nice view of the neighbor of Marmaris – Icmeler.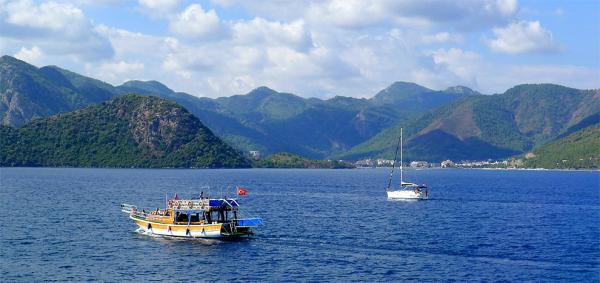 Cruising along the islands
Boats then sail through the strait between the peninsula, which is connected to the rest of mainland only with a narrow beach, and islands protecting Icmeler from waves.

 

Massif between Icmeler and Turunc
From the ship you can clearly see more than half a kilometer high massif rising straight from the sea between Icmeler and Turunc. A drive along the serpentine road that overcomes it is big experience too. Turunc bay starts to peep out slowly.

Sea motorway
There is quite bustle and hustle by cruise ships in the beginning on this route – but it is more picturesque rather than unpleasant – probably also thanks to a reasonable size of vessels.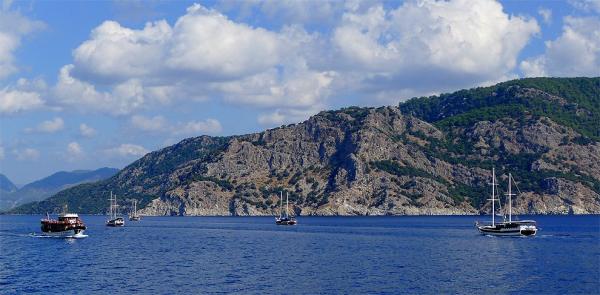 View at Antenna hill
Turunc bay is surrounded by a wall of high mountains – the highest is an antenna hill, at about 840 meters above sea level, which is visible from kilometers around.
 
The northern part of Turunc
From this point of view, you can clearly see the road pass and landslide slope on the very northern end of the bay.
Amos Bay
The first stop for a swim (during the longer trip; of course that the short trip offers more stops) is after less than an hour cruise in Amos bay. It has two beaches – one tiny where you can swim during the boat trip stop and one larger, to which leads a road.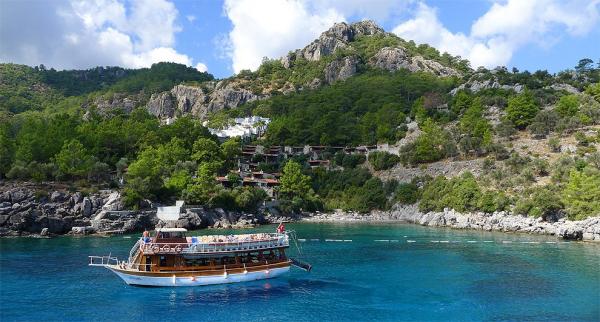 The main beach at Amos Bay
Also the main beach in Amos bay is not very big. Generally, this place gives a positive impression to spend here a day.
 
Apartment town above Amos Bay
Romance is a little spoiled only by apartment village on the hillside above the bay. But it is still better than multilevel block of flats.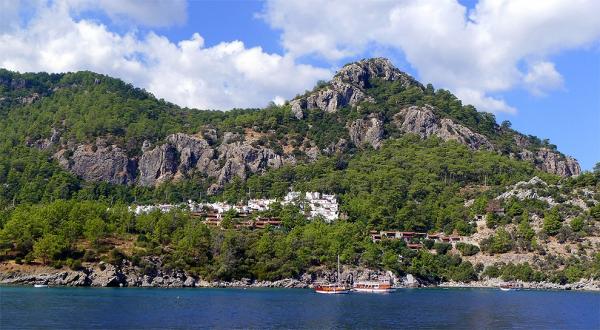 Reef between Amos and Kumlubük
From the ship looks very interesting narrow, only two hundred meters wide, reef that separates the small romantic Amos bay from huge, but even so little visited cove Kumlubük.
Panorama of Kumlubük
Boats undertaking a small tours usually turn around just behind the large bay of Kumlubük and return to Marmaris. However, we on larger boats continue on.....
They want there (0)
Be the first, who want to go there!
Have you been there? Contribute a good advice to travelers who want to go to this area or add places to your visited list.
Do you want to go there? There is nothing easier than having to deal with others and go on a trip or get tips on where you want to go.
Part of itienary
Article:
Trip to Marmaris
Marmaris is destination mostly for tourists preferring all inclusive package tours, but it is possible to undertake here also… continue reading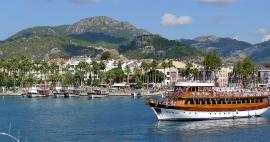 Applaud the author of the article!
Thanks!
Have you been there? Write a review of this place
Already rated by 0 travelers