Almost to the alien landscape of Ladakh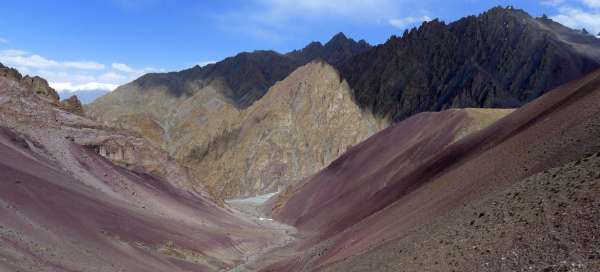 On the way to the famous Stok Kangri mountain you can also visit the interesting "Purple" valley and enjoy the views of the almost alien landscape. From the hill above the valley there is a nice view to the village of Stok
Above Changma Camp
From the Changma campsite, where we came from the starting point of the trek to Stok Kangri – Stoku, we easily climb to a rocky promontory, the crossing of which significantly shortens the path along the river. In fact, it's like crossing two small passes. From here there is a view of the first one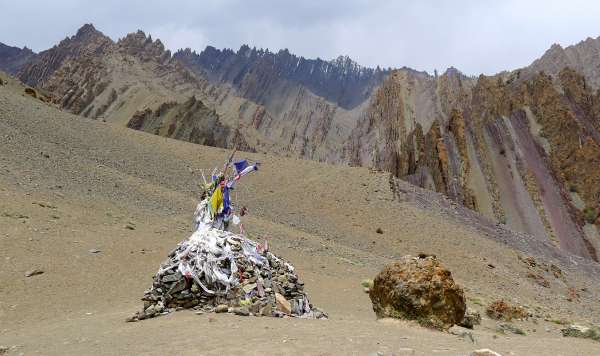 View of the valley
Finally, we are on the edge of the promontory and a nice view of the valley opens up, which we will continue on.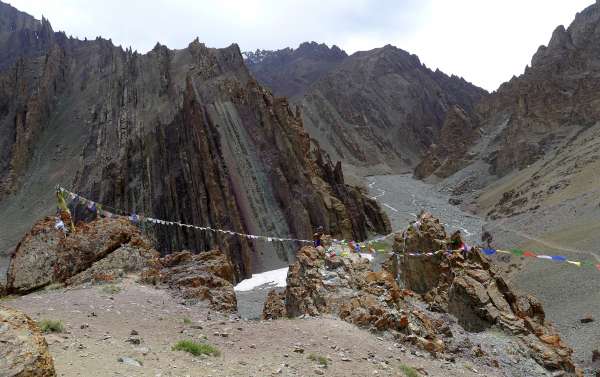 View back to the pass
Same place, but instead of looking into the valley look back to the pass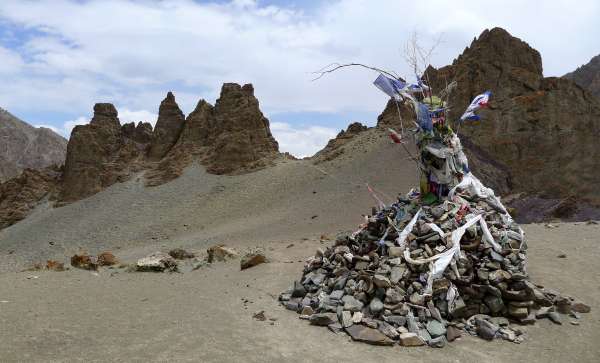 View back from the river
After about a kilometer walk from the Changma camp, we are back by the water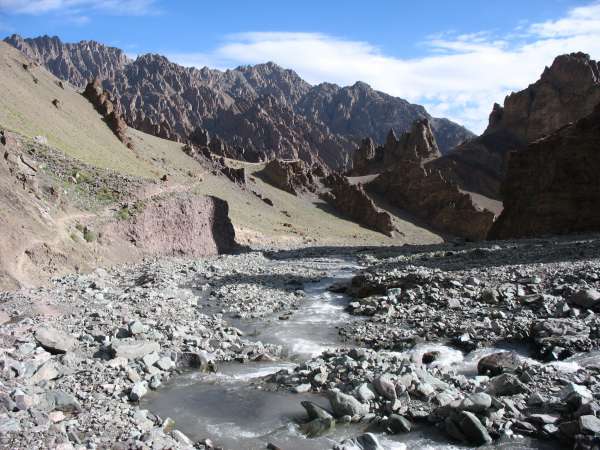 View of the Purple Mountain
After a few hundred meters, the valley turns sharply and opens up new views. In front of us is a massif of flat purple hills, which we will later climb.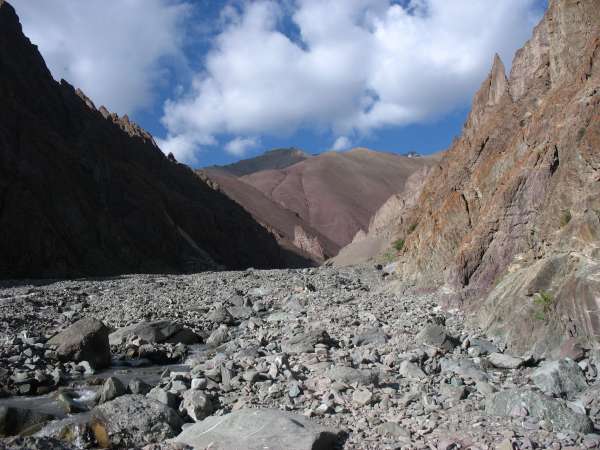 View of Stok Kangri
Although we are already relatively high, Srok Kangri still exceeds us by two kilometers. The peak itself and its surroundings are also such a magnet for bad weather. It's nice everywhere else and not here. After less than three quarters of a kilometer, we reach the mouth of the "Purple Valley". We will miss that for now. You lead through it one of the alternative routes through the Stok La saddle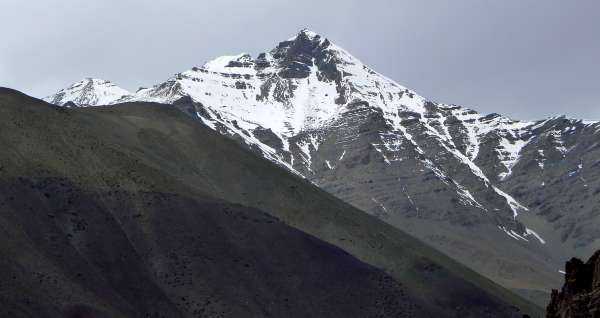 At the camp 2
At the confluence of almost equally large valleys is camp No. 2 – height 4,280 m above sea level. However, most expeditions or caravans continue straight through the main valley to BC Mankarmo a hundred meters higher. We leave the route under Stok Kangri in these places and set out up this deserted side valley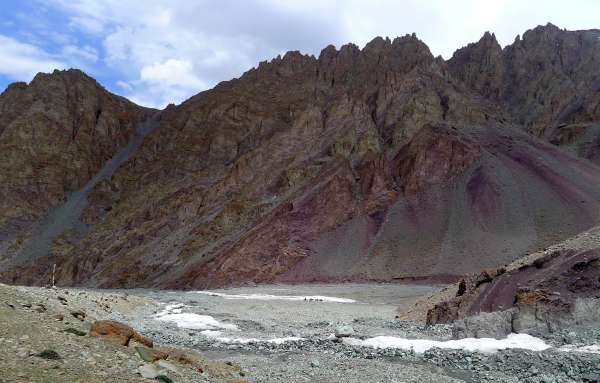 Ascent to a desolate ridge
We leave the valley and climb comfortably upwards through comfortable terrain as we wish. It's the best part of this trip. With increasing meters, the view of this desolate landscape of flat ridges alternating with sharp rocks opens up more and more.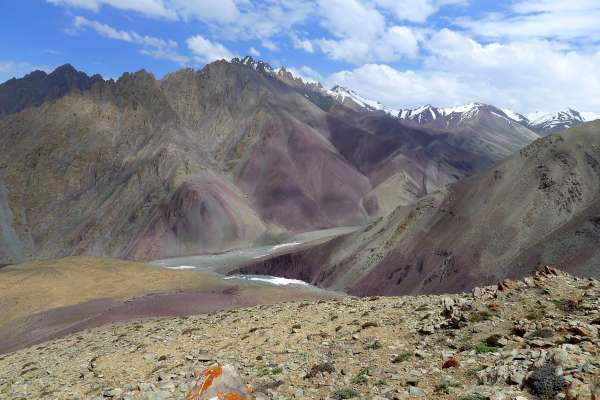 View to the Indus Valley
The path climbs to the top, about 4,600 meters above sea level, from where you can see on the horizon to the Indus Valley and further to the Ladakh Range.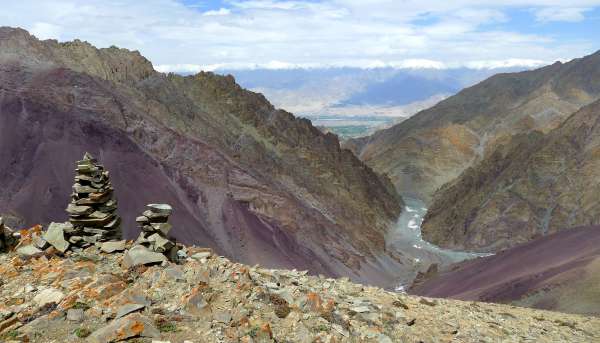 View of the main ridge of the Stok mountains
The snow-capped peaks of the Stok Mountains can also be seen across the side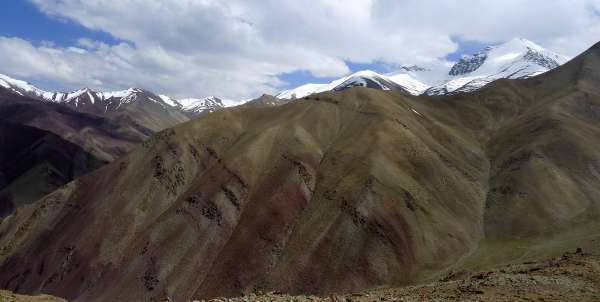 Little known view of Stok Kangri
You can also see the top of Stok Kangri from a little known angle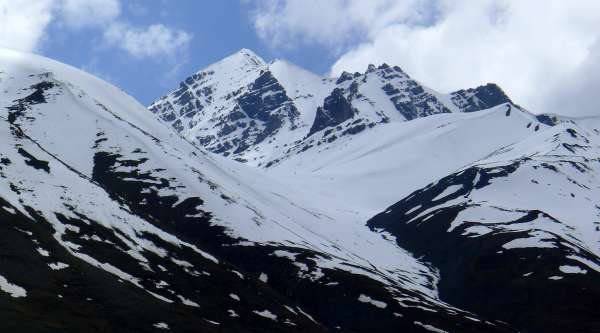 In the saddle
From the top we descend to a shallow saddle from where we decide not to return the same way but to descend a relatively steep slope directly into the purple valley below us.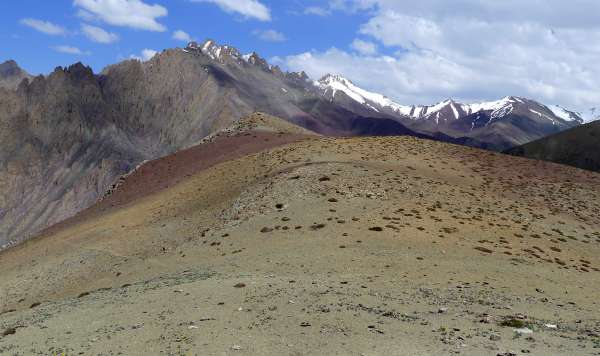 Descent through the Purple Valley
The descent is quite steep at the beginning – good shoes and trekking poles are basically a necessity. At the bottom you will find a footpath and at the confluence with the main valley you will come across a path that you came here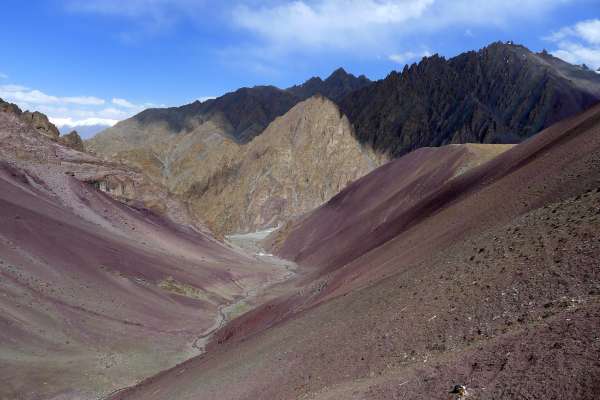 Applaud the author of the article!
Articles nearby
Part of itienary
Article:
Trip to the valley of the river Stok
Most tourists go to the valley of the river Stok for only one reason – to try to climb the six thousand peaks of Stok Kangri. You… continue reading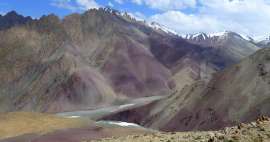 Thanks!
Have you been there? Write a review of this place
Already rated by 1 traveler